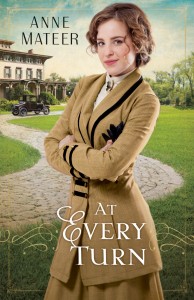 Synopsis:~
Caught up in a whirlwind of religious fervor when two missionaries speak at her church, Alyce Benson impetuously pledges three thousand dollars to mission work in Africa. She's certain her wealthy father will simply hand her the money. But when he refuses, she must either stand up in front of the congregation and admit failure, or raise the money herself.
Alyce harbors a secret passion for speed and automobiles. It's 1916, and the latest advancements in car engines allow some to post speeds upwards of seventy miles per hour! When she discovers her father's company has sponsored a racing car that will compete in several upcoming events–races in which the driver will be paid and could win as much as five thousand dollars in prize money–she conspires with her father's mechanic, Webster, to secretly train and compete. But as Alyce comes across needs in her own community, money slips through her fingers faster than she can earn it. And when her friends cast aspersions on Webster's past, she believes she might have trusted the wrong man with her secret.
Will Alyce come up with the money in time, or will she have to choose between her promise and the man who holds a piece of her heart?
My take:~
There's much to love in Anne Mateer's latest historical romance At Every Turn. An unconventional girl, with a need for speed and a mechanic with much ambition, set up a unique story line that Anne plumbs with wit and interesting detail. Alyce struggles with her desire to raise money for a cause close to her heart and the deceit she is perpetuating. Her generosity and compassion gets her into deeper water as her flaws, like us all, trip her up. Alyce and Webster are fun characters but I experienced some frustration with a number of Alyce's more foolish choices when it came to men and money – a little too unrealistic on occasion. That said, At Every Turn is enjoyable and creative, and a solid addition to Anne's debut novel, Wings of A Dream.
With thanks to Bethany for my review copy
Relz Reviewz Extras
Visit Anne's website
Buy At Every Turn from Amazon or Koorong