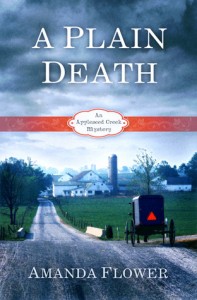 Academic librarian, Amanda Flower combines cozy mystery with the Amish lifestyle
A Plain Death
B&H Fiction
The Story
Welcome to Appleseed Creek, the heart of Ohio's Amish Country, where life is not as serene as it seems.
While her Cleveland friends relocated to Southern California and Italy, 24-year-old computer whiz Chloe Humphrey moves with some uncertainty to Appleseed Creek to direct technology services at a nearby college. Her first acquaintance is Becky, an ex-Amish teenager looking for a new home.
While driving Chloe's car, Becky collides with a buggy, killing an Amish elder. But what looks like an accident is soon labeled murder when police discover the car's cut brake line.
Now, Chloe must take on the role of amateur sleuth to discover who the real intended victim was before the murderer makes a second attempt. Becky's handsome Amish-turned-Mennonite brother, Timothy, a local carpenter, comes in handy along the way. With God's help, they'll solve the mystery that's rocking this small community.
Enjoy meeting Chloe!
Brief physical description
Bright red hair, fair complexion, hazel eyes, petite. Her best friend Tanisha's mother describes her as "as cute as a button," which Chloe does not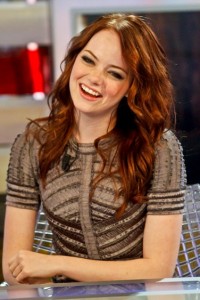 like. As Chloe says, "Does anyone want to look like a button?"
Actor/Famous Person
If I were to cast someone to play Chloe, I would choose Emma Stone when her hair is red. She is much taller than Chloe but has the same coloring and expressive face.
Strengths and Weakness
Chloe is smart, highly educated computer expert with two Master's degrees. She is also compassionate, which is how she is able to take in Amish runway Becky Troyer after she moves to Ohio's Amish Country.
Chloe's weakness is her guilt over a tragic event from her childhood, which is revealed in the novel. Sorry, no spoilers. Because of this event, she has a strained relationship with her father, a high powered executive, and his ultra-perfect wife, Sabrina. Chloe's father and Sabrina live in California.
Quirk
Chloe is a card carrying technology geek. She likes to collect old computer parts like obsolete disk drives, motherboards, and adapter cables.
Inspiration for the character
When I was Chloe's age, I moved to the middle of Ohio's Amish Country to take a librarian job at a small college. That experience and the three years I lived there inspired the novel. The very first scene in the book in which Chloe is driving to Appleseed Creek on a rural highway, listening to her cat yowl in the backseat is a scene taken from my own life. In my case, I did not pick up a runaway Amish girl but got a speeding ticket. The cop wasn't impressed when I told him I was speeding because my cat was upset. However, the main personality inspiration of Chloe is a mixture of my closest friends, who happen to be extremely brilliant and compassionate women.
Background for the story
Twenty-four-year-old Chloe Humphrey has two Master's degrees and no job. Sight unseen, she takes the only job she can find as the Director of Computer Services at tiny college in the middle of Ohio's Amish Country. She moves with her Siamese cat, Gigabyte, to Appleseed Creek, Ohio from Cleveland. She leaves behind the Green family, who took her in as a teenager needing a place to live after her stepmother made it clear Chloe was not welcome in her home.
Thanks Amanda!
Relz Reviewz Extras
Visit Amanda's website and blog
Buy Amanda's  book at Amazon or Koorong