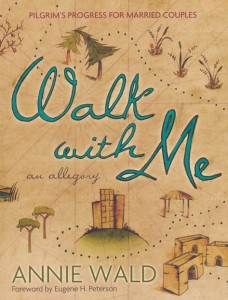 Meet married couple, Peter & Celeste,
in Annie Wald's
Walk with Me
River North
The Story
Peter and Celeste choose to travel as one on the lifelong journey to the King's City. They are blissfully in love and bound to each other by the Cords of Commitment. Shortly after visiting the Moon of Honey they discover that the journey proves much more difficult than they expected. When they find themselves laboring through the Swamp of Selfishness, crossing the dismal Plains of Distance, and nearly becoming separated by the River of Unfaithfulness, their love for each other and for the King is challenged. They must choose whether to continue on together, not knowing if they can be warmed again by the Kindling of Affection, or visit the Valley of Cut Cords to journey alone once more.
Inspired by the timeless classic Pilgrim's Progress, Annie Wald's Walk with Me exposes the journey of marriage as the epic passage that it is and the refining process it can become.
Introducing Peter & Celeste
Brief physical description
Because the story is an allegory, I don't give much detail about the physical appearance of Peter and Celeste. All we know is that Celeste has a beautiful singing voice, a melodious laugh, and she blushes easily. Peter is a strong hiker, and pale-skinned.
Resembles….
My hope is that readers will see themselves in the story. So the best picture of what the characters look like is the one you see when you look in the mirror.
Strengths and weaknesses
Celeste:
She's very friendly and enjoys talking with other people. She also appreciates beauty in the world and is fond of little decorative touches. Depending on your perspective, you might find her to be fun-loving and a bit of a dreamer—or irresponsible and forgetful.
She has a rebellious streak and she's not afraid to challenge authority. She also avoids difficult paths whenever possible, taking the easy way out.
Peter:
He is an expert climber who prefers the most challenging routes and exploring along the way. Besides being loyal and dutiful, he is a hard worker. He takes pride in following the rules. However sometimes he is so intent on doing what is right that he overlooks the needs and feelings of other people–as well as his own feelings.
In his worst moments, he can fall into self-pity or become arrogant.
Quirk
Peter and Celeste share a mutual love of kicking pebbles as they walk.
Your inspiration for the characters
I wanted to present a true and thorough picture of the challenges couples encounter, and Peter and Celeste are a rich composite of many married couples that I know.
Background to the story
When my husband-to-be and I met, we fell deeply in love and began a fairytale romance that seemed strong enough to last forever. We shared common interests and common values. We were active in church. Most importantly, we had both experienced God's redeeming love and we had high expectations as we began our marriage.
But over time we suffered a great deal of conflict and pain. At times, it seemed hopeless that our relationship would ever change. But God pulled us back from the brink of separation, and then brought an amazing healing into our relationship, both on an emotional and a spiritual level.
As our daughters approached marriage, I wanted to share with them the hard but good lessons we had learned. I decided the best format was an allegory that followed the model of John Bunyan's classic.
To personify the struggles couples go through, nasty arguments are painful burrs. Raging anger is a volcano that erupts and spews out molten lava. Forgiveness is a bridge over a deep chasm, and maturity is a series of steep mountains to climb that leads to a magnificent view of the King's City. And all along the way, the wisdom of God's Word encourages Peter and Celeste on the Servant's path as they journey from romance to despair to failure and finally to selfless love.
Relz Reviewz Extras
Visit Annie's website
Buy Walk with Me from Amazon or Koorong