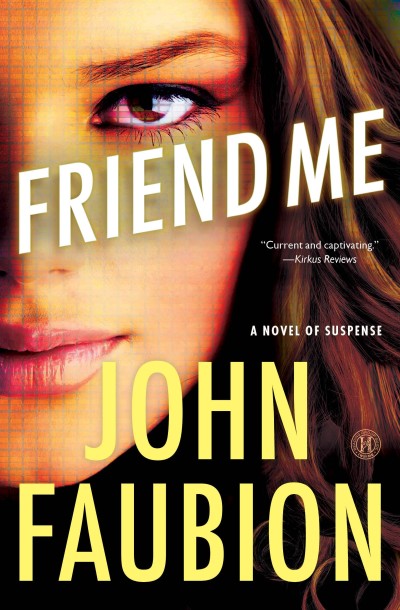 Meet a marriage in crisis in
John Faubion's
suspense novel
Friend Me
Howard Books
The Story
"You're afraid you are becoming unfaithful, aren't you?"
Scott and Rachel's marriage is on the brink of disaster. Scott, a businessman with a high-pressure job, just wants Rachel to understand him and accept his flaws. Rachel is a lonely housewife, desperate for attention and friendship. So she decides to create a virtual friend online, unaware that Scott is doing the exact same thing. But neither realizes that there's a much larger problem looming. . . .
Behind both of their online creations is Melissa, a woman who is brilliant— and totally insane. Masquerading as both friend and lover, Melissa programmed a search parameter into the Virtual Friend Me software to find her perfect man, but along the way she forgot to specify his marriage status. And Scott is her ideal match. Now Melissa is determined to have it all—Scott, his family, and Rachel's life.
As Melissa grows bolder and her online manipulations transition into the real world, Scott and Rachel figure out they are being played. Now it's a race against time as Scott and Rachel fight to save their marriage, and their lives, before it's too late.
Introducing Scott, Rachel, & Melissa
Friend Me has three main characters. Yes, really. I didn't know there was a rule against this until I was done J
PROTAGONIST ONE:
Physical:
Scott Douglas, early thirties, nice-looking guy. When I write, I provide very minimal descriptions. This is by choice. I prefer to let the reader fill in the details out of their own imaginations.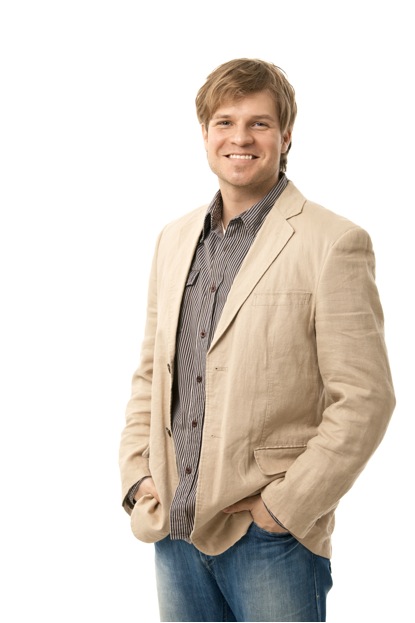 Picture:
I bought the attached picture from Shutterstock. It approximates what I think he looks like.
Strengths and weaknesses
Scott starts out defeated and weak, spiritually. It gets worse from there, until he finds that he has very nearly brought about the destruction of his own family. At that point, he begins growing very quickly.

Quirk (if any)
He likes McDonald's, but for all the wrong reasons.
Your inspiration for the character
Scott embodies all the male weaknesses we men find in ourselves. I won't dwell on that. Most of us men are pretty much alike. We don't remember stuff unless we want to, we pick up on hints only when they're explained to us, we don't remember grudges or get offended easily, and we can fall in an instant.
PROTAGONIST TWO:
Physical: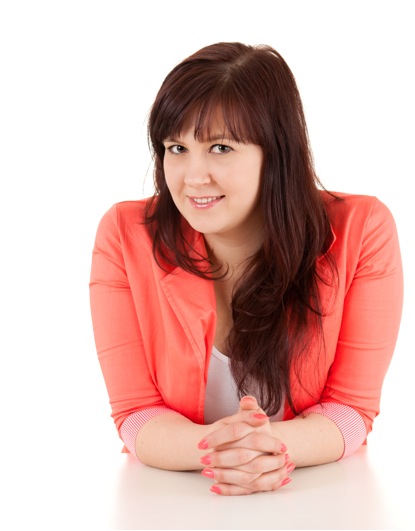 Rachel Douglas, early thirties, attractive, but she's been putting on a little weight.
Picture:
Another Shutterstock picture. It approximates what I think Rachel looks like.
Strengths and weaknesses

Rachel is defeated. She fears she's losing her husband's love, that she's no longer pretty, and that she's imprisoned by motherhood. She doesn't resent her children – she loves them. But her social life is waning. She's looking for a friend.
Your inspiration for the character
I've met Christian women like Rachel. They are fertile fields for Internet predators offering sympathetic friendship. While in Friend Me, Scott is the one who falls the hardest, Rachel is the one that opens the door.
Consider Adam and Eve.
ANTAGONIST:
Note: She is the strongest character in the story.
Physical:
Melissa Montalvo. Very attractive, a Mediterranean appearance due to her Italian background. Mid-thirties.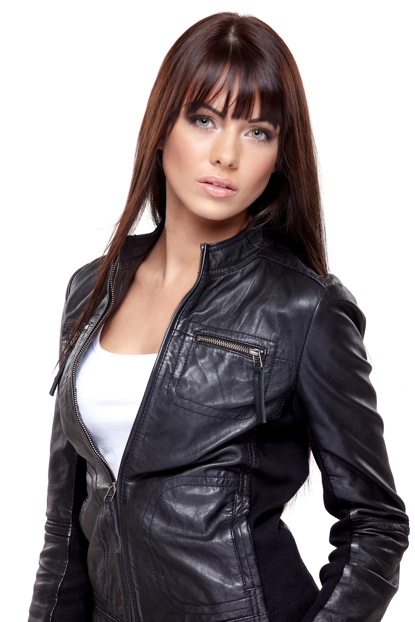 Picture:
Shutterstock again! This is Melissa, just like I imagined her.
Strengths and weaknesses

Melissa is professionally strong, a leader in her field.
As a woman, she is needy, selfish, and entirely focused on meeting her own perceived needs.
I hope the reader finds him/herself both wishing for Melissa to succeed, and hoping that she will not.
Melissa doesn't care who dies, as long as she can fill the emptiness in her soul.

Quirk (if any)
Melissa loves a nice pair of scissors.

Your inspiration for the character

Melissa is self, when it is unimpeded by conscience or the Holy Spirit. No matter how sympathetic you may be to her pain, she cares nothing for you.
Thanks John!

Relz Reviewz Extras
Visit John's website and blog
Buy Friend Me at Amazon or Koorong