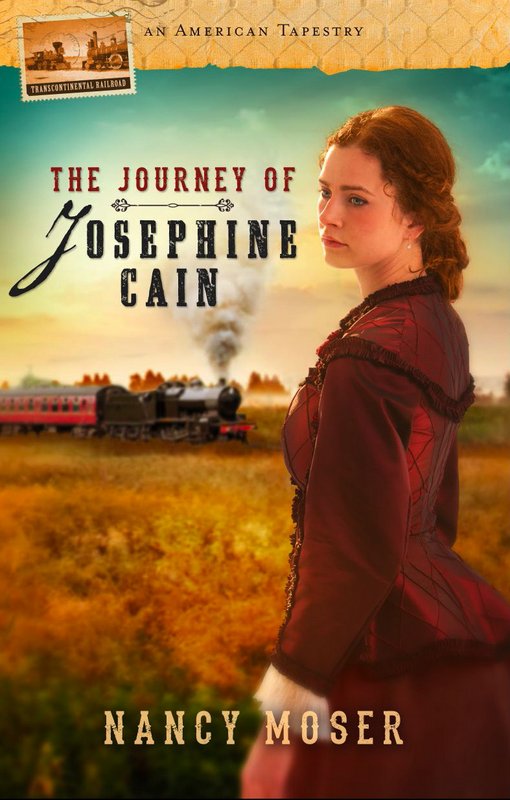 Meet a socialite and a working man in
Nancy Moser's
historical romance
The Journey of Josephine Cain
Summerside Press
The Story
A socialite from the nation's capital embarks on a journey to the Wild West, and her life will be changed forever.
A setting populated by hundreds of laborers, outlaws, and Indians is hardly the place for a wealthy general's daughter from the nation's capital. But Josephine Cain is determined to visit her father, who supervises the day-to-day work involved in the grandest ambition of post-Civil War America: the building of the Transcontinental Railroad. Life with the railroad is far from the proper life Josephine is used to, and she faces deadly gunfights, harsh weather, and vigilante uprisings. She is torn between the West and the East; between her privileged upbringing and the challenges of the frontier; between the pull of the suitable beau her parents approve of and an attraction to a rough but charming Irish railroad worker. But if Josephine is willing, she just might discover a new life, a unique purpose . . . and true love.
Enjoy meeting Josephine & Hudson
Josephine Cain
Brief physical description
Josephine Cain: She's a strawberry blonde, fair skinned, with hazel eyes. She doesn't enter a room—she bursts into it. She may be a socialite, but she's physically (and emotionally and intellectually) stronger than she thinks.
Resembles…
This photo is an anonymous woman, but she became my Josephine. Plus, the art on the cover is perfect (attached)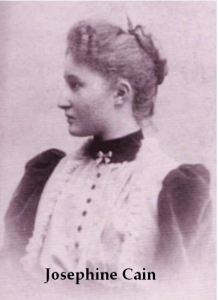 As far as an actress playing her in the movie (ha! I wish), I'd choose Amy Adams. I love her feistiness.
Strengths and weaknesses
Strengths: Josephine is determined and gutsy. And, at first, she doesn't realize she's brave, but as the Wild West gets into her blood, she taps into a very deep vein of courage, gumption, and vision. She had no reason to utilize these traits in her old life—which was firmly entrenched in tradition. New opportunities sparked new strengths.
Weaknesses: She's selfish, impatient, stubborn, impulsive, and manipulative. Yet these latter three traits become assets as she learns how to direct them toward a greater goal.
Your inspiration for the character
I didn't consciously have anyone in mind, yet thinking about Josephine… she does share some traits with Scarlett O'Hara in Gone with the Wind. She's a selfish, society girl who gains character through adversity. Though my Josephine becomes a much better person than Scarlett ever became.
Hudson Maguire
Brief physical description
Hudson Maguire: He's a hunk. :o) Here is Josephine's take on his looks: "His hair was brown like Papa's, but long, skimming his shoulders, and he wore a beard and a mustache. She didn't generally like beards—not even Papa's—but this man's seemed to suit him, creating an interesting and rugged frame for his gentle face." And, "Actually, he was shabby by eastern standards. His boots needed a dozen coats of polish, there was a small rip in the knee of his right trouser leg, his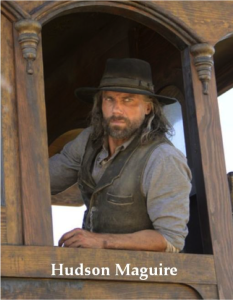 wool coat was missing a button, and his rawhide vest—which had looked so appropriate on the prairie—looked primitive among the city folk on the train. And his brown, fur-felt Stetson hat . . ."
Resembles…
This is a photo of the actor Anson Mount who plays Cullen Bohanon on AMC's "Hell on Wheels"—which is a gritty series that depicts the building of the railroad. It's in its third season. http://www.amctv.com/shows/hell-on-wheels
The term "hell on wheels" was what the railroad called the transient towns that followed the men as they worked their way across the west.
Strengths and weaknesses
Strengths: Hudson is loyal and hardworking. He is a gentleman in work boots, refusing to succumb to the myriad temptations on the line. He can spike a rail with the best of them, but also takes time to admire the prairie sunsets. He has opinions but knows how to temper them with compassion. He sees the best in people and helps them see their own potential.
Weaknesses: He takes commitment so seriously that he nearly misses his own chance at happiness. He can be sensitive to slights and would be better served by standing up for himself. He needs to believe in himself and be proud of who he is.
Your inspiration for the character
Hudson is my take on the ideal man: rugged, a bit wild yet sensitive, kind, hardworking, intriguing, complex, and loyal.
Background to the story
I lived in Nebraska the first 36 years of my life and am a descendant of immigrant pioneers. That can-do spirit has always fascinated me. Watching the fabulous mini-series, "The Men Who Built America" on the History Channel: http://www.history.com/shows/men-who-built-america sparked my fascination with vision. For all these men (Vanderbilt, Carnegie, Rockefeller, Edison) had a vision of what could be. The Transcontinental Railroad came about because of such vision. Before the railroad was built from Omaha to Sacramento, it took six months to cross the United States coast to coast. Afterwards, it took but a few days. The idea was stirring in the minds of men for decades before it came about. Abraham Lincoln was a strong supporter, even before he was president. Building finally commenced right after the end of the Civil War—which was perfect timing. Soldiers from both the Union and Confederate sides, ex-slaves, and an influx of immigrants from all over the world needed work. The railroad provided them that work, and they were forced to work side-by-side. I find it fascinating that men who were killing each other just months earlier were now co-workers linked by a common goal. The United States needed the Transcontinental Railroad project in order to heal and to give the nation something positive to focus on—as a united nation.
Thank you, Nancy!
Relz Reviewz Extras
Review of How Do I Love Thee?
Visit Nancy's website
Buy The Journey of Josephine Cain at Amazon or Koorong