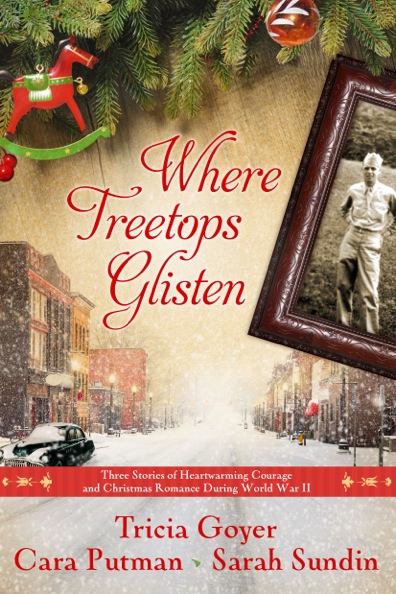 Meet the Turner siblings in
Cara Putman, Sarah Sundin, & Tricia Goyer's
WW2 Christmas Novella Collection
Where Treetops Glisten
Waterbrook Multnomah
********
The Stories
The crunch of newly fallen snow, the weight of wartime
 
Siblings forging new paths and finding love in three stories, filled with the wonder of Christmas
 
Turn back the clock to a different time, listen to Bing Crosby sing of sleigh bells in the snow, as the realities of America's involvement in the Second World War change the lives of the Turner family in Lafayette, Indiana. 
In Cara Putman's White Christmas, Abigail Turner is holding down the Home Front as a college student and a part-time employee at a one-of-a-kind candy shop. Loss of a beau to the war has Abigail skittish about romantic entanglements—until a hard-working young man with a serious problem needs her help. 
Abigail's brother Pete is a fighter pilot hero returned from the European Theater in Sarah Sundin's I'll Be Home for Christmas, trying to recapture the hope and peace his time at war has eroded. But when he encounters a precocious little girl in need of Pete's friendship, can he convince her widowed mother that he's no longer the bully she once knew?
In Tricia Goyer's Have Yourself a Merry Little Christmas, Meredith Turner, "Merry" to those who know her best, is using her skills as a combat nurse on the frontline in the Netherlands. Halfway around the world from home, Merry never expects to face her deepest betrayal head on, but that's precisely what God has in mind to redeem her broken heart. 
The Turner family believes in God's providence during such a tumultuous time. Can they absorb the miracle of Christ's birth and His plan for a future?
Introducing Abigail, Pete, & Meredith
*********
Cara Putman's White Christmas

Abigail Turner
Brief physical description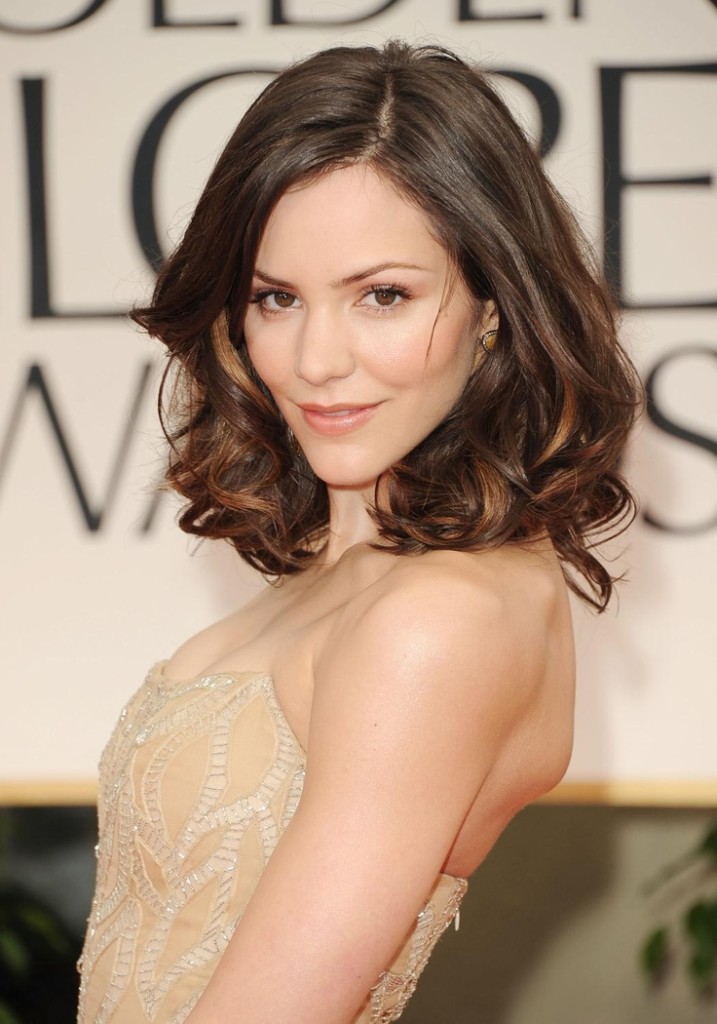 Abigail Turner is the middle child in the family and a student at Purdue University. She is average height with a thin frame and curly hair. She has a kind heart that even though she is scared to get too close to others, she can't help trying to help others.
Resembles… 
Katherine McPhee was the stand in for Abigail
Strengths and weaknesses

Abigail's strength is her willingness to help others, but her greatest weakness, is that she is afraid to let others too close. She's closed her heart to love.
Your inspiration for the character

Abigail's inspiration was my daughter Abigail in many ways. Abigail hadn't had her heroine yet. She's a strong, disciplined young lady who is smart and giving to others. She also has a strong faith like the fictional Abigail. She's cautious about letting people in until she knows them well.
Background to the story 
This collection was inspired by the Christmas carols that became popular during the war. It was also an opportunity to explore what happened in my current hometown during the war. The opportunity to do that with my friends Tricia Goyer and Sarah Sundin made this an especially fun book to write.
Sarah Sundin's I'll Be Home for Christmas
Pete Turner
Brief physical description
Lt. Pete Turner is 32 years old, tall and solidly built, with brown eyes and wavy black hair. When Grace Kessler is first reacquainted with him, she describes his face as too rugged to be truly handsome . . . but her opinion might change over time.
Resembles…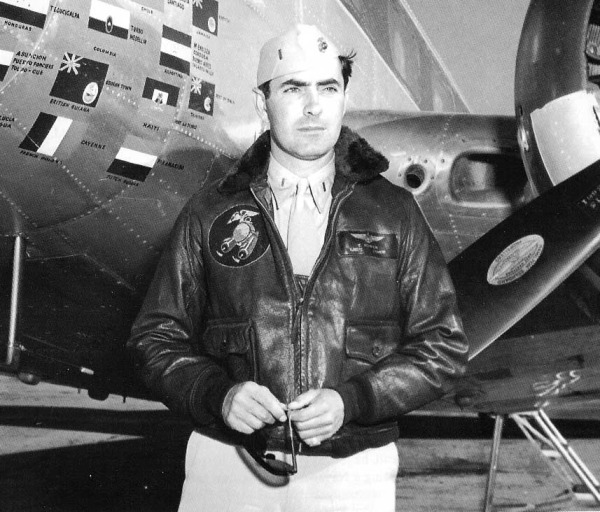 Pete resembles 1940s movie star Tyrone Power in some of the photos I've seen. In most photos, Mr. Power is too conventionally handsome to be Pete. During World War II, Mr. Power served as a Marine Corps pilot, and in this photo, he looks a lot like Pete. Since Pete serves as a P-47 fighter pilot in the US Army Air Corps, this is appropriate.
Strengths and weaknesses

Pete is determined and energetic and hard-working. He's naturally social and fun-loving, and he cares deeply for his family.
As a youngster, Pete was the black sheep, bullying and getting into trouble. When he turned his life around in high school, he overcompensated and he keeps his nose to the grindstone. Now he feels empty after his combat tour as a fighter pilot, drained of all feeling.
Quirk (if any)

No one throws a snowball better than Pete Turner.
Your inspiration for the character

As I originally imagined the story, there wasn't much conflict to keep Pete and Grace apart. I had her remembering him as "such a nice boy." when they were growing up. But what if he wasn't? What if he teased her and bullied her? What if he'd led her older brother into vandalism and trouble? What is he was the black sheep of the wholesome Turner family? Then I had conflict. Would Grace be able to forgive young Pete and accept grown-up Pete as a changed man? I also loved how this made Pete's acts of giving in the story into a type of atonement for his past sins. And it lends some poignant, avoid-the-mistakes-I-made moments as he interacts with Grace's always-in-trouble little daughter.
Background to the story 
While listening to Christmas music on the long drive to my in-laws' house, a story idea slammed me. A little girl searching the streets for something she'd lost…her father, who was killed in the war…taking literally a promise that she'd "see her daddy in all the places they used to go." A fighter pilot, drained from his time at war, determined to fill up again by doing one good deed and bringing the child home…where he meets the child's lovely widowed mother. The story whipped together so quickly in my head, it's hard to tease out how it came together.
Tricia Goyer's Have Yourself a Merry Little Christmas
Meredith Turner
Brief physical description
Meredith Turner is the youngest of the Turner children, and I picture her tall and thin, with an athletic frame.
Resembles…

When I thought of Meredith I had one of my favorite reality show bachelorettes on my mind, Desiree Hartsock. Desiree was beautiful, but she had a sweet attitude, like the girl next door. She was very down-to-earth, and I could totally picture her in a World War II nurse's uniform!
Working with Cara and Sarah, we had fun putting together a Pinterest board to keep everything on the same page. Here is a glimpse into that: http://www.pinterest.com/triciagoyer/where-treetops-glisten/
Strengths and weaknesses
Meredith weakness is that she tries to put up a strong front. She is near the front lines, and yet she keeps doing her duty, even caring for Germans. It's hard for her to open up to people.
Meredith's strengths is that she cares deeply for others, and she's willing to risk her heart for love.

Your inspiration for the character
I'm not quite sure where Meredith came from. Her personality was there the moment that I started writing about her. Her name, though, was inspired by my friend, Merry, who was also born on Christmas.
Background to the story
I loved writing about the women who did their part during World War II. Since we were writing about Christmas, I couldn't help but think about the men who fought in the Battle of the Bulge. I've interviewed over 100 of those veterans and their stories stuck with me. When researching, I discovered that there was a field hospital very near to the front. Once I discovered that I knew I found the setting for my story.
Thanks Tricia, Cara, & Sarah!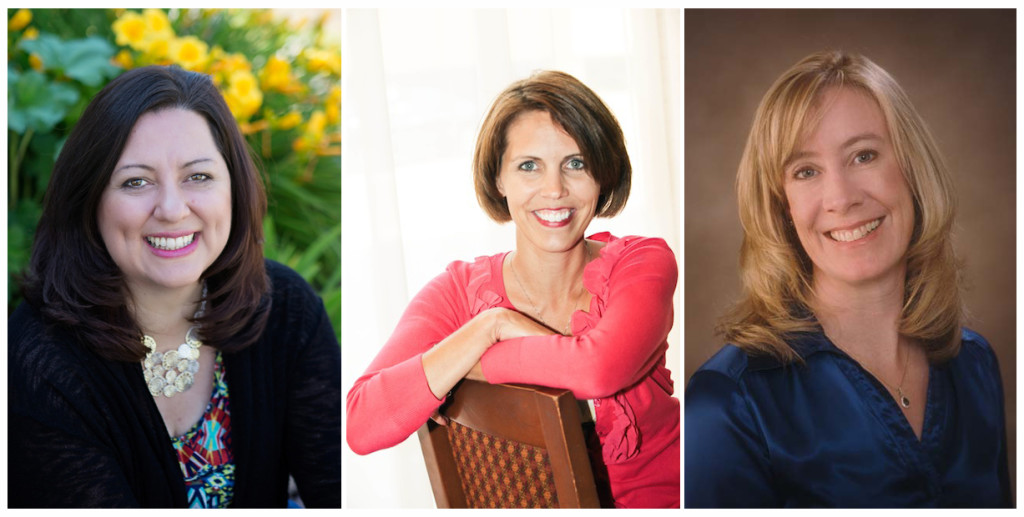 Relz Reviewz Extras
Visit Cara's website and blog
Visit Sarah's website and blog
Visit Tricia's website and blog
Buy from Amazon: Where Treetops Glisten or Koorong