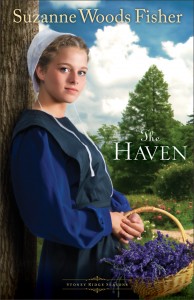 Suzanne Woods Fisher returns with her second Stoney Ridge Seasons novel
The Haven
Revell
The Story
As Sadie Lapp steps off the bus in Stoney Ridge after being in Ohio for the winter, she faces a decision–one that goes against her very essence; yet how else can she protect a loved one?
Schoolteacher Gideon Smucker has been crazy about Sadie since boyhood. But his response to her surprising decision undermines his own reputation–and his relationship with Sadie.
Will Stoltz, a college student, finds himself at the Lapp farm as a guard for a pair of nesting Peregrine Falcons–courtesy of the Lancaster County Game Warden. Will needs to get his life back on track, but his growing friendship with Sadie threatens his plans. The lives of these three individuals intertwine, and then unravel as unexpected twists create ripples through the town of Stoney Ridge . . . and through Sadie's heart.
Enjoy meeting Sadie!
Brief physical description
Sadie Lapp is in her late teens, sandwiched in between two strong, outspoken sisters. Her looks, like her personality, is gentle, soft as a summer day, easy to overlook…yet the more you know her, the more lovely she becomes.
Actor/famous person 
Think…Scarlett Johanssen! At times Scarlett looks strikingly beautiful…other times, a little plain.
Quirk (if any)
Sadie Lapp is painfully shy. She avoids strangers, follows rules, tries to be invisible…yet finds herself in a very visible, rule-breaking situation! And here's a very funny quirk about her: she is a terrible buggy driver. Terrible! Hang on for your life.
Your inspiration for the character
I wasn't really inspired by an individual…but as Sadie's character developed in "The Keeper," I felt as if she had some areas to develop. Another character, Fern Graber, saw something special in her and pushed her (annoyed her!) to grow and develop. We all need someone like Fern in our life. This story is about Sadie learning to dig deep and discover her strengths.
Background to the story
Returning from Ohio where she has spent the winter with older sister Julia and her husband, Sadie picks up an unexpected traveling companion. Instead of the safety and support she expects from her Amish friends and family back home in Pennsylvania, Sadie bristles as hurtful perceptions are formed primarily based on gossip and innuendo rather than truth. She does, however, develop a confidence in Will Stotz, an intern for the county's game warden who moves onto the Lapp farm to oversee two nesting falcons. Their relationship complicates Sadie's relationship with Gideon Smucker, a local boy who has had his heart set on Sadie since they were children.