It's always fun to introduce you to upcoming books and this time it's Zondervan's turn!
DiAnn Mills, Stacy Hawkins Adams, Terri Blackstock, Brock & Bodie Thoene, Heather Burch and Jill Williamson are in the spotlight with a mix of suspense, contemporary, Biblical and YA titles so there's bound to be at least one that will interest you from these books releasing in February and March, 2013.
Now for my thoughts ~ cover wise, it's DiAnn's and Jill's that catch my eye but you can't go past the Thoene's for story brilliance and historical detail.   Also, a number of these books are sequels so any you are hanging out to read having loved the previous stories?

Scroll down for all the details and please share your thoughts on any of these books ~ covers, story, whatever you like! I'd love to hear your thoughts.
Click on the title and author links for more!
~~~~~~~~
Kariss meets Dr. Amy Garrett, who survived a brutal childhood attack in which the assailant was never found. Now Dr. Garrett wants her story written in a novel. Kariss wishes she could seek the advice of Special Agent Tigo Harris, but she broke off the relationship a few months prior and seeing him again would be too painful. She interviews Amy and conducts her own research, stepping unaware into a viper's pit of danger.
Tigo misses Kariss and wants her back, but he understands why she broke off their relationship. Instead, he concentrates on solving a car bombing and bringing the killer to justice. As Kariss's new story attracts an onslaught of danger that she never expected, can Tigo save the woman he loves and find who wants her dead for writing about an unsolved cold-case?
March 2013
Lead Me Home by Stacy Hawkins Adams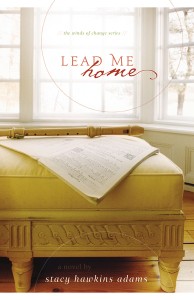 In Lead Me Home, Stacy Hawkins Adams second book in the Winds of Change series, Shiloh Griffin has no identity outside of her roles as pastor's wife and mom. Some days that is enough … but not always. Particularly when partnered with the always confident, always gracious Jade Smith on a church ministry project. Rather than shying away from God in her nervousness, Shiloh clings to him, seeking every day to redeem herself.
When Shiloh begins mentoring Monica, a fifteen-year-old member of the church, she confronts an issue she has been praying for years to forget. If she turns away, this teen's life—and her soul—could be in jeopardy. If she decides to stand up and help, she knows she's the one who risks losing everything.
March, 2013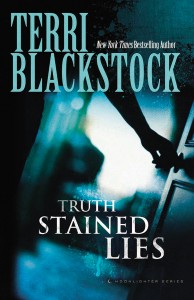 Truth-Stained Lies by Terri Blackstock
Cathy Cramer is a former lawyer and investigative blogger who writes commentary on local homicides. When she finds a threatening note warning her that she's about to experience the same kind of judgment and speculation that she dishes out in her blog, Cathy writes it off as mischief … until her brother is caught in the middle of a murder investigation—the victim is his ex-wife. As her brother is tried and convicted in the media, and bloggers and commentators like her have a field day, Cathy wonders if she should have taken the threat more seriously.
Cathy and her two sisters, Holly and Juliet, moonlight as part-time private investigators, working to solve their brother's ex-wife's murder. Juliet, a stay-at-home mom of two boys, and Holly, a scattered ne'er-do-well who drives a taxi, put aside their fear and lack of confidence to learn the art of investigation.
But will it be too late to save their brother from a murder conviction, or his five-year-old son who's the killer's next target?
March, 2013
When Jesus Wept by Brock & Bodie Thoene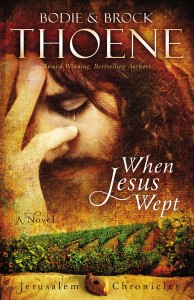 Lazarus occupies a surprising position in the Gospel accounts. Widely known as the man Jesus raised from the dead, his story is actually much broader and richer than that. Living as he did at Bethany, near Jerusalem, Lazarus was uniquely placed to witness the swirl of events around Jesus.
When Jesus Wept, the first novel in The Jerusalem Chronicles series by bestselling authors Bodie and Brock Thoene, unfolds the turbulent times in Judea during Jesus' ministry, centering on the friendship between Jesus and Lazarus. With rich insights from vineyard owners and vine dressers, the Thoenes explore the metaphor of Jesus as the True Vine, harvesting the ancient secrets found in the Old Testament.
Weaving the life of Lazarus, who owned a vineyard, into the crucifixion and resurrection of Christ will help you understand it is the hand of Love Divine that holds the knife, that cuts and breaks with such tender and loving touch, and that we who have born some fruit, after the pruning, can bear much more.
March, 2013
Sometimes the Truth Comes with a Price
Nikki knew Damon Vessler would not let his prized creation go easily—she simply never imagined the lengths he'd go to get her back into his clutches, and turn Nikki's heart toward darkness.
A Seeker at her heels, trained on her blood, Nikki flees with Raven alongside her for protection, while Mace and the other Halflings fight the battle that has erupted on earth. But even as the two boys she loves fight for her, she knows the battle will be hers to win. Determined to uncover the secrets of her past, and exactly how she fits into Vessler's twisted plans, Nikki sets off on her own, and soon discovers facing hellacious beasts is nothing compared to the decision she will need to make. One that could change not only the war, and her relationship with Mace and Raven, but her future with the Throne.
March, 2013
Replication by Jill Williamson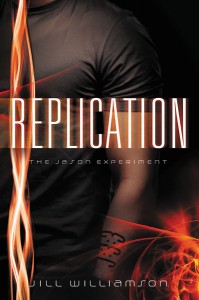 What if everything you knew was a lie?
Martyr—otherwise known as Jason 3:3—is one of hundreds of clones kept in a remote facility called Jason Farms. Told that he has been created to save humanity, Martyr has just one wish before he is scheduled to "expire" in less than a month. To see the sky.
Abby Goyer may have just moved to Alaska, but she has a feeling something strange is going on at the farm where her father works. But even this smart, confident girl could never have imagined what lies beneath a simple barn. Or what would happen when a mysterious boy shows up at her door, asking about the stars.
As the reality of the Jason Experiment comes to light, Martyr is caught between two futures—the one for which he was produced and the one Abby believes God created him to have. Time is running out, and Martyr must decide if a life with Abby is worth leaving everything he's ever known.
February, 2013