Bethany House have long been a favourite publisher of mine. For many reasons. They have a stellar list of authors who write quality fiction, even if the story isn't to my taste. The same with their cover art – it is always high quality and designed with smarts and reader demographics clearly in mind. As a reviewer and blogger, they are marvelous to work with, never requiring a positive review and are always gracious when I've posted about a book I didn't like.
As I share the last of their 2017 releases, I really appreciate the genres they cover. Amish, historicals, historical romance, thrillers, mysteries, and romantic suspense. Beloved authors and a couple of new to Bethany authors in Jaime Jo and Rachel.
As far as stories go, I can't wait to read Ronie's Crown of Souls (Oops! I already have – pre-order now friends, that's all I'm going to say!!), Jaime's mystery/suspense/romance, Rachel's legal thriller, Lynn's historical set in the Sinai Desert, Elizabeth's, Sarah's, Dani's, and Kristi's. And most of the others, too!
Covers that particularly grab my eye are Ronie's (well, of course, say all the women!), Jaime's (stunning and intriguing), Sarah's, Elizabeth's, and Lynn's (who doesn't love a camel on a cover?!).
What say you , dear reader friends? Which covers and/or stories appeal the most to you?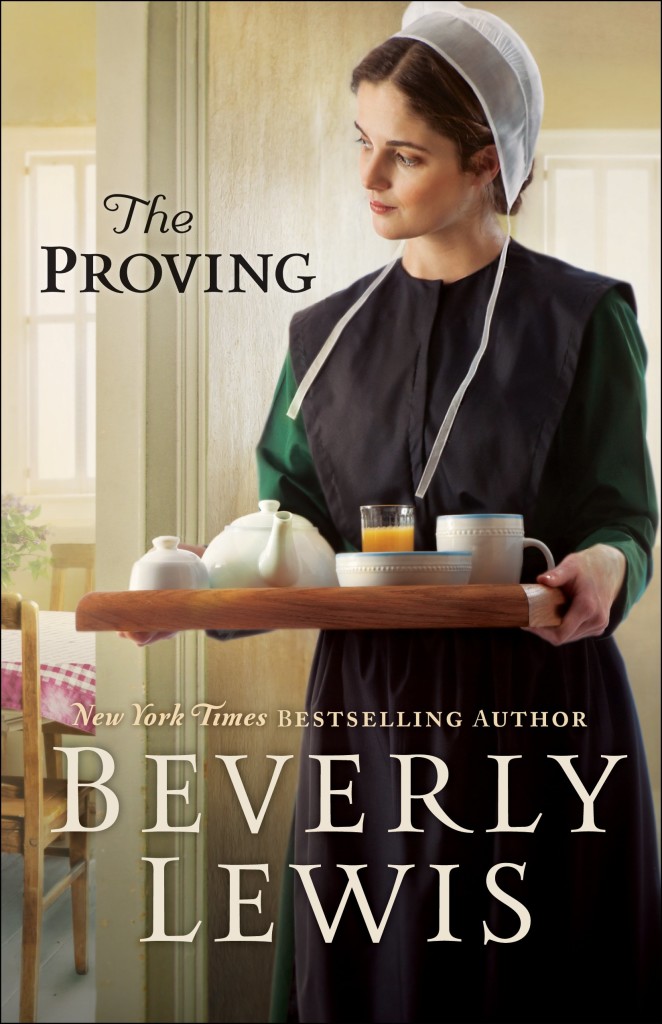 Amish Fiction's #1 Author Presents a Touching Story of Perseverance and Second Chances
Amanda Dienner hasn't spoken a word to her Old Order mother or twin sister in five years when she receives word that her mother has passed away and left her Lancaster County's most popular Amish bed-and-breakfast. Now an Englisher, Mandy is shocked: Her sister should have been the obvious choice! But because this is all her controlling mother's doing, of course there's a catch, and Mandy soon learns that the farmhouse inn will only truly be hers if she is able to successfully run it for one year.
Mandy accepts the challenge even though it means returning to Gordonville and the painful memories she left behind at eighteen. Still, she's determined to prove she is more than capable of running the bed-and-breakfast, no matter that its loyal clientele are expecting an Amish hostess!
The inn isn't Mandy's sole test, however. Rubbing shoulders with her married twin sister reopens wounds that Mandy isn't ready to forgive. And an Englisher guest with a difficult past of her own just complicates matters.
Can Mandy fulfill the terms of her inheritance? Or will this year in Amish country prove a dreadful mistake?
September 2017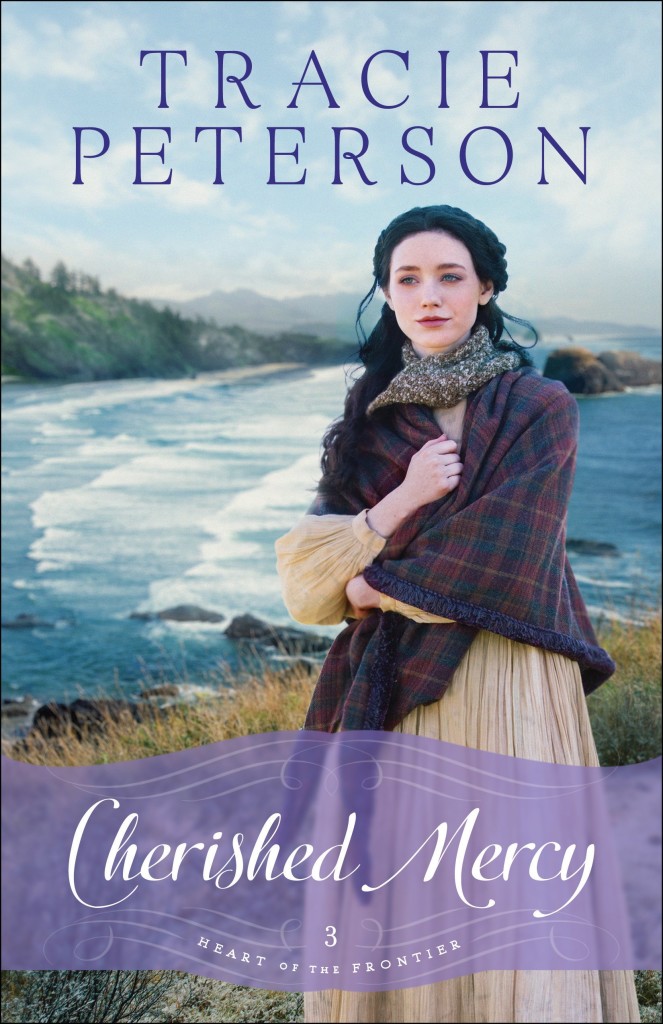 Cherished Mercy by Tracie Peterson
Heart of the Frontier #3
The Inspiring Conclusion to Tracie Peterson's Heart of the Frontier Series
Mercy Flanagan survived the Whitman Massacre as a child, and now her heart's cry is for peace between the native peoples and the white settlers inhabiting Oregon Territory. Unfortunately, most of the settlers would rather the tribes were removed from the land completely, one way or the other, and tensions are rising. Mercy has grown tired of Oregon City and feels that she has a larger purpose in life, so when she learns that family friend Eletta Browning is pregnant, she travels south to the Rogue River Valley to help.
At the Rogue River Mission, Mercy meets Eletta's brother-in-law, Adam, who has suffered a broken engagement. Mercy finds him attractive, but Adam seems determined to focus on ministering to the local tribes and keeps Mercy at arm's length.
When tragedy strikes and tensions in the territory reach the boiling point, Mercy is pushed to the limit of her strength. She and Adam must rely on their firm faith in God in order to make it out alive.
September 2017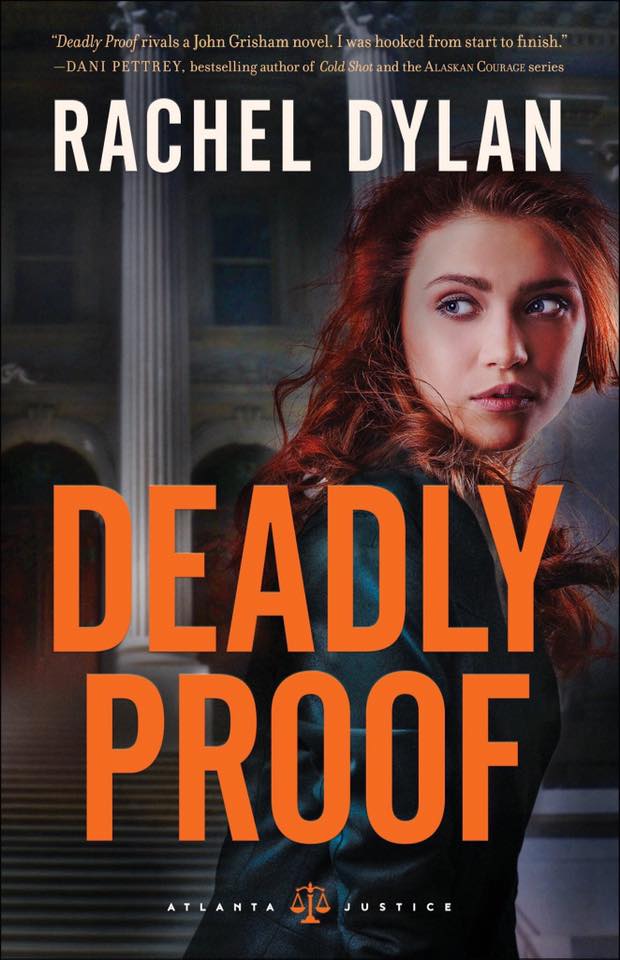 Atlanta Justice #1
Riveting New Series Offers Legal Suspense with a Romantic Twist
In the biggest case of her career, attorney Kate Sullivan is tapped as lead counsel to take on Mason Pharmaceutical because of a corporate cover-up related to its newest drug. After a whistleblower dies, Kate knows the stakes are much higher than her other lawsuits.
Former Army Ranger turned private investigator Landon James is still haunted by mistakes made while serving overseas. Trying to forget the past, he is hired by Kate to look into the whistleblower's allegation and soon suspects that the company may be engaging in a dangerous game for profit. He also soon finds himself falling for this passionate and earnest young lawyer.
Determined not to make the same mistakes, he's intent on keeping Kate safe, but as the case deepens, it appears someone is willing to risk everything–even murder–to keep the case from going to trial.
September 2017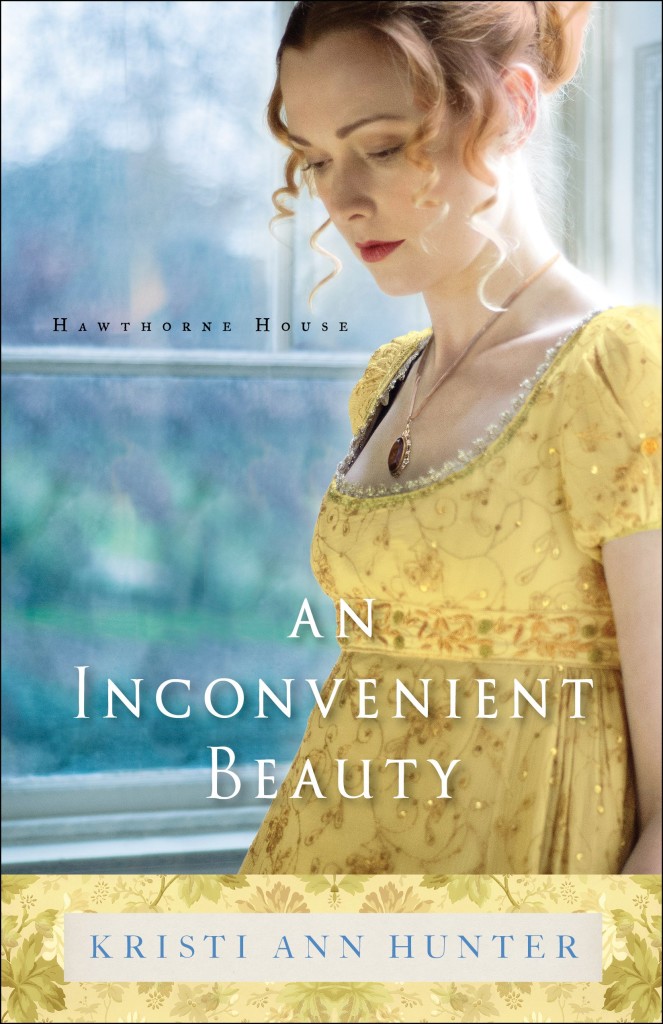 An Inconvenient Beauty by Kristi Ann Hunter
Hawthorne House #4
Griffith, Duke of Riverton, likes order, logic, and control, and he naturally applies this rational approach to his search for a bride. He's certain Miss Frederica St. Claire is the perfect wife for him, but while Frederica is strangely elusive, he can't seem to stop running into her stunningly beautiful cousin, Miss Isabella Breckenridge.
Isabella should be enjoying her society debut, but with her family in difficult circumstances, her uncle will only help them if she'll use her beauty to assist him in his political aims. Already uncomfortable with this agreement, the more she comes to know Griffith, the more she wishes to be free of her unfortunate obligation.
Will Griffith and Isabella be able to set aside their pride and face their fears in time to find their own happily-ever-after?
September 2017
Crown of Souls by Ronie Kendig
The Tox Files #2
"Kendig has out done herself."–RT Book Reviews on Conspiracy of Silence

Six months after stopping a deadly plague, Cole "Tox" Russell and his team are enjoying a little rest. That peace is short-lived when a sniper shot hits Tox. The enemy is discovered to be one of their own, a rogue Special Forces team operator.
Alec King is perhaps the only person as skilled as Tox, and he's out for justice. Furious with orders that got his men killed, he intends to make those responsible pay. And he insists Tox join him, believing they are the same breed of soldier.
Afraid his old friend is right, Tox battles a growing darkness within himself as he and his team engage in another deadly encounter with antiquity. It appears Alec is cheating–he's using a mysterious artifact, a crown that history has linked to some of the worst slaughters in humanity. Racing to stop Alec before his vengeance is unleashed, Tox must fight the monster without becoming one.
September 2017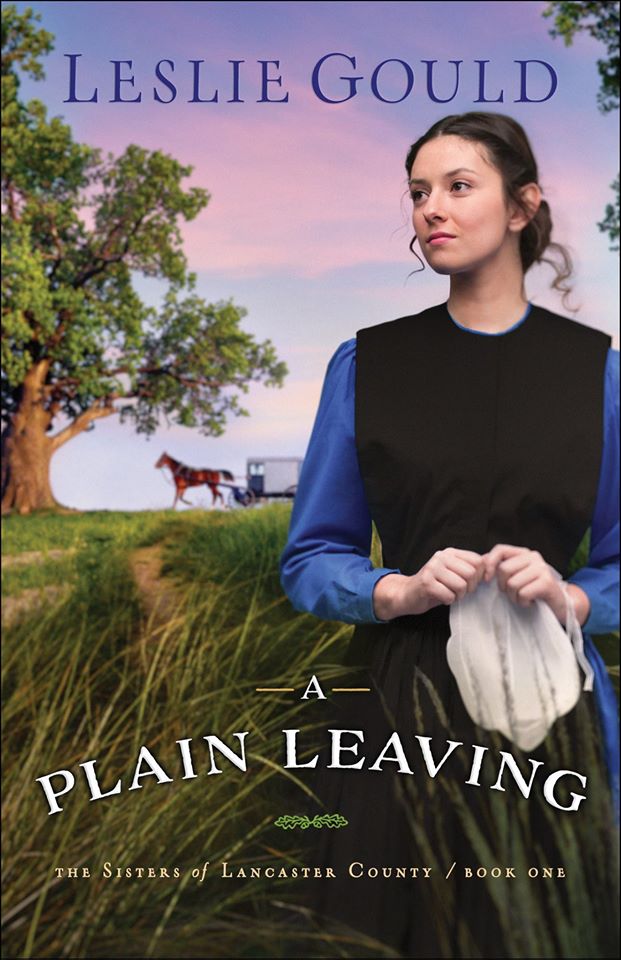 A Plain Leaving by Leslie Gould
The Sisters of Lancaster County #1
Gould Offers a New Amish Series in Idyllic Lancaster County
At age twenty, Jessica Bachman left her two beloved sisters and her Amish community after clashing with the new bishop about her role in the family and the future of their farm. She tried to convince Silas Kemp, who'd been courting her for two years, to join her, but when he said no, she fled anyway.
Three years later, she returns home for the first time since leaving Lancaster to attend her father's funeral. Her arrival back revives all sorts of emotions–yearnings and sorrows alike. Jessica knows things will never return to how they were. But in seeing Silas again, she can't help but wonder what might have been.
Struggling to decide where her next step should take her, she learns the story of a Revolutionary War-era ancestor that echoes her own choices. Will Jessica leave her family and community forever, or is there peace and healing and love yet to come?
October 2017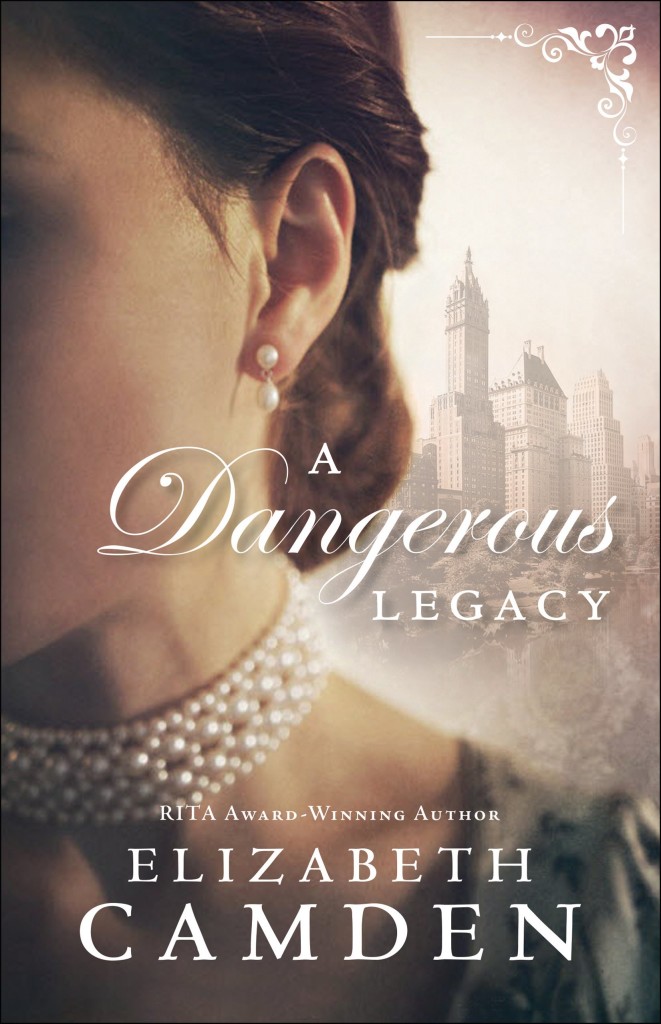 A Dangerous Legacy by Elizabeth Camden
Page-Turning Romance and Intrigue in Award-Winning Author's Next Historical Novel
Lucy Drake's mastery of Morse code has made her a valuable asset to the American news agencies as a telegrapher. But the sudden arrival of Sir Colin Beckwith at rival British news agency Reuters puts her hard-earned livelihood at risk. Newly arrived from London, Colin is talented, handsome, and insufferably charming.
Despite their rivalry, Lucy realizes Colin's connections could be just what her family needs to turn the tide of their long legal battle over the fortune they were swindled out of forty years ago. When she negotiates an unlikely alliance with him, neither of them realizes how far the web of treachery they're wading into will take them.
October 2017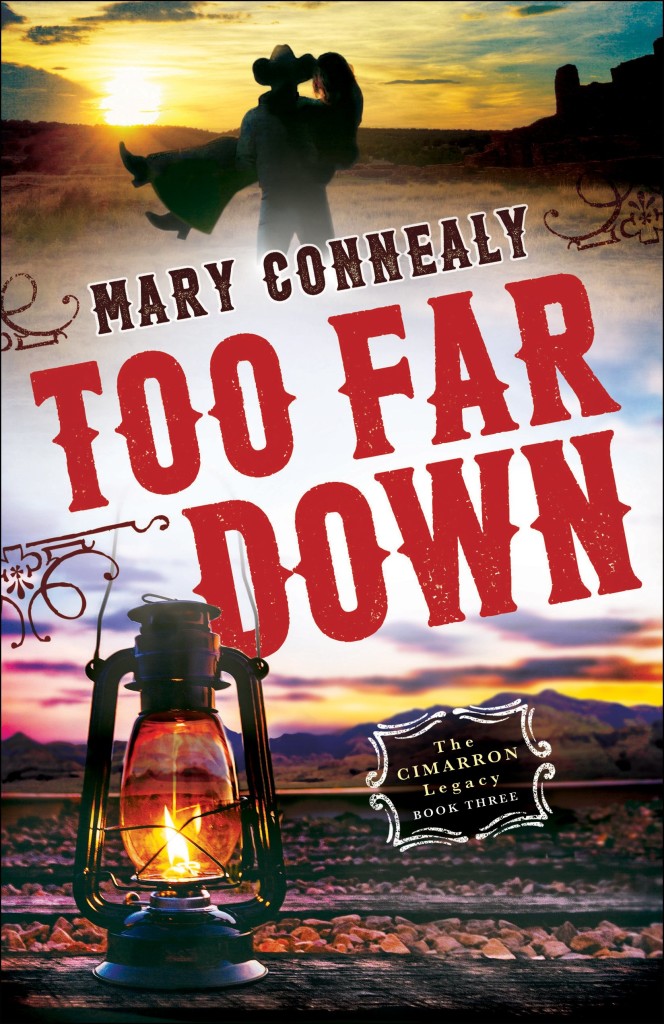 Cimarron Legacy #3
Cowboys, Action, Humor, and History Collide in Connealy's Latest
When an explosion kills men and damages the CR Mining Company, the Bodens realize their troubles are not behind them as they thought. Shadowy forces are still working against them.
Cole Boden finds himself caught between missing his time back East and all that New Mexico offers. Sure he fights with his siblings now and then, but he does care for them. He enjoys running the mine and, when he's honest, he admits that Melanie Blake captures his interest in a way no other woman ever has.
Melanie has been a friend to the Bodens forever. A cowgirl who is more comfortable with horses and lassoes than people, she never expected to find herself falling for someone. Particularly for refined Cole Boden, a Harvard graduate who may not stay long at the ranch. She's determined, however, to help the Bodens finally put an end to the danger that's threatened all of them. But will putting herself in harm's way be more dangerous than anyone expected?
October 2017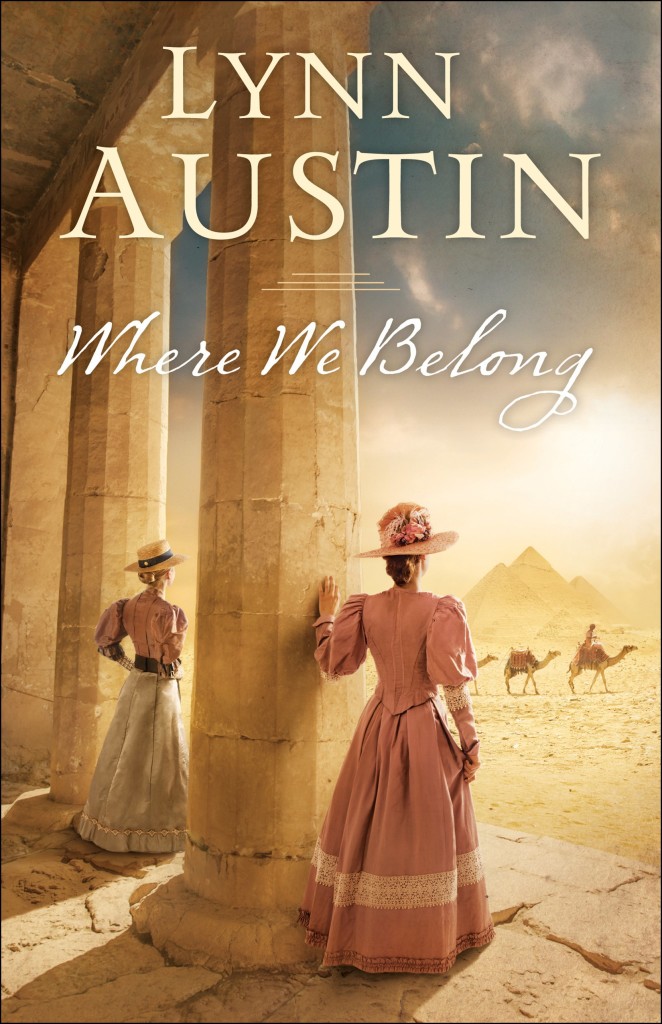 Where We Belong by Lynn Austin
The Adventure of a Lifetime for Two Indomitable Socialite Sisters
In the city of Chicago in 1892, the rules for Victorian women are strict, their roles limited. But sisters Rebecca and Flora Hawes are not typical Victorian ladies. Their love of adventure and their desire to use their God-given talents has brought them to the Sinai Desert–and into a sandstorm.
Accompanied by Soren Petersen, their somber young butler, and Kate Rafferty, a street urchin who is learning to be their ladies' maid, the two women are on a quest to find an important biblical manuscript. As the journey becomes more dangerous and uncertain, the four travelers sift through memories of their past, recalling the events that shaped them and the circumstances that brought them to this time and place.
October 2017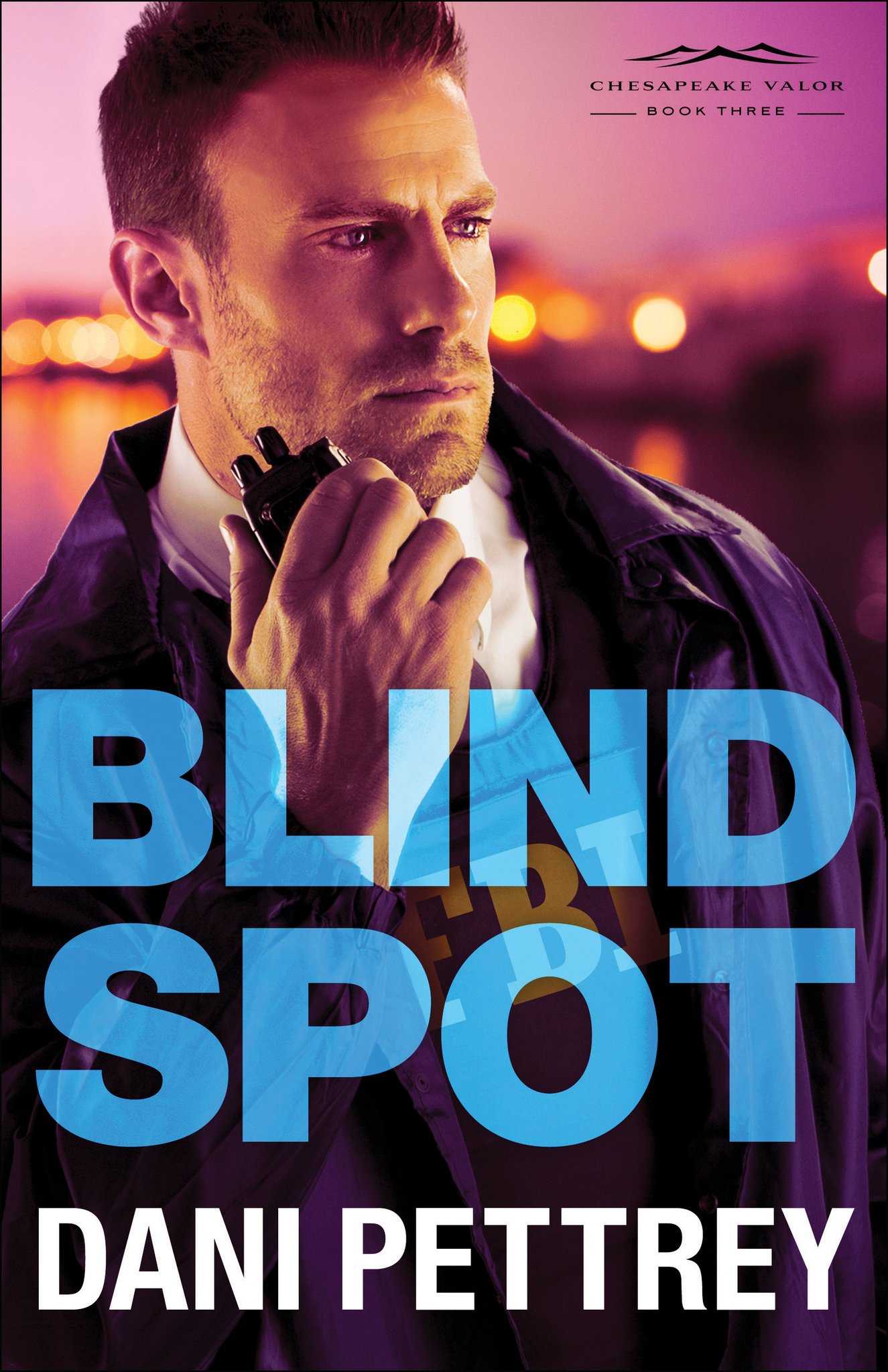 Chesapeake Valor #3
Each of Pettrey's Novels Has Been a Multi-Month Bestseller
FBI agent Declan Grey is in the chase of his life–but isn't sure exactly what he's chasing after. Threatened by a terrorist that "the wrath is coming," Grey fears something horrible is about to be unleashed on American soil. When his investigation leads him to a closed immigrant community, he turns to Tanner Shaw to help him. She's sought justice for refugees and the hurting around the world, and if there's anyone who can help him, it's Tanner.
Tanner Shaw has joined the FBI as a crisis counselor . . . meaning she now has more opportunity to butt heads with Declan. But that tension also includes a spark she can't deny, and she's pretty sure Declan feels the same. But before anything can develop between them, they discover evidence of a terror cell–and soon are in a race against the clock to stop the coming "wrath" that could cost thousands their lives.
October 2017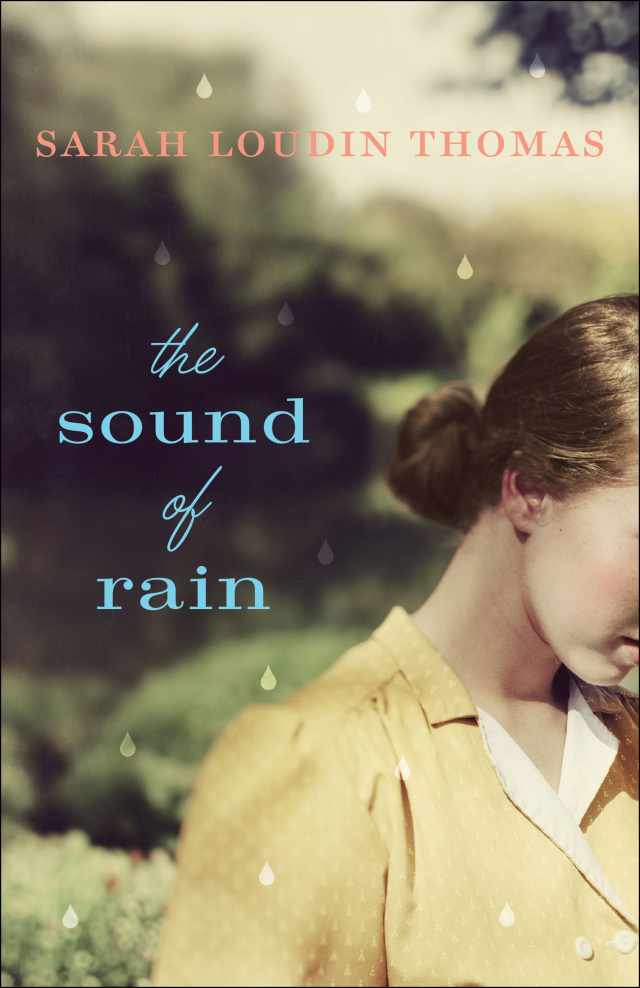 The Sound of Rain by Sarah Loudin Thomas
Book Clubs Will Love This New Nostalgic Historical Novel
Judd Markley is a hardworking coal miner who rarely thinks much past tomorrow until he loses his brother–and nearly his own life–in a mine cave-in. Vowing never to enter the darkness of a mine again, he leaves all he knows in West Virginia to escape to Myrtle Beach, South Carolina. It's 1954, the seaside community is thriving, and Judd soon hires on with a timber company.
Larkin Heyward's life in Myrtle Beach is uncomplicated, mostly doing volunteer work and dancing at the Pavilion. But she dreams of one day doing more–maybe moving to the hollers of Kentucky to help the poor children of Appalachia. But she's never even met someone who's lived there–until she encounters Judd, the newest employee at her father's timber company.
Drawn together in the wake of a devastating hurricane, Judd and Larkin each seek answers to what tomorrow will bring. As opposition rises against following their divergent dreams, they realize that it may take a miracle for them to be together.
November 2017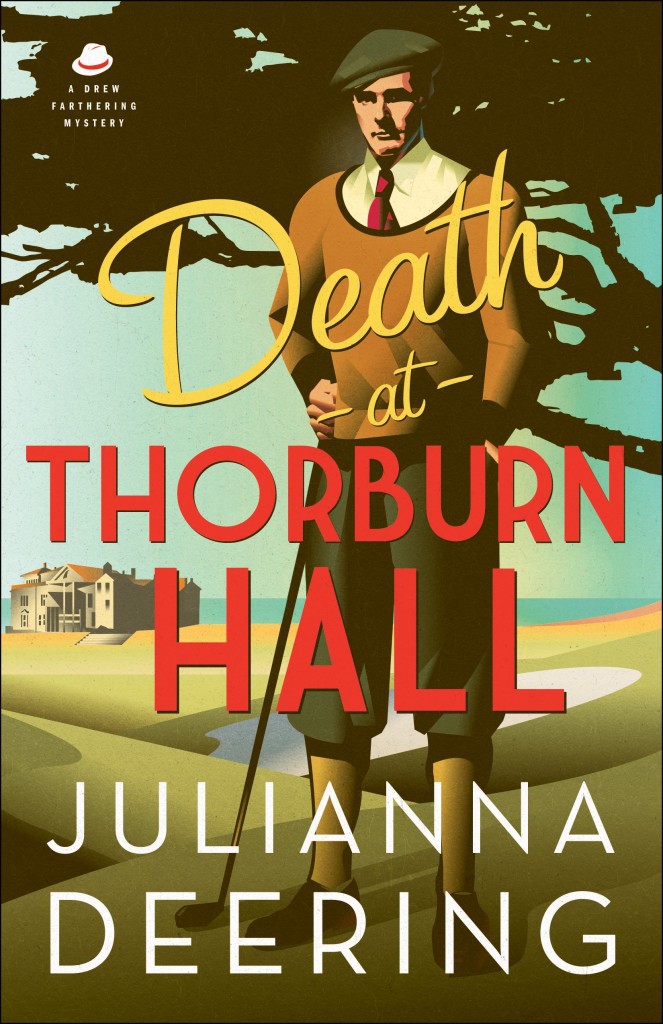 Death at Thorburn Hall by Julianna Deering
Drew Farthering Mystery #6
The Fartherings' Scottish Vacation Takes a Dark Turn
Drew Farthering arrives in idyllic Scotland for the 1935 British Open at Muirfield hoping for a relaxing vacation, but he soon finds a mystery on his hands. Lord Rainsby, his host at Thorburn Hall, fears his business partner may be embezzling and asks Drew to quietly investigate. Before Drew can uncover anything, Rainsby is killed in a suspicious riding accident.
Thorburn Hall is filled with guests, and as Drew continues to dig, he realizes that each might have had a motive. Together with Madeline and Nick, he must sort through shady business dealings, international intrigue, and family tensions to find a killer who always seems to be one step ahead.
November 2017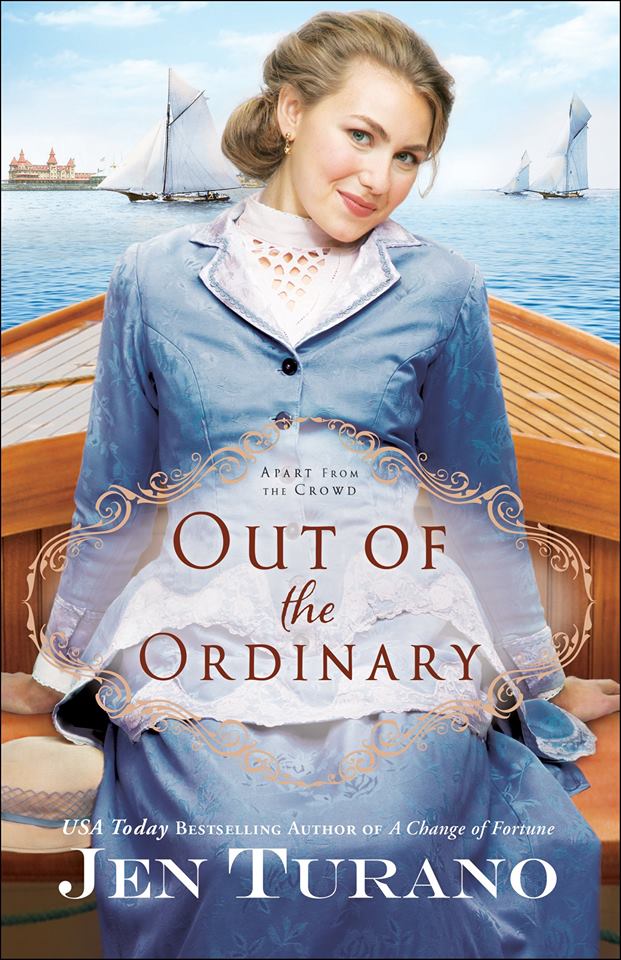 Out of the Ordinary by Jen Turano
Apart from the Crowd #2
Rollicking New Release from Humorous Historical Romance Author Jen Turano
Miss Gertrude Cadwalader hoped her position as the paid companion to Mrs. Davenport would be easy. But as she becomes acquainted with her employer, she realizes the wealthy Mrs. Davenport has a strange tendency to be a bit light-fingered with other people's trinkets. Gertrude is relieved when Mrs. Davenport decides to have a quiet summer away from the social scene–until the woman changes her mind in order to help a young socialite launch into society.
When Gertrude is caught in the act of trying to return one of the trinkets by Mrs. Sinclair, the mother of shipping magnate Harrison Sinclair, the woman jumps to an unfortunate conclusion. Harrison is determined to mend fences with Miss Cadwalader, but he's unprepared for the escapades a friendship with her will entail.
November 2017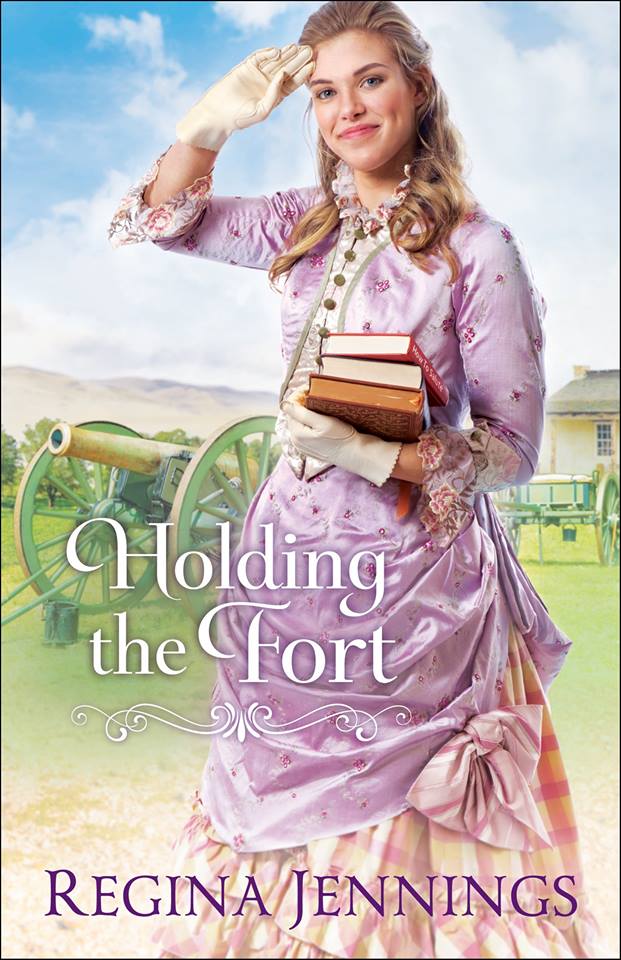 Holding the Fortby Regina Jennings
Louisa Bell never wanted to be a dance-hall singer, but dire circumstances force her hand. With a little help from her brother in the cavalry, she's able to make ends meet, but lately he's run afoul of his commanding officer, so she undertakes a visit to straighten him out.
Major Daniel Adams has his hands full at Fort Reno. He can barely control his rowdy troops, much less his two adolescent daughters. If Daniel doesn't find someone respectable to guide his children, his mother-in-law insists she'll take them.
When Louisa arrives with some reading materials, she's mistaken for the governess who never appeared. Major Adams is skeptical. She bears little resemblance to his idea of a governess–they're not supposed to be so blamed pretty–but he's left without recourse. His mother-in-law must be satisfied, which leaves him turning a blind eye to his unconventional governess's methods. Louisa's never faced so important a performance. Can she keep her act together long enough?
December 2017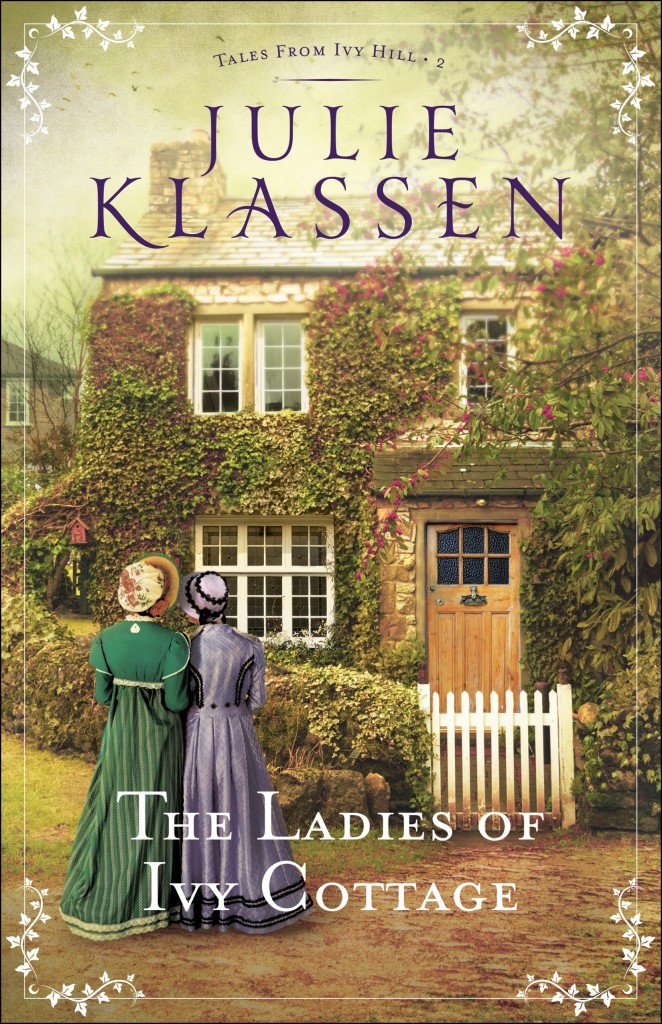 The Ladies of Ivy Cottageby Julie Klassen
Tales from Ivy Hill #2
Return to Ivy Hill in The Ladies of Ivy Cottage as friendships deepen, romances blossom, and mysteries unfold.
Living with the two Miss Groves in Ivy Cottage, impoverished gentlewoman Rachel Ashford is determined to earn her own livelihood . . . somehow. When the village women encourage her to open a subscription library with the many books she has inherited or acquired through donations, Rachel discovers two mysteries hidden among them. A man who once broke her heart helps her search for clues, but will both find more than they bargained for?
Rachel's friend and hostess, Mercy Grove, has given up thoughts of suitors and fills her days managing her girls' school. So when several men take an interest in Ivy Cottage, she assumes pretty Miss Ashford is the cause. Exactly what–or who–has captured each man's attention? The truth may surprise them all.
Meanwhile, life has improved at the coaching inn and Jane Bell is ready to put grief behind her. Now if only the man she misses would return–but where is he?
As the women of Ivy Hill search for answers about the past and hope for the future, might they find love along the way?
December 2017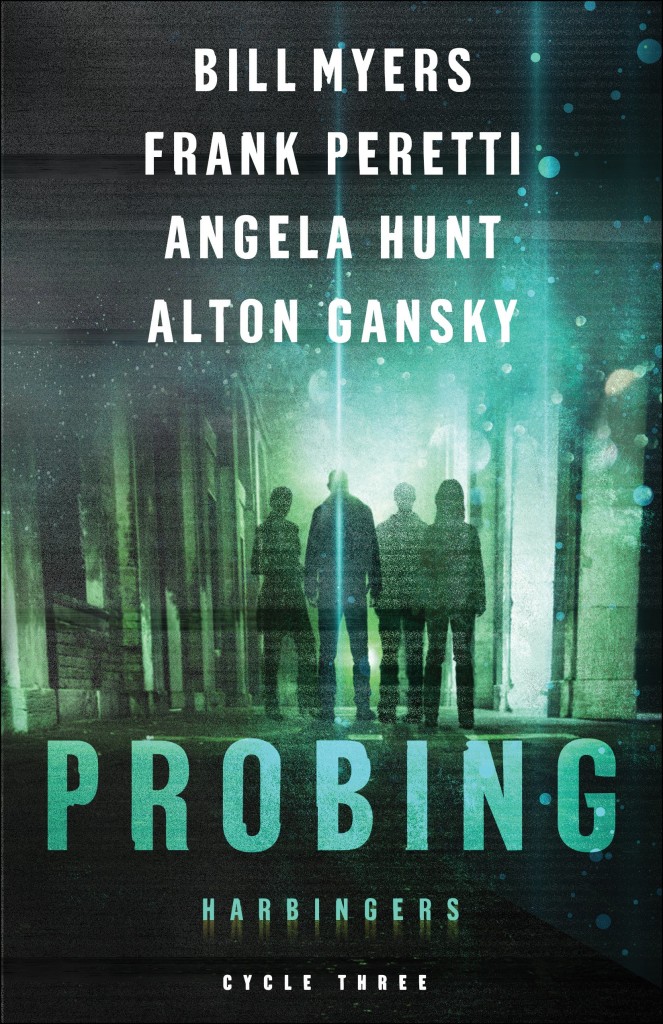 Probing by Bill Myers, Frank Peretti, Angela Hunt, and Alton Gansky
Cycle 3 of the Harbingers Series
Cycle Three of the Harbingers series offers more suspense, more chills, and a deeper look into the battle for light in a growing darkness.
In Myers's "Leviathan," the team heads to Hollywood for a taping of the new TV pilot, Live or Die, the Ultimate Reality. Little do they realize the depths of darkness they are about to enter–a darkness that, unless they stop it, will soon spread across the globe.
Frank Peretti's "The Mind Pirates" offers a rousing story featuring bizarre visions and memories of a murder, a kidnapping by 17th-century pirates, and an earring with mysterious powers. The team must overcome the ruthless scheming of an evil, hidden nemesis.
In "Hybrids" from Angela Hunt, the sight of two children chills the team to their bones. Seeking rest and relaxation, the four friends must instead find answers to the arrival and mission of two mysterious black-eyed children.
In "The Village" from Alton Gansky, a visit to a guarded and secretive small town in North Carolina becomes the most challenging mystery they've ever faced–as they race to solve a problem they barely understand before time runs out.
December 2017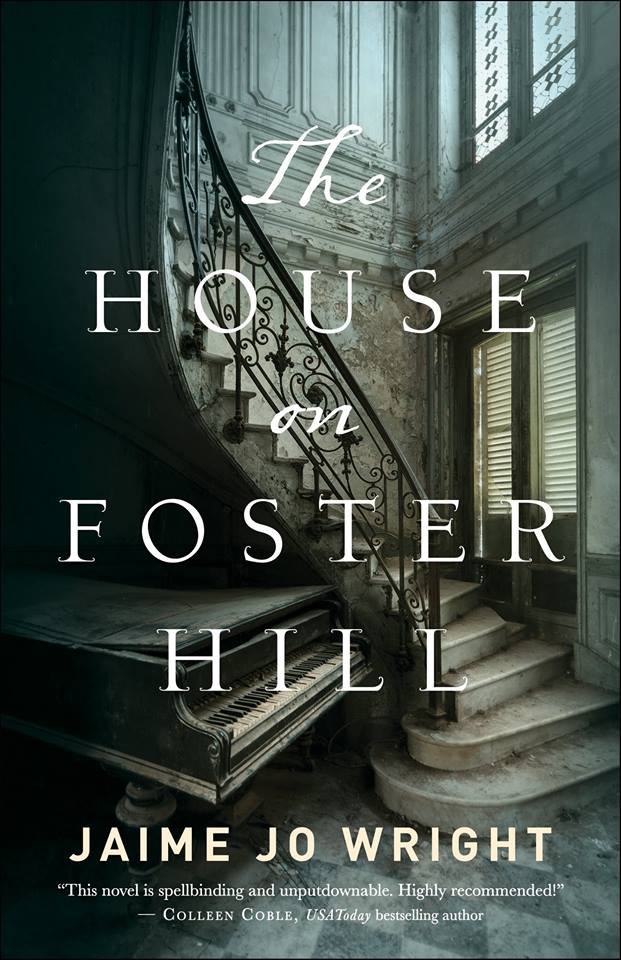 The House on Foster Hillby Jaime Jo Wright
Outstanding Debut Novel from an Author to Watch
Kaine Prescott is no stranger to death. When her husband died two years ago, her pleas for further investigation into his suspicious death fell on deaf ears. In desperate need of a fresh start, Kaine purchases an old house sight unseen in her grandfather's Wisconsin hometown. But one look at the eerie, abandoned house immediately leaves her questioning her rash decision. And when the house's dark history comes back with a vengeance, Kaine is forced to face the terrifying realization she has nowhere left to hide.
A century earlier, the house on Foster Hill holds nothing but painful memories for Ivy Thorpe. When an unidentified woman is found dead on the property, Ivy is compelled to discover her identity. Ivy's search leads her into dangerous waters and, even as she works together with a man from her past, can she unravel the mystery before any other lives–
including her own–are lost?
December 2017