As you know, I love keeping you updated with cover reveal posts as publishers share their new releases. Given the developments in the quality of indie book covers and writing over the past years, and the fact that many of my adored authors are now publishing independently, I thought it high time I added indie book cover reveals here, too. Most of the indie books I read last year became my favourites and I know, even from these few below, that will remain the same for 2016.
Now, to the covers! The richness of colours in MaryLu's and Tamara's reflect the eras of the stories they write. The background images in both covers communicate well about the story, for MaryLu's a signature ship to reflect her seafaring adventure, and for Tamara, a medieval castle.
In a similar fashion, Lynnette and Lisa's also give hints about the story and eras. I love that Lisa's model is a fan of her writing and offered to help Lisa out when she was seeking a cover model. On a side note, Lynnette's is the first instalment in her first serialisation, so more episodes will release over the coming months.
As for Jen's the only contemporary in this set, it's cute and vibrant with a font that tells readers they are looking at a YA read. I can't say enough about the importance of excellent cover art for indie authors and these writers have been wise enough to ensure a quality cover to entice readers in.
Over to you, dear reader friends…thoughts?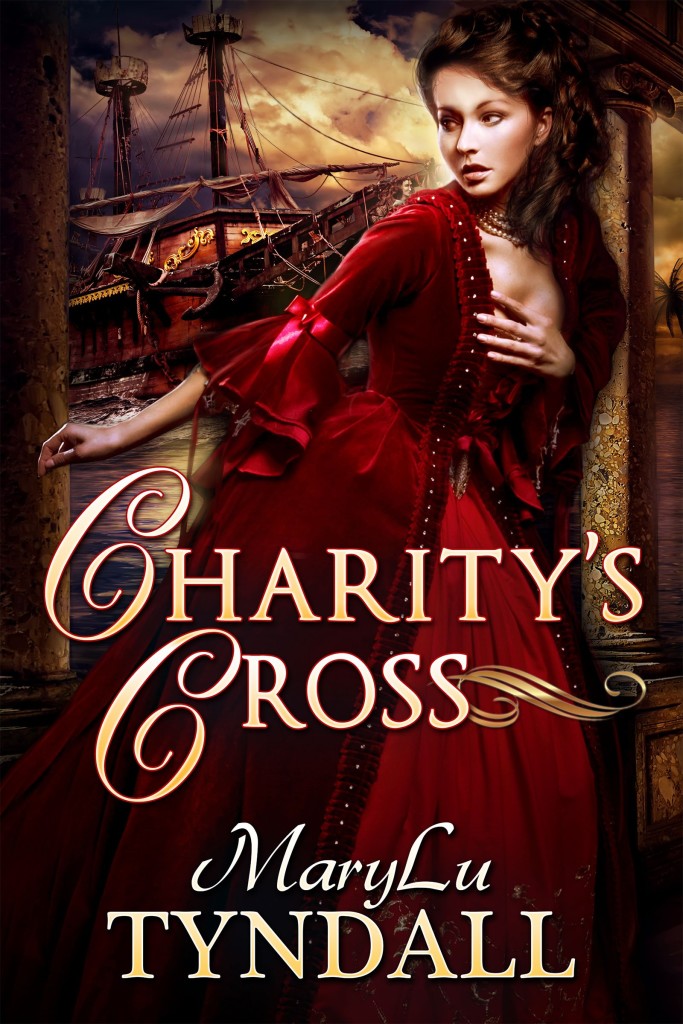 Charity's Cross by MaryLu Tyndall
Suspected of killing her husband, Charity Westcott flees on the first ship out of Portsmouth, England heading for the colonies. Loathing all men after her abusive marriage, she hopes to reunite with her family in Charles Towne, but she ends up in Nassau. When she spots her husband's brother, who is intent on seeing her hang, boarding her ship, she jumps overboard.
Elias Dutton, pirate turned preacher and son of the famous pirate, Rowan Dutton, must get to Barbados as soon as possible. His sister is in danger, and his parents have charged him with her safety. He cannot let them down–again. But after rescuing a madcap woman from the bay, he now finds himself tricked into masquerading as her husband so they both can procure passage to Barbados.
Pirates, storms, shipwreck and betrayal threaten to delay the couple in their journey even as sparks fly between them. With her brother-in-law in fast pursuit, the last thing Charity wants is help from a man, especially a religious one, but she has no choice. After Elias' heart was broken by a sordid woman who nearly ruined his life, he seeks a godly woman pure as the virgin sands of the Caribbean. He believes he has found such a woman in Charity. Until he discovers she is a murderer and is now faced with two choices: letting her go or turning her in to the authorities.
Available now!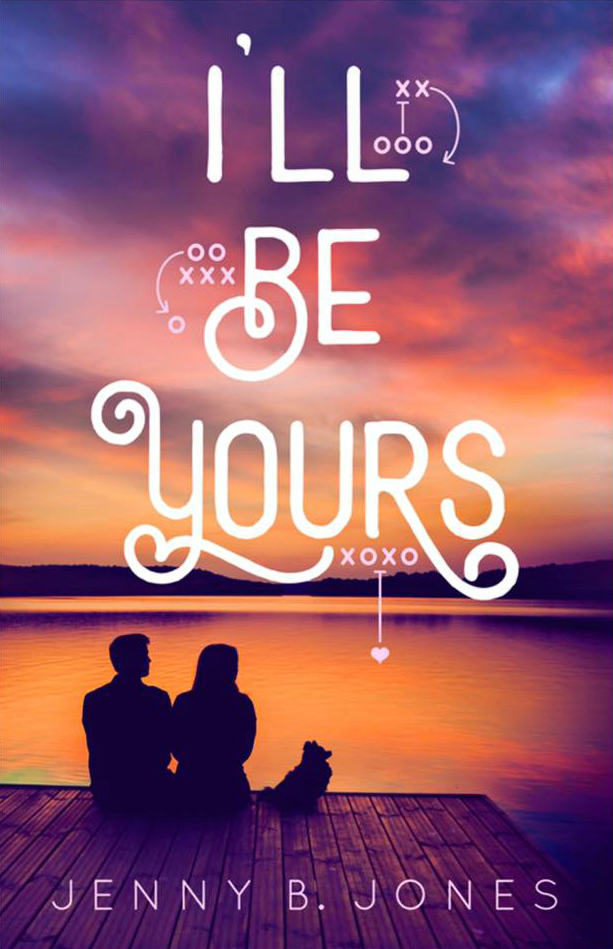 I'll Be Yours by Jenny B. Jones
She's the coach's brilliant daughter, clueless about love.
He's the dethroned football star, ready to teach Romance 101.
When dark secrets and sparks collide, there's no playbook for what happens next.
If life were a nerd parade, sixteen-year-old Harper O'Malley would be its grand marshal. This trumpet player's got a laundry list of accomplishments to her credit, but none of them include snagging a boyfriend. When a new guy finally catches Harper's eye, she'll stop at nothing to win his heart, even if it means asking for assistance from an unlikely source.
High school senior Ridley Estes's future depends on playing football for the University of Southern Kentucky. When his past catches up with him, Ridley will need more than just a scholarship to get his ticket to college. He needs the kind of help only a brainiac like Harper can provide.
Harper knows she's insane to agree to tutor Ridley in exchange for love lessons, but these are desperate times. Just when she sees promise with her crush, a national scandal rocks the SEC, and no one is safe from the fallout. Harper's family implodes from the aftershocks, dredging up devastating memories she'd rather keep buried.
Harper suddenly has everything to lose—her family, friends, and even her heart. Who can she trust? When the dust of the scandal settles, nothing will be the same. Including the girl who asked the most popular jock to teach her about love.
March, 2016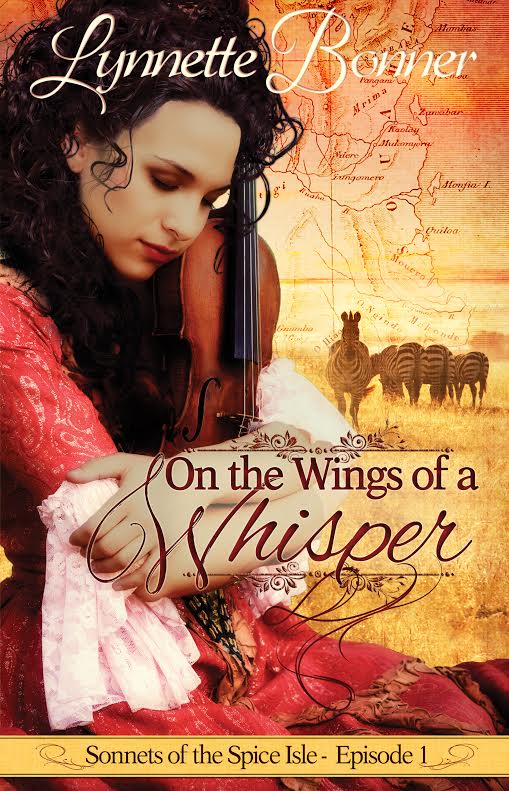 On The Wings of a Whisper by Lynnette Bonner
Stone Town, Zanzibar, Early 1866
RyAnne Hunter is determined to stop her father from leaving for the continent of Africa, where he plans to start a mission station. And she only has until morning. Tonight at the Harcourts' Annual Ball will be her last chance to change his mind. She must succeed! Papa's health, and her future, depend on her success. But, as if her task isn't difficult enough, now the insufferable Captain Dawson has agreed to guide Papa's expedition!
After spending six months at sea, Captain Trent Dawson only wants to think about rest and relaxation. However, when he's recruited by a British naval officer to help put an end to a slave smuggling ring, the perfect opportunity presents itself in Dr. Hunter, who needs a guide to the Interior. Now if he can just help the doctor without spending too much time with the man's troublesome and flighty youngest daughter.
March, 2016
**SPECIAL PRE-ORDER PRICE FOR ON THE WINGS OF A WHISPER – 99 cents**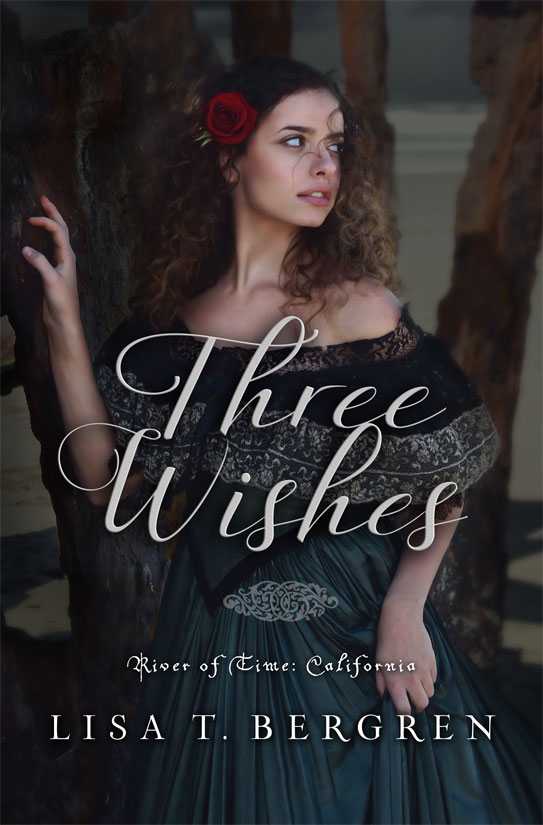 Three Wishes by Lisa T. Bergren
BE CAREFUL WHAT YOU WISH FOR. BECAUSE YOU JUST MIGHT GET IT.
Zara Ruiz is a normal California girl on the verge of graduating high school and thinking about her dawning future. But when dusk brings a shattering loss—and she discovers a priceless object in the shallows of a tide pool—she is thrust a hundred-and-eighty years into the past. There she meets handsome ranchero Javier de la Ventura—who has big dreams and bigger secrets—along with his enchanting family, in a land that is at once familiar, and yet utterly foreign.
Between cattle rustlers, pirates and a growing call for statehood, it is not a peaceful time to be a Mexican settler in young Alta California. But it is in that time and place that Zara must decide if she's f what she longs for most in the past, or if her heart's THREE WISHES can only be resolved in the present.
April, 2016
Lady Undaunted by Tamara Leigh
USA Today Bestselling author Tamara Leigh returns with a tale of betrayal, vengeance, and forbidden longing in Lady Undaunted, her latest historical romance set in medieval England.
BETRAYED
Declared illegitimate and denied his inheritance, Sir Liam Fawke has given six years of his life in service to his younger brother for the promise of being named heir to the Barony of Ashlingford. But when he is summoned to his brother's deathbed, he learns his treacherous kin has secretly wed and fathered a son. Vowing to claim what is rightfully his, Liam contests his nephew's succession. And not only finds himself at dangerous odds with the boy's lovely, spirited mother, but attracted to one who is forbidden him—one whose son is the means by which he could twice lose all.
FORBIDDEN
Three years ago, Lady Joslyn struck a desperate bargain to wed a nobleman and provide him with an heir. Now widowed, she must protect her young son from her husband's vengeful brother who will stop at nothing—including murder—to take what does not belong to him. But when she seeks an audience with the king to secure her son's inheritance, she discovers Sir Liam may have the stronger claim and that the truth of him could make lies of all she was led to believe. More unsettling, she is drawn to the man beneath the anger who can never forgive her for the part she played in his brother's deception—nor forget to whom she first belonged.
April, 2016
**SPECIAL PRE-ORDER PRICE FOR LADY UNDAUNTED – $2.99**