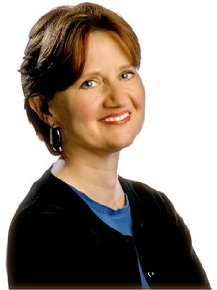 Discover more about
Leslie Gould
and her Amish novel
Amish Promises
Bethany House
**********
A book character that sticks in my mind is… Atticus Finch from To Kill a Mockingbird. He's a moral character who does the right thing, over and over, but always in a humble manner. (I had a student write in an essay that Atticus Finch was the first good example he had of what it meant to be a man.)
The last book that made me laugh out loud was… The Help, by Kathryn Stockett. I reread it every couple of years to figure out how the author "did" it—but each time I get so engrossed in the story that I stop analysing and just soak up the story, once again. Anyway, I laugh at the same places each time.
I'm completely immersed in her storytelling, whenever I read a book by… Melanie Dobson. Her latest is The Chateau of Secrets. She does these amazing time slip stories that keep you turning the pages!
The first person who encouraged me to pursue my writing was… I had positive feedback as far as my nonfiction in high school, college, and my early jobs in PR and as a museum curator, but it wasn't until my late 20s that I started studying fiction. In my first class, the instructor slipped me a folded piece of paper as she returned the first short story I'd submitted. Her note simply read: "This will be published." The story never was published, but her encouragement gave me the hope I needed to keep writing.
If I wasn't a writer, I would be… A professor.
In fact I've taught writing on the college level a couple of different times, including this term, and love it!
I write stories because… They help me process life, but always with a happy ending.
Amish Promises

When Joel and Shani Beck arrive at their new home, they're looking for peace. Shani is thrilled to have Joel back from Iraq, but he needs time to heal, and the quiet of Lancaster seems just the place. They can't imagine any trouble with their Amish neighbors, the Lehmans, but things get off to a rocky start when their son is involved in an accident that injures one of the Lehman boys.

Eve Lehman has run her brother's household ever since the death of his wife, but Tim's a stern patriarch. Despite his protests, she's drawn to the new neighbor, Shani, and the two begin to form a strong friendship forged on faith and family. Things seem like they've quieted down until Joel's single and handsome army friend Charlie catches Eve's attention–a man unlike any Eve has ever met. Suddenly life for both families becomes more complicated than any of them could have ever imagined.
My latest novel can be described by these 5 adjectives…  Plain, military, simple, complex, suspenseful
My main character is… Eve, an Amish woman in love with an Englisch Army Reserve soldier
My main character resembles…. the woman on the cover of Amish Promises; in fact that is exactly who my main character is. J (I had other ideas in my head until I saw the cover. After that, the model on the front is absolutely Eve.)
My story's spiritual theme is… love your neighbor as yourself
The most recent tv show I loved was… "Call the Midwife" (although I'm behind on watching it. I need to take a weekend and binge to catch up!). I had two of my babies at home, one before the midwife arrived, and I've done a ton of research on the topic. I'm absolutely fascinated by midwifery!
The story I'm currently working on is… Amish Sweethearts, the second in my Neighbors of Lancaster County series.
You may not know this about me, but I… Love church history, especially during the Reformation. An absolutely fascinating time!
I might go all fan girl if I met… Khaled Hosseini, the author of The Kite Runner, A Thousand Splendid Suns, and And the Mountains Echoed. Hosseini's novels helped me better cope with my husband's deployment to Afghanistan in 2011 to command a field hospital. Soon after my husband returned, we heard Hosseini speak and his message helped my husband as he processed his year in-country. We didn't have a chance to meet Hosseini that evening, but I would still love to someday.
If I could travel back in time, I'd go to… Scotland, in the early 1860s. My great great grandparents emigrated from Edinburgh to the United States in 1865, arriving by ship in San Francisco the day Abraham Lincoln died. I'd love to go back in time to when they were making their decision to leave their homeland and then journey along with them. Of course I'd return to 2015 and write about their experiences!
I get lost in the music when I listen to… The soundtrack to "Les Miserables."
A long held dream of mine is… to volunteer to work in an orphanage in a third world country.
Thanks Leslie!
Leslie Gould is the #1 bestselling and Christy Award winning author of twenty novels. She and her husband, Peter, live in Portland, Oregon and are the revolving-door parents of four children and three cats. Besides writing, Leslie enjoys hiking, Shakespeare, traveling, and going to the movies with her hubby on Friday nights. Her latest release is Amish Promises, the first in the Neighbors of Lancaster County series. Find out more at www.lesliegould.com.
Relz Reviewz Extras
Review of Courting Cate
Character spotlight on Cate
Visit Leslie's website
Buy at Amazon: Amish Promises or Koorong