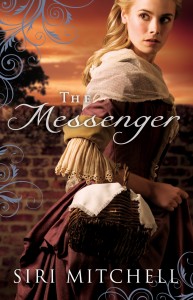 Synopsis:~
Hannah Sunderland felt content in her embrace of the Quaker faith until her twin brother ran off and joined the army and ended up captured and in jail. Suddenly Hannah's world turns on end. She longs to bring her brother some measure of comfort in the squalid, frigid prison where he remains. But the Quakers believe they are not to take sides, not to take up arms. Can she sit by and do nothing while he suffers?
Jeremiah Jones has an enormous task before him. Responsibility for a spy ring is now his, and he desperately needs access to the men in prison, whom they are seeking to free. A possible solution is to garner a pass for Hannah. But while she is fine to the eye, she holds only disdain for him–and agreeing would mean disobeying those she loves and abandoning a bedrock of her faith.
My take:~
Siri Mitchell continues to stand head and shoulders above the crowd with her historical fiction novels and her latest novel consolidates her position.  Faithful to historical accuracy from location descriptions, fashion styles, dialogue and actual events, The Messenger informs as much as it entertains and challenges. Hannah and Jeremiah are unique characters, painted with social and religious prejudices and strengths, deeply imprinted by their life experiences and their responses to tragedy and pain.  Their authentic dislike for each other is not just a ploy to generate conflict but allows for a natural unfolding of their relationship from disgust to forced tolerance and eventually a heart connection neither of them expected. Siri provides interesting insights to the Quaker beliefs and doesn't hesitate to delve into the deeper questions that stem from a pacifist approach in the midst of war. Not being well versed in American history resulted in a little confusion regarding the military conflict and the pacing slowed more than I like in some spots, but nothing takes away from Siri's lovely prose and the complexities with which she imbues her characters and their interaction.  The Messenger is an intriguing and thought provoking story that is well worth the investment of your time and emotions.
With thanks to the author and Bethany House for my review copy
Relz Reviewz Extras
FamilyFiction Plus with Siri
Exclusive Book Club Interview with Siri
Review of A Heart Most Worthy, A Constant Heart and She Walks in Beauty
Character spotlight on She Walks in Beauty's Clara Carter, Love's Pursuit's characters and A Constant Heart's Marget & Lytham
Visit Siri's website
Buy Siri's books at Amazon or Koorong