The Reading Habits
of
Kristi Ann Hunter
*********
Are you a re-reader? Why, or why not? And if you are, what are some of the books you have read over and over?
I am absolutely a re-reader. I have a bookcase in my room with several old friends that I have been known to return to on occasion. More than one Karen Witemeyer book graces that shelf along with Trish Perry's The Guy I'm Not Dating. There's also a few Lori Wick books along with a several general market books from Julia Quinn and Robin McKinley.
When is your optimal time to read – do you prefer to read in one long block, or do you also read for five minutes here or there when you can?
My preference, of course, would be to read for hours on end. Unfortunately life intervenes and I have to do things like make dinner and wash clothes. I do, however, get at least thirty minutes of reading in every morning when I workout. Then I read in the afternoon carpool line. I've been known to play an audio book while I clean. Or drive. Or shower. And my Kindle props nicely against a pillow while I fold towels. The only time I don't read is when I go to bed because all too often I stay up reading and don't get enough sleep.
I'd love your thoughts on novellas. Are you thumbs up or down? Or does it depend?!
It really depends. Novellas are really great as part of a series, when you have an opportunity to get to know the characters more in other books.  Also, there are sometimes great stories that simply don't have enough substance to carry 350 pages.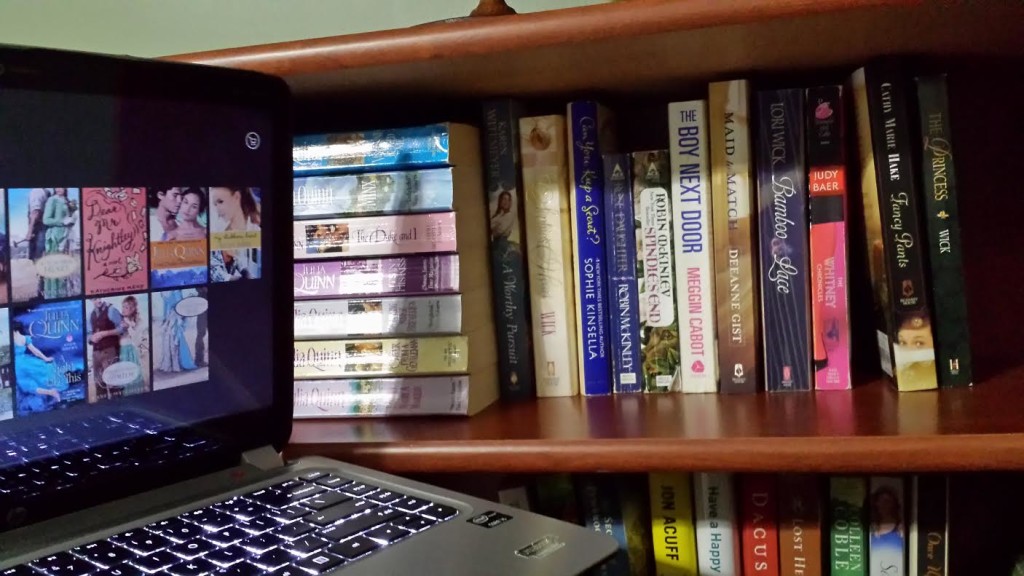 "Part of my Old Friends shelf. Admittedly there are several missing that have wandered to other bookcases in the house and have yet to find their way home."
Are you faithful to a genre, an author, or simply quality writing?
By and large I'm a romance junkie though I've been known to enjoy a good fantasy novel. Occasionally you will find me reading a non-fiction book, but that's pretty rare outside of book research. There are only a couple of authors I'm completely loyal to, but I will usually finish a series once I start it.
Which factors most influence your selection of a book?
Unless it's an author I recognize and know about, the title and cover play a large part in capturing my initial attention. Beyond that, it's got to be a premise I think I can get lost it. I like to escape when I read and really immerse myself in the story.
Your fiction pet peeve?
Scenes that have no bearing on the rest of the book but were included to make a statement or push an agenda. I've read books where I didn't agree with everything a character did or thought but still enjoyed the story. I think that's one of the beauties of books, getting to see the world through other people's eyes. But when a scene is shoehorned in that has nothing to do with the plot or furthering the character, I cringe and it's hard to keep reading.
What book have you read this year that you could not put down, and why?
Karen Witemeyer's A Worthy Pursuit was fabulous. We ordered pizza for dinner that day because I couldn't stop reading it. I'm currently reading After a Fashion by Jen Turano and keep inventing excuses to pull out my Kindle. I could be accused of arranging my schedule to be "stuck" in the carpool line longer today in order to read another chapter, but I'll never admit it.
How do you mark your spot – folded page corner, bookmark, dollar bill, whatever is at hand?
Whatever is at hand. When I was younger I did the dog-ear thing, but a book-loving college roommate cured me of that. I have been known to prop it on the edge of the table if I'm coming back soon, but usually it's whatever scrap of paper I can find.
Whose debut novel impressed you more than you anticipated?
Becky Wade's My Stubborn Heart. I remember getting it as an audio book for a long solo road trip. I hated even stopping for gas because I had to pause it. The book hadn't finished when I got home, so I ended up buying it on ebook and staying up late to read it. Fabulous book with an ending I adored.
Katherine Reay's Dear Mr. Knightley blew me away as well.
When reading, what makes or breaks a story for you?
From a technical perspective poor (or nonexistant) editing can make it very difficult to get lost in a book. No matter how good the premise is, if it's not enough to get me to overlook the typos and inconsistencies, I'm putting it down.
The most important thing, though, is flow. The story has to keep going and take me along for the ride. There's a thing we do in Georgia called tubing where you sit in an inflatable innertube and drift down the river. You don't have to row or anything, you just go with the flow. A book should be like that. If I have to work tostay in the stream, I probably won't finish. But I've completed a well-paced book even when the story was only mediocre.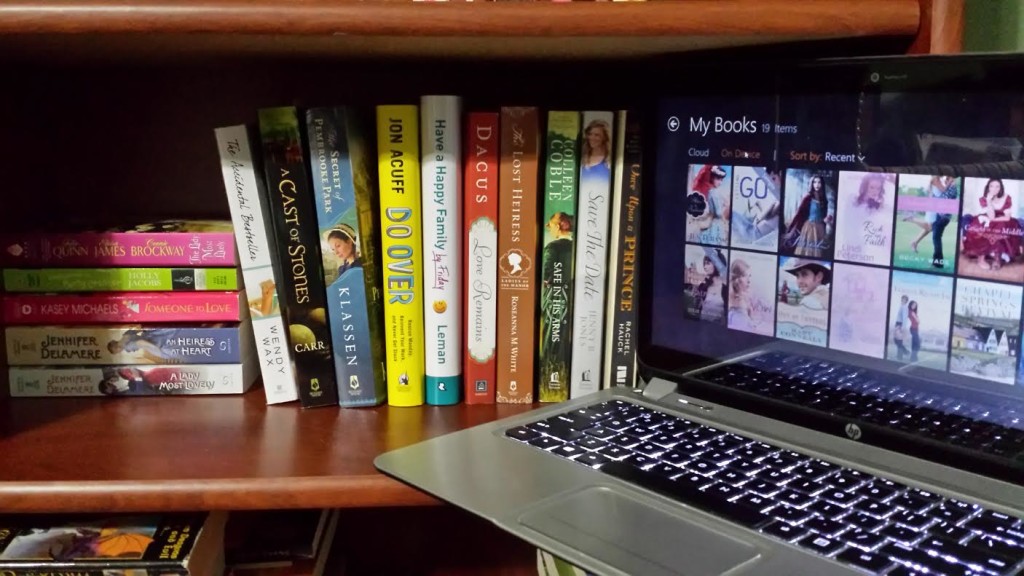 "Part of my TBR shelf. It's a bit heavy on the older books at the moment because a local bookstore had a big clearance sale when they rearranged and I found a bag of books from RWA 2013 hiding in my closet."
What are some of your favourite CF reads from around 10 years ago, or further back?
I was introduced to Christian fiction through Lori Wick. My college roommate had everything she'd ever written and she let me borrow them as long as I treated them very, very nicely. The Princess, Sophie's Heart, and Bamboo & Lace have remained some of my favorite books.
Snack/drink of choice while reading?
Water, I suppose, since I do a lot of reading while on the treadmill or stationary bike. I don't really snack a lot while reading because I'm usually too engrossed to remember the food.
What book cover (any genre – ABA or CBA) has really caught your eye?
Mine, of course. Seeing your own name on the cover has a way of drawing your attention. (Seriously, though I recently saw a preliminary version of my next cover and I danced it around the living room. So pretty.)
Siri Mitchell's She Walks In Beauty has always been a gorgeous cover to me, but for sheer eye-catching ability, the one that comes to mind is Katherine Reay's Dear Mr. Knightley. Very recognizable cover.
Which author makes it easy to turn off your internal editor?
I actually don't find it extremely difficult to turn off my internal editor if the book is well written. Karen Witemeyer can almost always pull me in to the story so that I forget to look at anything else. Regency author Julia Quinn is another favourite of mine. I've only read two Katherine Reay books so it's hard to say if she would always turn off my internal editor, but she even manages to draw me in to a genre and style I don't normally read.
What book do you wish you had written? Why?
This is such a tough question because there are so many aspects to writing a book. Sometimes it isn't only the final product that is so appealing.  A few books that come to mind:
Redeeming Love because who wouldn't want to have been part of such a ground-breaking book that touched so many people's lives?
Maid to Match by Deeanne Gist because I would love to have had a reason to delve so deeply into the history of Biltmore. I love Biltmore.
Sixty Acres and a Bride by Regina Jennings for the simple fact that I have tried and tried to reimagine and reframe stories from the Bible and it is simply not a skill I have yet acquired. Regina did it beautifully.
From a sheer story perspective, though, I would most like to have written Trish Perry's The Guy I'm Not Dating. I have read that book so many, many times. The blend of romance, personal growth, humor, evangelistic message, and relatable life moments is captivating.
Don't miss Kristi's debut novel…
A Noble Masquerade
Lady Miranda Hawthorne acts every inch the lady, but inside she longs to be bold and carefree. Entering her fourth Season and approaching spinsterhood in the eyes of society, she pours her innermost feelings out not in a diary but in letters to her brother's old school friend, a duke–with no intention of ever sending these private thoughts to a man she's heard stories about but never met. Meanwhile, she also finds herself intrigued by Marlow, her brother's new valet, and although she may wish to break free of the strictures that bind her, falling in love with a servant is more of a rebellion than she planned. 
When Marlow accidentally discovers and mails one of the letters to her unwitting confidant, Miranda is beyond mortified. And even more shocked when the duke returns her note with one of his own that initiates a courtship-by-mail. Insecurity about her lack of suitors shifts into confusion at her growing feelings for two men–one she's never met but whose words deeply resonate with her heart, and one she has come to depend on but whose behavior is more and more suspicious. When it becomes apparent state secrets are at risk and Marlow is right in the thick of the conflict, one thing is certain: Miranda's heart is far from all that's at risk for the Hawthornes and those they love.
Relz Reviewz Extras
Download the FREE ebook prequel, A Lady of Esteem
Visit Kristi's website and blog
Buy at Amazon: A Noble Masquerade or Koorong