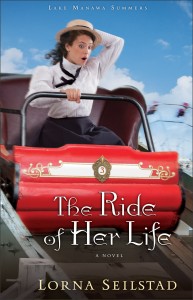 Synopsis:~
The only man pragmatic Lilly Hart needs in her life is a six year old.
Widowed two years ago, Lilly leaves the shelter of her intrusive in-laws' home to stand on her own and provide for her young son by working for the summer as a cook at Lake Manawa. However, her in-laws find that life utterly unsuitable for their grandson, and when a row ensues, a handsome stranger–who designs roller coasters, of all things–intercedes on her behalf. Still, Lilly is not about to get involved with any man, especially this cocky (though charismatic) gentleman.
Little does she know she is about to begin the ride of her life.
My take:~
Looking for a joyful, entertaining read with characters easy to adore? Look no further than Lorna Seilstad's third Lake Manawa novel, The Ride of Her Life.  Instilled with humour, interesting characters and unique historical details of the beginning of the roller coaster craze, this book is quite delightful.  Lorna takes her place alongside Karen Witemeyer and Deeanne Gist as a talented writer who adds frivolity and wit to her historical romantic tales.  That said, Lilly's struggle to maintain her independence and provide for her little Levi, and her faith journey add all the substance this story needs.  With a charming leading man in Nick, Lorna has produced another lighthearted gem which is engaging and sweet and provides a satisfying end to her series.
Available May 2012 at your favorite bookseller from Revell, a division of Baker Publishing Group
With thanks to Revell for my review copy
Relz Reviewz Extras
Reviews of Making Waves & A Great Catch
Visit Lorna's website and collaborative blog
Buy Lorna's book at Amazon or Koorong