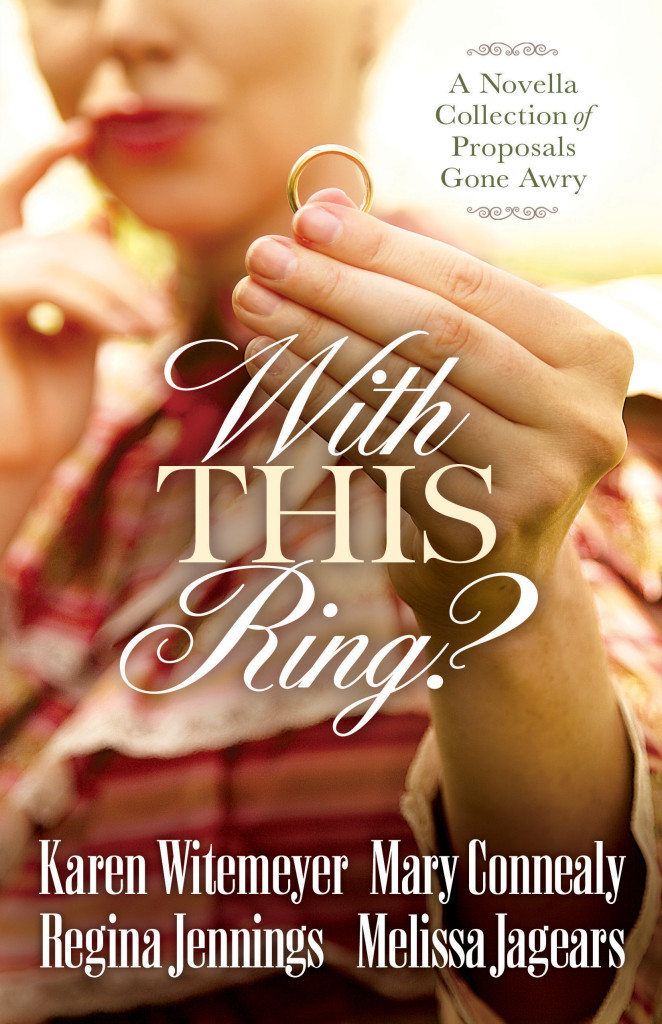 Meet the characters from 
Karen Witemeyer, Mary Connealy, Regina Jennings, & Melissa Jagears'
historical novella collection
With This Ring?
Bethany House
*********
The Story
Four top historical romance novelists team up in this new collection to offer stories of love and romance with a twist of humor. In Karen Witemeyer's "The Husband Maneuver," Marietta Hawkins decides to grab the reins when the ranch foreman she loves seems to be leaving forever. Regina Jennings offers "Her Dearly Unintended," where friends stranded by a rising river pretend to be newlyweds when a dangerous stranger arrives.
Mary Connealy's "Runaway Bride" finds a Texas ranger getting more than he expected when he rescues a young woman fleeing a dangerous arranged marriage. And Melissa Jagears' "Engaging the Competition" finds a young woman forced to assist the man she's sparred with for so long after an accident leaves him helpless. Each tale is a fun blend of history and romance that will delight readers.
Meet the characters!
Describe your main characters with five words/adjectives each.
Melissa
Charlotte: Stubborn, Rough-and-Tumble, Practical, Dependable, Competitive
Harrison: Stubborn, Intelligent, Well-read, Determined, Encourager
Karen
Daniel Barrett: Honorable, Protective, Sharpshooter, ​Mule-Trainer, Dime-Novel-Hero-Alter-Ego
Marietta Hawkins: Determined, Persistent, Loyal, Marriage-Minded, Hailstorm-Fodder
Regina
Katie Ellen Watson: Inventor, OCD, Short-tempered, Sassy-Mouthed, Besotted
Josiah Huckabee: Ornery, Reckless, Messy, Determined, In Love
Mary
Carrie: Delicate, Brave, Loyal, Endangered, Bold
Who was your favorite secondary character in this novella and why?
Melissa: Reverend McCabe. You don't usually have a male matchmaker in stories–and though he was subtle–he was definitely matchmaking.
Karen: This story is a little different in that there are virtually no secondary characters. Dan and Marietta are isolated for most of the story. However, ​Jonah Hawkins, Marietta's father arrives at a key moment toward the end and does a bit of reverse-engineered matchmaking, so I'll choose him as my favorite.
Regina: This story is about a young couple who get trapped by a flood and must pretend to be married to keep a creepy traveler at a distance. The creepy character, Silas Ruger, was inspired by Uncle Si of Duck Dynasty. Would you want to be trapped with him if you didn't know him?
He's delightfully menacing and annoying.
Mary: Carrie's little brother Isaac was such fun to write. A brave young man smart enough to know he did not want to grow up like his troubled father.
When you start a novel or novella, do you usually begin with a character, theme, bit of dialogue? Do you make a detailed outline, write as you go, or fall somewhere in between?
Melissa: Usually I have a plot point/romantic event that I want to have happen that starts my story creating, but I'm definitely driven by characters, so they're next. I figure out what kind of characters would be involved in that hopefully unique scene I want to happen. I think I'm fairly abnormal for a romance writer and I want it all outlined before I go in. Each story I've tried different outlines (snowflake outlines to hundreds of excel charts to writing out forty page synopses), but I want a really decent handle on what I'm doing before I start writing so I don't end up taking the easiest way through.
Karen: Up to this point, all of the novellas I've written have built off of characters introduced in a previous novel. So I guess you could say that I start with the character. I already know who they are and ​have a handle on their backstory, so that makes it easier to come up with plot ideas and twists. Sometimes I even have ideas already spinning in my head while writing the novel in which they first appear. That's what happened with Dan and Marietta. I hinted at their love interest in A Worthy Pursuit, knowing I would follow up with them in a novella. However, I recently finished a novella where I asked readers to brainstorm plot ideas for me. It was a huge success, and even though I already had my characters in place, I was able to expand my plot based on what the readers wanted to see. That was fun.
Regina: I usually start with a bit of plot. What if this happened? What about a conflict like this? Then I go backwards from there and imagine what kind of character would have the hardest time dealing with this. As far as plotting, I do have the main points of the plot determined beforehand, but it's not detailed. I like to leave room for adjustments.
Mary: Novel or novella, I always start with story. Yes, when you're writing about a character who's appeared in another book already, you have to be true to (in this case) him so he shapes the story I want to tell. But I always begin with a story and let the rest come from that.

Relz Reviewz Extras
Visit Karen's website and blogs
Visit Mary's website and blog
Visit Regina's website and blog
Visit Melissa's website
Buy at Amazon: With This Ring or Koorong