The Reading Habits 
of 
Robin Lee Hatcher
**********
Are you a re-reader? Why, or why not? And if you are, what are some of the books you have read over and over?
Other than my Bible, I seldom reread books. But that's only because (1) my reading time is very limited and (2) there are so many books waiting that I still want to read. If I stopped buying books today, I still don't think I will live enough years to get through all of the books (print, ebook, and audio) that I own.
A few books that I've read more than once: Redeeming Love; A Voice in the Wind; An Echo in the Darkness; and As Sure as the Dawn by Francine Rivers; and Gone With the Wind by Margaret Mitchell.
When is your optimal time to read – do you prefer to read in one long block, or do you also read for five minutes here or there when you can?
I do my devotional/Christian living reading in the morning. I begin with my Bible, and then I follow that with whatever non-fiction Christian book I am currently reading. As I answer this question, I am reading two books on prayer: Fervent by Priscilla Shirer and With Christ in the School of Prayer by Andrew Murray.
I do my pleasure reading at bedtime. And since I am usually exhausted when that time rolls around, it means I don't read for long and it takes me f-o-r-e-v-e-r to finish a novel. Right now, I am in the early chapters of A.D. 33 by Ted Dekker. (A.D. 30 was one of my favorite books of 2015.)
Research and reference books, of course, are read any time throughout the day as they are needed.
I always have an audiobook (fiction or non-fiction) going when I am in the car. These are often NYT bestsellers or other popular general market books that I might not take the time to read otherwise. Some (many?) I wouldn't recommend to my readers, but it helps me as a writer to keep my pulse on the culture and what is striking a chord with the general population.
I also open up a book on my iPhone when waiting in the doctor's or dentist's office. No point wasting that time. This is usually whatever bedtime novel I'm reading at the time.
I'd love your thoughts on novellas. Are you thumbs up or down? Or does it depend?!
Thumbs up. I really enjoy novellas and generally read several throughout the year. As with any book, I don't fall in love with every novella I read, but I think at least 80% to 85% of the ones I've read in the past few years would garner four or five stars.
Are you faithful to a genre, an author, or simply quality writing?
Like anyone else, I have an author or two whose books I never miss. But my list of "favorite" authors is very, very long, and with limited reading time, I can't keep up with every book by every one of them. Christian fiction would be at the top of my reading list with the sub-genre of Christian romance being the most read. I don't have a preference of historical or contemporary; I enjoy both equally.
Which factors most influence your selection of a book?
Author name, a book's blurb, recommendations from trusted friends, sometimes a review.
Your fiction pet peeve?
Don't beat me over the head with a message, no matter how good it is. Let it be organic and trust me to be intelligent enough to "get it."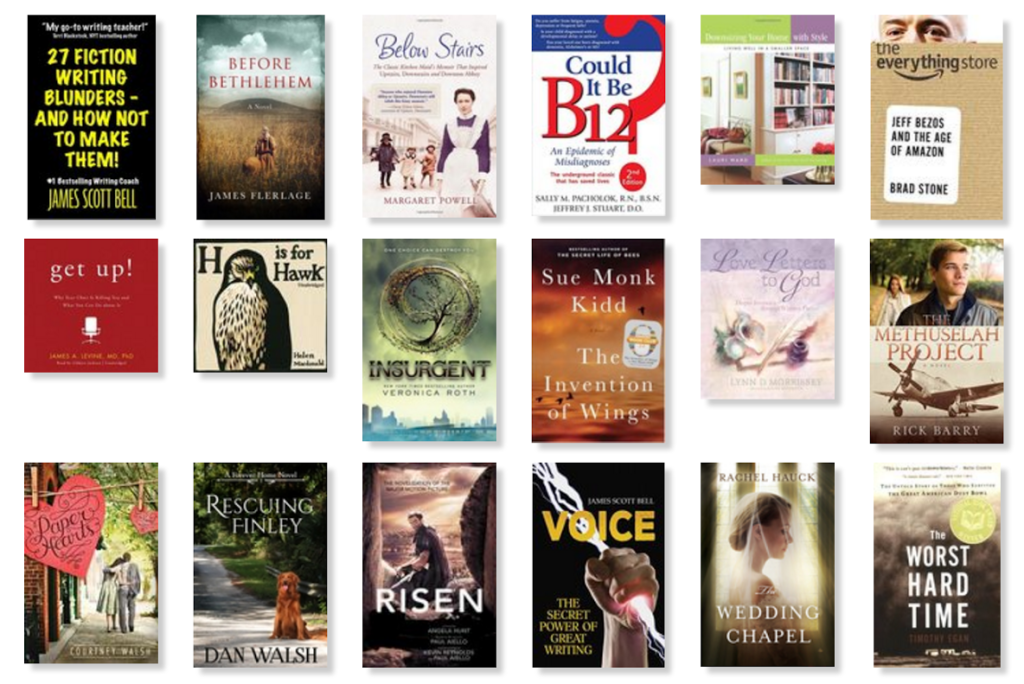 Robin's TBR on Goodreads
What book have you read this year that you could not put down, and why?
Only one??!? There were several Christian novels that were five star reads.
However, I will have to go with a general market book: Kristin Hannah's The Nightingale.  I absolutely loved this book from start to finish. I cared so much about the two sisters, and I cared about the people they loved, too. The end of the book brought me to tears several times. Highly recommended.
And I must add my favorite non-fiction read of the last year: As You Wish: Inconceivable Tales from the Making of The Princess Bride by Cary Elwes. If at all possible, it should be listened to as an audiobook because it is read by the author (Westley himself) with guest appearances by the director and many of the other actors from the film. It is simply delicious and told with such great affection. If you are a fan of the movie, do NOT miss this book.
How do you mark your spot – folded page corner, bookmark, dollar bill, whatever is at hand?
I am almost exclusively an ebook reader. But when reading a physical book, I use bookmarks as I have lots of them. I never fold corners.
Whose debut novel impressed you more than you anticipated?
I searched my Goodreads reading challenges back through 2013, and I couldn't find a single debut novelist among them. Quite a few were new authors to me but the books weren't their debut novels. More often than not, novels are several years old before I get to them, and I may no longer remember that it was a debut novel.
When reading, what makes or breaks a story for you?
Since I do read general market fiction, I'd have to say foul language. I am not easily offended. I know the world I live in and I don't shrink back from it because I've been sent out into the world. But there is a limit to what I'll tolerate, and if an author crosses it, I'll put the book down and never finish.
What are some of your favourite CF reads from around 10 years ago, or further back?
Oh, gracious. That's a hard question.
Anything and everything by Francine Rivers: Redeeming Love, the Mark of the Lion series, The Atonement Child, etc.
The Lowlands of Scotland series by Liz Curtis Higgs, plus Here Burns My Candle and Mine is the Night.
The Debt by Angela Hunt.
The list would be very long if I had the time to recall them all and the space in this interview to write them down.
Snack/drink of choice while reading?
Because I usually read at bedtime, I don't drink or eat while reading. But come to think of it, even if on the sofa with a fire going (in winter), I probably am not snacking or drinking. I'm too involved in the story to think about such things.
What book cover (any genre – ABA or CBA) has really caught your eye?
May I be prejudiced and name my new book's cover (Keeper of the Stars)? I found this photo on an online photo site, and I used it as my inspiration while writing the book. Later, I shared it with my publisher, and they were able to license it for the cover. I couldn't have been more delighted because it really captures my hero and heroine so perfectly.
Which author makes it easy to turn off your internal editor?
Francine Rivers.
What book do you wish you had written? Why?
Redeeming Love by Francine Rivers.
I know this novel has launched dozens of Christian novelists' careers. It certainly did that for me. I was writing in the general market at the time, and when I read Redeeming Love (late 1991), it showed me the power that Christian fiction could have. Actually, that first edition of Redeeming Love was a general market release, making it all the more powerful in my mind. At that moment, God planted a seed of desire in my heart to write to please Him above all others.
Thanks Robin!
Be sure to pick up Robin's latest novel – my review is coming soon on this lovely romance.
Keeper of the Stars

Forgiveness is the only cure for heartbreak. But can Penny forgive the man she holds responsible for her brother's death?

When her mother died from pneumonia, Penny Cartwright was heartbroken. But now, after burying her younger brother just 12 years later, she is devastated. Anger, guilt, and sorrow cloud Penny's mind, and the last thing she wants is to be reminded of her pain—but that's exactly what happens when a stranger comes to town.

Trevor Reynolds has been chasing fame for more than a dozen years, but his musical career can't get off the ground. While on the road, an accident kills his young drummer, Brad Cartwright. Trevor wasn't behind the wheel, but he still blames himself . . . and so does Brad's sister, Penny. Now Trevor finds himself in Kings Meadow, determined to follow through on his final promise to his friend.

Still feeling the pain of Brad's death, Penny and Trevor must learn that forgiveness is the only thing that can heal their hearts. And if they do forgive, something beautiful may rise from the ashes of heartbreak.
BIO: A native Idahoan, award-winning & bestselling author Robin Lee Hatcher is known for her heartwarming and emotionally charged stories of faith, courage, and love (over 70 books). After fifteen years writing for the general fiction market and a change in her own heart, Robin began to write stories that included her Christian faith. Winner of the Christy, the RITA, the Carol, the Inspirational Reader's Choice, and many other awards, she is also a recipient of the prestigious RWA Lifetime Achievement Award. Robin enjoys being with her family, spending time in the beautiful Idaho outdoors, reading books that make her cry, and watching romantic movies.
Learn more about Robin and her books on her web site.
Relz Reviewz Extras
Reviews of Belonging, Fit to Be Tied, When Love Blooms, and Wagered Heart
Character spotlight on Allison & Emma
Character spotlight on Cleo Arlington & Sherwood Statham
Character spotlight on Guinevere & Morgan
Interview with Robin
Visit Robin's website and blog
Buy at Amazon: Keeper of the Stars or Koorong