I'm delighted to be chatting with fellow Australian and debut author, Carolyn Miller! Lovers of Regency romance will be thrilled to learn of Carolyn's Regency Brides: A Legacy of Grace series, beginning with her just released The Elusive Miss Ellison and followed up with The Captivating Lady Charlotte and The Dishonorable Miss DeLancey. The best part for readers is all three books release this year!
I grew up in…
Picton, a small town on the south-western outskirts of Sydney, New South Wales, Australia.
I was inspired to write my first published novel by…
Georgette Heyer. I wanted to write something similar, but with a Christian theme.
The books that have most influenced my life are…
The classics, such as 'Pride & Prejudice' and 'Persuasion' by Jane Austen, LM Montgomery's 'Anne of Green Gables' and 'The Blue Castle'; and (of course!) the Bible.
My biggest challenge when writing is…
Sometimes it's so easy to get trapped in my story that it's a real challenging to have to re-emerge and deal with domestic duties like cooking dinner for my four children, or keeping my house clean. So I don't. (Don't bother cleaning, I mean. My kids still get fed!)
One of my favourite authors is…
I love the way Becky Wade reveals honest insights amid humour and heartfelt emotion. 'My Stubborn Heart' is one of my all time favourite books.
If I wasn't a writer, I would be…
A high school teacher. That's what I have been for the past years, working in our local public high school as an English teacher, and in Learning and Support. I'm loving the career change!
The superhero talent I would love to have is…
Speed typing! Sometimes my thoughts fly so fast I wish I could capture them.
Pride, Presumption, and forgiveness…

Hampton Hall's new owner has the villagers of St. Hampton Heath all aflutter—all except Lavinia Ellison. The reverend's daughter cares for those who are poor and sick, and the seventh Earl of Hawkesbury definitely does not meet that criteria. His refusal to take his responsibilities seriously, or even darken the door of the church, leave her convinced he is as arrogant and reckless as his brother—his brother who stole the most important person in Lavinia's world.

Nicholas Stamford is shadowed by guilt: his own, his brother's, the legacy of war. A perfunctory visit to this dreary part of Gloucestershire wasn't supposed to engage his heart, or his mind. Challenged by Miss Ellison's fascinating blend of Bluestocking opinions, hoydenish behavior, and angelic singing voice, he finds the impossible becoming possible—he begins to care. But Lavinia's aloof manner, society's opposition and his ancestral obligations prove most frustrating, until scandal forces them to get along.

Can Lavinia and Nicholas look beyond painful pasts and present prejudice to see their future? And what happens when Lavinia learns a family secret that alters everything she's ever known?
My latest novel can be described by these 5 adjectives…
Romantic, Regency, witty, moving, heartfelt.
My main characters are…
Lavinia Ellison is the daughter of a country reverend, intelligent, passionate, with "the manners of a hoyden but the voice of an angel." Uninterested in fashion, unimpressed by wealth or titles, she cares for the poor of her father's parish, and wants nothing more than to see the new Earl take his new role and responsibilities seriously.
Nicholas Stamford is the handsome new Earl of Hawkesbury. Guilt-stained, tormented by war and his family's failings, he'd rather be anywhere than the dreary pocket of Gloucestershire his new position demands. Caught between societal expectations and a burgeoning attraction to his neighbour, his inner turmoil continues until he encounters God's grace, and realises duty can require living to something higher than one's name.
My main character/s resemble….
Lavinia is not unlike a grey-eyed copper-blonde Emma Stone, while the Earl's dark wavy hair, hazel eyes and tall, lean build could be portrayed by Antonio Cupo.
A previously unknown fact about this novel is…
One of my minor characters had a name change, due to the similarity to another character who appears more in books 2 and 3. Goodbye Harry, hello Perry
My story's spiritual theme is…
Grace. Knowing God's great forgiveness towards us, how do we translate this into our actions towards others?
While writing this novel I learned/was challenged by…
I was challenged to learn the etymology of words for greater period authenticity. On a deeper level, I was challenged (like Lavinia) about the disconnect that can occur in a church-goer who knows about forgiveness but struggles to practice grace to others.
The title was chosen by…
Moi! (I have a liking for alliteration :))
As an author, the hardest scenes for me to write are…
Kissing! How much is too much? There's a balance between real, raw and romantic. This is closely followed by trying to make the God elements feel real and not forced. Again, I want real, and not spiritual-lite, but not so heavy-handed that my non- Christian friends will be put off. I hope I got the blend of both elements right!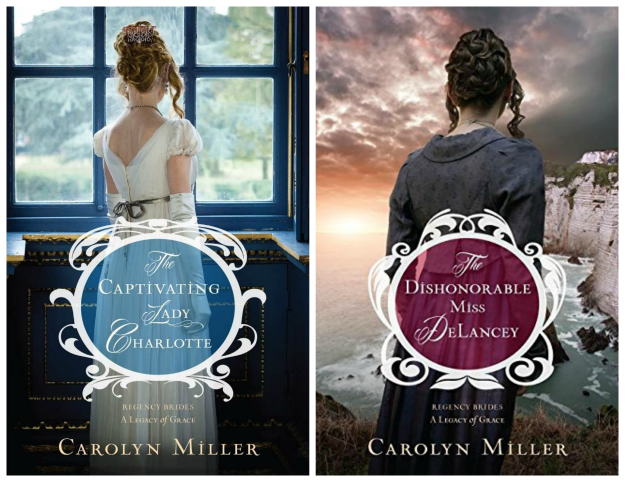 The story I'm currently working on is…
The third in the series, 'The Dishonorable Miss DeLancey'. It's editing time again!
You may not know this about me, but I…
Like to sing, and play piano. I've led worship in various churches over the years, and written a bunch of worship songs. I've nowhere near Lavinia's talent, though!
If I could be a character in any novel, I would want to be…
Elizabeth Bennett, of course! She's smart, possesses a pair of very fine eyes, and she ends up with Mr. Darcy and Pemberley (I've been to Lyme Park where the 1995 Colin Firth 'Pride & Prejudice' series was filmed) – hello?!
Thank you, Carolyn!
Relz Reviewz Extras
Carolyn's Author Alert
Visit Carolyn's website and blog
Buy at Amazon: The Elusive Miss Ellison or Koorong