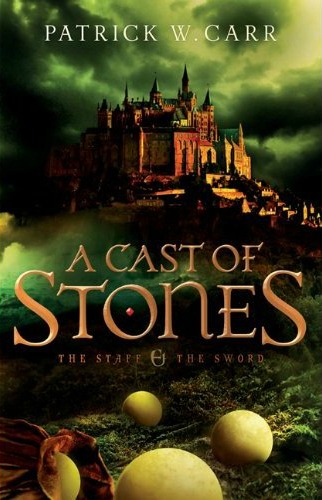 Synopsis:~
The Fate of the Kingdom Awaits the Cast of Stones
In the backwater village of Callowford, roustabout Errol Stone is enlisted by a church messenger arriving with urgent missives for the hermit priest in the hills. Eager for coin, Errol agrees to what he thinks will be an easy task, but soon finds himself hunted by deadly assassins. Forced to flee with the priest and a small band of travelers, Errol soon learns he's joined a quest that could change the fate of his kingdom.
Protected for millennia by the heirs of the first king, the kingdom's dynasty nears its end and the selection of the new king begins–but in secret and shadow. As danger mounts, Errol must leave behind the stains and griefs of the past, learn to fight, and discover who is hunting him and his companions and how far they will go to stop the reading of the stones.
My take:~
Patrick W. Carr's debut novel is a thrilling and fantastical medieval journey, whose unlikely hero discovers an impossible destiny lies before him. Very well written, A Cast of Stones runs with familiar themes but in a fresh and engaging way, with an underlying spiritual allegory. An always inebriated Errol Stone finds himself pursued by an assassin, ridiculed and dismissed by all who meet him, and eventually caught up in an adventure he can't begin to fathom. Patrick has created a wonderful character in young Errol, a boy easy to cheer for as he joins a motley crew of travelers headed far away from his village of Callowford. As Errol discovers his companions and pursuers are not exactly whom they appear to be, danger creeps ever closer and Errol must find his wits and accept instruction if he is to survive what is to come. With plenty of deftly written fight scenes, captivating adventures, and meaningful and witty dialogue, Patrick has hooked me on this series and A Hero's Lot can't come soon enough.
With thanks to Bethany House for my review copy
Relz Reviewz Extras
Character spotlight on Errol Stone
Patrick's Author Alert
Visit Patrick's website and blog
Buy A Cast of Stones from Amazon or Koorong