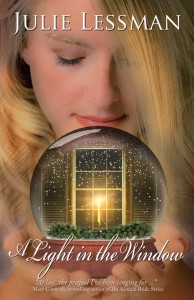 Synopsis:~
One Woman. Two Men.
One stirs her pulse and the other her faith.
But who will win her heart?
Marceline Murphy is a gentle beauty with a well-founded aversion to rogues. But when two of Boston's most notorious pursue her, she encounters a tug-of-war of the heart she isn't expecting. Sam O'Rourke is the childhood hero she's pined for, the brother of her best friend and a member of the large, boisterous family to which she longs to be a part. So when his best friend Patrick O'Connor joins in pursuit of her affections, the choice seems all too clear. Sam is from a family of faith and Patrick is not, two rogues whose wild ways clash head-on with Marcy's—both in her faith and in her heart.
While overseeing the Christmas play fundraiser for the St. Mary's parish soup kitchen—A Light in the Window—Marcy not only wrestles with her attraction to both men, but with her concern for their spiritual welfare. The play is based on the Irish custom of placing a candle in the window on Christmas Eve to welcome the Holy Family, and for Marcy, its message becomes deeply personal. Her grandmother Mima cautions her to guard her heart for the type of man who will respond to the "light in the window," meaning the message of Christ in her heart. But when disaster strikes during the play, Marcy is destined to discover the truth of the play's message first-hand when it becomes clear that although two men have professed their undying love, only one has truly responded to "the light in the window."
My take:~
Julie Lessman delivers what her readers have been longing for in her eBook, A Light in the Window ~ the prequel to her Daughter of Boston series, devoted to the courtship between Marcy and Patrick O'Connor, the parents of those Boston daughters readers have grown to adore, Faith, Charity and Katie. Pivotal characters in her previous six books, Marcy and Patrick are a couple who have exemplified the blessings and challenges of a decades strong marriage. Julie has always hinted that their road to romance was not smooth (no surprise in any Lessman penned love story!) so in A Light in the Window she has satisfied her readers' curiosity about this engaging couple and created a beautiful Christmas tale at the same time.  Personally, I'm no fan of any love triangle theme – I always feel bad for the one not chosen, whether they are deserving of love or not – but Julie manages the angle well, as Marcy wrestles with her deep feelings for her long time friend and a heady new attraction to the community's bad boy. Julie always gets my dander up as she knows just how to generate strong emotions not only in her characters but also in her readers as Sam and Patrick try to gain Marcy's love and devotion, through fair means and foul! Drama, angst, deception and spiritual change permeate this story which is vintage Lessman and ties up her O'Connor stories beautifully.
With thanks to the author for my review copy
Relz Reviewz Extras
Reviews of A Hope Revealed,  A Hope Undaunted, A Passion Most Pure, A Passion Redeemed & A Passion Denied
Character spotlights on Sean & Emma, Cluny & Katie, Lizzie & Brady
Julie's FamilyFiction Plus
Interview with Julie
Visit Julie's website
Buy Julie's books at Amazon or Koorong
 Julie is running a great contest to celebrate the release of A Light in the Window so click on the picture below to enter!