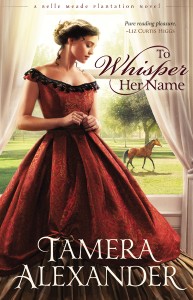 Synopsis:~
Olivia Aberdeen, destitute widow of a man shot as a traitor to the South, is shunned by proper society and gratefully accepts an invitation from "Aunt" Elizabeth Harding, mistress of Belle Meade Plantation. Expecting to be the Harding's head housekeeper, Olivia is disillusioned when she learns the real reason Elizabeth's husband, Confederate General William Giles Harding, agreed to her coming. Not finding the safe haven she expects, Olivia is caught off guard by her feelings for Ridley Adam Cooper, a Southern man who seems anything but a Southern gentleman.
Branded a traitor by some, Ridley Cooper, a Southern son who chose to fight for the Union, is a man desperate to end the war still raging inside him. Determined to learn "the gift" that Belle Meade's head horse trainer and former slave, Bob Green, possesses, Ridley harbors secrets that threaten both their lives.
As Ridley seeks to make peace within himself for "betraying" the South he loved, Olivia is determined to never be betrayed again.
My take:~
I've come to expect an exceptional reading experience when I pick up a Tamera Alexander novel but To Whisper Her Name still enthralled me more than I imagined. An exquisitely rendered tale of heartache, overwhelming loss, dangerous secrets and blossoming love that held me spellbound for each of the almost 500 pages. Tamera creates characters of deep complexity, beguiling in their authenticity, sets the historical tone of the book with accuracy and insight and transports the reader onto the plantation with vivid descriptions of the sights and smells of  a working stud farm. Ridley, Olivia, Bob Green, Aunt Elizabeth and General Harding come to life under Tamera's deft hand, vibrant characters whose journeys become the heartbeat of the story. Tamera Alexander is supremely talented, offering up everything a reader dreams of in a substantive historical romance, making To Whisper Her Name a pure delight to read. I can't wait for more in this new series.
With thanks to PR by the Book for my review copy
Relz Reviewz Extras
Character spotlight on Claire & Sutton
Reviews of A Lasting Impression, Revealed, Remembered, The Inheritance, From A Distance, Beyond This Moment & Within My Heart
Interview with Tamera
Visit Tamera's website and blog
Buy Tamera's books at Amazon or Koorong