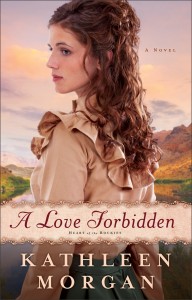 Synopsis:~
Moved by the desire for adventure and a yearning to help the Ute Indians, twenty-year-old Shiloh Wainright impulsively accepts a teaching position at the White River Indian Agency in northwestern Colorado. The new job, however, isn't what she imagined it would be, and Shiloh soon finds herself caught in the cross fire between the Utes, their unyielding Indian Agent, and the unrealistic demands of the US government. Her unexpected encounter with Jesse Blackwater, an embittered half-breed Ute and childhood friend, only complicates matters as they battle their growing feelings for each other amidst the spiraling tensions threatening to explode into a catastrophic Indian uprising.
Set amongst the wilds of the Colorado Rockies in 1879, this is a tale of a forbidden love and a faith tested in the cauldron of intolerance and the harsh realities of life on the untamed frontier.
My take:~
Devotees of a traditional Christian romance will find much to love in Kathleen Morgan's second Heart of the Rockies novel, A Love Forbidden.  The idealistic Shiloh hopes to make a difference in the life of young Ute Indians while her childhood friend, driven from her family home, Jesse Blackwater is determined to turn his back on all white people.  Their attraction takes the usual twists and turns as they both consider the implications of acting on their feelings given the rising tensions between their opposing cultures.  As always, Kathleen provides solid characterisation and interesting historical detail of actual events surrounding the Indian uprising, and some very tender and moving moments between Jesse and Shiloh.  A Love Forbidden is an sweet read albeit without any surprises regarding the outcome which ends a little too quickly and neatly for my complete satisfaction.
Available May 2012 at your favorite bookseller from Revell, a division of Baker Publishing Group
With thanks to Revell for my review copy
Relz Reviewz Extras
Interview with Kathleen ~ 2008
Reviews of A Heart Divided, As High as the Heavens , A Fire Within and Wings of Morning
Visit Kathleen's website
Buy Kathleen's books at Amazon or Koorong