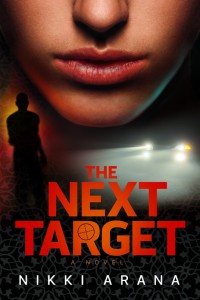 Synopsis:~
It only took one bullet. Austia's friend and student fell dead. And with a glimpse of a newspaper headline, the young and recently widowed Austia knows more about what happened than the police. From that fatal night, Austia's secret outreach to the U.S. Muslim community—in the guise of English language classes—becomes a target. Local Muslim extremists set their sights on ending her ministry and even her life. And the women she ministers to will be next.
A thick web of deceit closes in around Austia, and her circle of friends becomes smaller by the day, even as she finally opens herself to the idea of falling in love again. But who can she trust? Facing a spiritual battle that proves more treacherous than it at first seemed, Austia's convictions are tested to their limits and her heart becomes primed for breaking. She must ask herself: how much she will risk to stay true to her herself, her faith, and to the lives of the women she serves?
My take:~
Nikki Arana has penned a romantic suspense novel that will challenge your thinking in a number of ways.  Bringing her personal passion of reaching Muslims for Christ to the pages, The Next Target is a powerful story of sacrifice, compassion and forgiveness.  Nikki's story of Austia's secret ministry to Muslims and the ultimate sacrifice many Muslims make when they decide to follow Jesus is confronting and meaningful.  Cultural misunderstandings and ignorant prejudices on both sides make for compelling reading and are cause to re-evaluate our own thoughts and actions.  With the underlying powerful messages The Next Target also offers terrific suspense and an authentic romantic element.  I was both moved and encouraged by Nikki's story and I recommend you add this one to your wish list immediately.
With thanks to David C Cook and Wynn~Wynn Media for my review copy via NetGalley
Relz Reviewz Extras
Visit Nikki's website and blog
Buy The Next Target at Amazon or Koorong