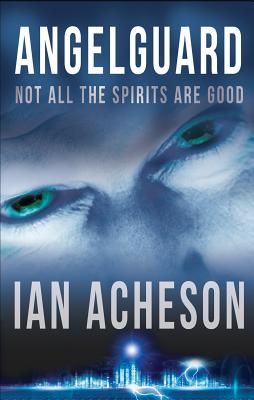 Synopsis:~
Within a period of weeks, three horrific bomb blasts devastate areas of London, Los Angeles and Sydney. No explanation is offered, no victory claimed for these acts of terror. Yet behind the scenes a Machiavellian European businessman is planning to bring the G8 nations to their knees for his own larcenous purposes, aided by the dark forces to whom he has sold his soul.
Jack Haines, an Australian academic, is grieving the loss of wife and children in the Sydney blast. Against his will he finds himself thrown into a war that transcends the physical world, a conflict in which angelic guards have a special mission for him.
This is a gripping novel of the unseen forces that throng our world.
My endorsement:~
Debut novelist Ian Acheson storms into the publishing world with Angelguard, the first in a supernatural trilogy that pits angels against demons, terrorists against civilians and a University professor against a Machiavellian businessman.  With shades of Peretti's early novels, Acheson delves into the heavenly realm with both angelic and demonic characters taking centre stage in battles unseen by the humans they both pursue. The demons are grotesque, spiteful and exude evil in contrast to members of the Angelguard, stunning creatures, devoted to the Lord and ferocious warriors. As each supernatural being is unique in this tale, so too, the characters that inhabit the earth below. As tragedy strikes in each city, Acheson introduces the reader to a pivotal character, wounded by their losses yet imbued with a desire to fight against the fear that has infiltrated the world. Readers will identify with Thierry, Jack and Loren as survivors of each attack and be swept along as their paths merge in a way only God could have designed. Angelguard is a fast paced, arresting novel from the explosive beginning until the climactic conclusion, packed with frantic pursuits, intriguing suspense, witty dialogue and spiritual challenges. Ian Acheson is a writer not just worth watching but one well worth reading!
With thanks to the publisher for my review copy
Relz Reviewz Extras
Ian's Author Alert
Visit Ian's website and blog
Buy Angelguard at Amazon or Koorong