With thanks to the Christy Awards and Wynn-Wynn Media I'm delighted to announce, and host,
The Christys Celebration Giveaway
Leading up to the presentation of the 2014 Christy Awards on Monday 23rd June, we will be giving away the following bundles of the top three novels in each category of the 2014 Christy Awards
4th to 8th June ~ Contemporary & First Novel Finalists
9th to 13th June ~ Suspense & Visionary Finalists
14th to 18th June ~ Historical & Historical Romance Finalists
19th to 23rd June ~ Contemporary Romance/Suspense & Contemporary Series Finalists
After the winners have been announced at the Christy Awards dinner on Monday 23rd June, the Christy Award Winners GRAND PRIZE giveaway will run from 23rd to 27th June.
The GRAND PRIZE PACKAGE 
A copy of the 8

 winning books, signed by the authors

A $100 Visa Gift Card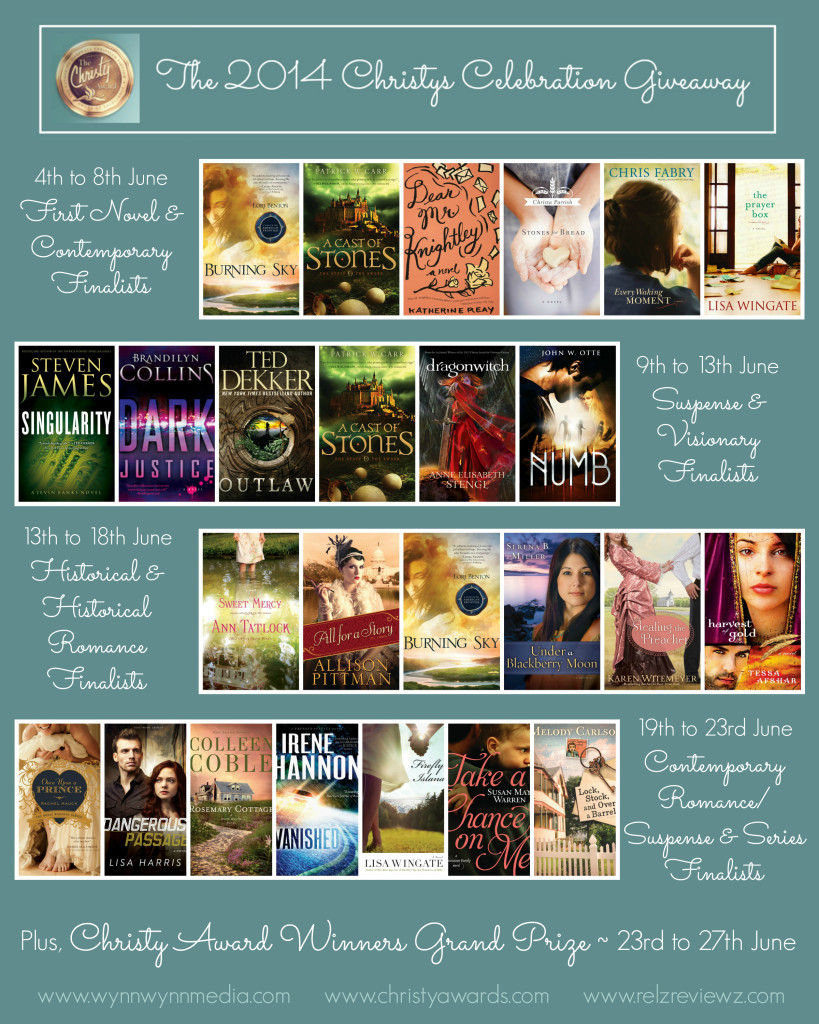 The Christy Awards
But first, a little background on this premier award…
The Christy Awards—named in honor of the novelist Catherine Marshall and her best-selling novel Christy–were inaugurated in 2000 to recognize novelists and novels of excellence in several genres of Christian fiction. Each year, publishers enter novels in several categories, and a panel of judges per category read and evaluate the novel against the Christy criteria of excellence. The top three novels in each category are named finalists, and the novelist whose novel has the highest score is awarded a Christy at an annual awards dinner.
This year marks the 15th Annual Christy Awards Ceremony, to be emceed by beloved author Davis Bunn, with industry expert Marcia Z. Nelson of Publishers Weekly as the keynote speaker.
Visit the Christys website for more information.
Entering the 2014 Christys Celebration Giveaways is easy!
All you will have to do is visit my blog, commencing Wednesday 4th June, and enter using the Rafflecopter form for each giveaway that interests you. Within the form you follow the easy links to like the Christy Awards Facebook page and the authors' Facebook pages and you are in the drawing.
Extra entries can be earned by signing up to the 2014 Christy Awards Ceremony Live Blog within the Rafflecopter form.
Looking forward to joining you all, along with Tyson Wynn of Wynn~Wynn Media and a "soon to be advised" guest commentator, to chat it up at the Live Blog on Monday 23rd June, 2014!