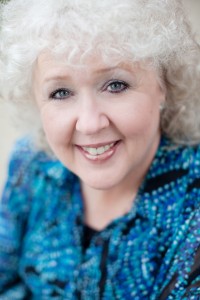 Discover more about
Nancy Mehl
and her romantic suspense
Gathering Shadows
Bethany
*******
A favourite childhood book of yours
I loved all of the Nancy Drew books. I also had one favourite that most people have probably never heard of. It was titled "Miss Jellytot's Visit" by Mabel Leigh Hunt. I recently bought an old copy to add to my library.  Believe it or not, I also loved every book written by Charles Dickens. My mom bought the entire collection for me, and I read them all before I was sixteen. I donated the collection to my son's school when he was young. Someday, I intend to replace it.
Do you remember the title of the first story you ever wrote? What was it about?
I do remember. It was called "Danny Goes to the Circus." I was seven. I wrote it (and illustrated it) for my little brother. Obviously, it was about going to the circus! LOL!
If you weren't a writer, what career would you/did you/do you have pursued?
Actually, I spent many years working in social services before I started writing full time. I like helping people. But secretly I think I should have been in the CIA. Uh, oh. I guess it's not a secret now!
Why do you write stories?
Because my publisher would be upset if I didn't? LOL! Actually, I write because I truly believe it's my calling. I take that calling very seriously and pray over every book I write, asking God to speak to my readers in whatever way He wants to.
Gathering Shadows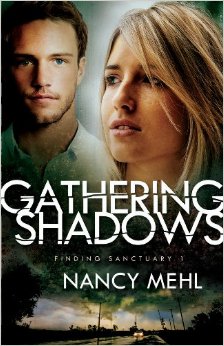 Wynter Evans is a promising young reporter for a television station in St. Louis, but even a bright future doesn't take away her pain over the disappearance of her brother nine years ago. So when she stumbles across a photograph of a boy with an eerie resemblance to him, she can't pass up the chance to track him down. With research for work as her cover, she sets out with one of the station's photogs for the place where the picture was taken: the town of Sanctuary. 
Almost as soon as she arrives, she meets the town's handsome young mayor, Rueben King, and together they begin to uncover long held secrets that could tear the small town apart and change everything Wynter thought she knew about her life. As the truth of her family's past hides in the shadows, it's clear someone will stop at nothing to keep the answers she's searching for hidden forever–even if the cost is Wynter's very life.
Describe your novel in 5 adjectives
Suspenseful. Emotional. Spiritual. Mysterious. Romantic.
Please share a little about one of your main characters
I'm going to pick Zac Weikal, a young photographer who accompanies my main character, Wynter Evans, to Sanctuary, Missouri. This was a fun character to create because I used the name of a friend even though the Zac I know is very different from the fictional Zac. I decided to give my young photographer a ponytail. I've never had a male character with a ponytail, but I found that it helped to show his artistic, eccentric side. It was fun to tease the real Zac about the ponytail. I don't think he'll ever grow one though. LOL!
What spiritual theme or question does your story deal with?
Gathering Shadows is about a young woman whose life revolves around a moment in time – the day her younger brother was kidnapped. The rest of the family has moved on, convinced Ryan was murdered by a serial killer. But Wynter keeps having dreams that Ryan is calling out for her, asking her to find him. She's never given up hope that she will see him again, but in the meantime, she is full of unforgiveness and is no longer willing to trust anyone.
Unfortunately, many people's lives are hampered by the past and circumstances that can't be changed. What happened to them is still alive and well in their hearts and minds, shaping their present and their future. Gathering Shadows deals with these kinds of strongholds in our lives.
Share a recent movie or tv show that you have loved, and why?
Actually, I love The Middle. The Hecks aren't perfect and they make mistakes. Their lives seem to be made up of the things we've done and don't want anyone to know about. For example, Frankie, the wife, rarely cooks. Picking up burgers and fries for her family is her way of "making dinner." They are usually late for everything, and sometimes Frankie only has time to wash her underarms before going to work! Well, you get the idea. But the Hecks really love each other, and I adore them. None of us are perfect, but when I watch The Middle, I end up feeling much better about myself. And I also love their daughter, Sue. Her brother describes her as a "dork optimist."  No matter what happens, she always searches for the positive side of things. And she never gives up. I'm kind of the same way.
What novel are you working on now?
Book three of my Sanctuary series. Just started it, but I'm excited to write this one. It brings back two characters from my Road to Kingdom series. I felt as if I'd left them dangling in my previous series, and my publisher said I could move them to Sanctuary. Sophie Wittenbauer has changed her life and is now working for a major newspaper, writing obituaries and restaurant reviews. She needs a big story to help her move up the ladder. When someone she knew in Kingdom contacts the paper, claiming to know the whereabouts of a man who held up an armoured car company many years earlier, her editor dismisses the possibility that the robber is still alive. Seeing an opportunity, Sophie grabs the information and goes to Sanctuary, Missouri, hoping to uncover the story that will finally launch her to the top. After she arrives, she runs into an old friend. Jonathon Weise is now the pastor of a local church in the small town. Sophie has changed so much he doesn't recognize her. Since she's also using a fake name, he has no idea he's talking to someone he actually knows. While trying to hide the truth from Jonathon, she begins investigating the residents of Sanctuary. Unfortunately, she will put pressure on the wrong person and not only ruin the opportunity to write the story of a lifetime, she will become the target of a dangerous serial killer.
Thanks Nancy!
Relz Reviewz Extras
Get to know Nancy
Character spotlight on Lizzie & Noah
Review of Simple Secrets
Visit Nancy's website and blog
Buy at Amazon: Gathering Shadows (Finding Sanctuary) or Koorong