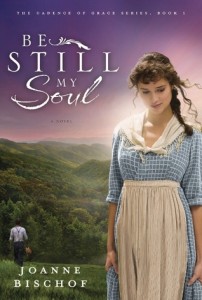 Synopsis:~
Pretty Lonnie Sawyer is shy and innocent, used to fading into the background within her family, and among the creeks and hollows of the Appalachian hills. Though her family is poor and her father abusive, she clings to a quiet faith.  But when handsome ladies' man and bluegrass musician Gideon O'Riley steals a kiss, that one action seals her fate.  
Her father forces her into a hasty marriage with Gideon—a man she barely knows and does not love. Equally frustrated and confused by his new responsibilities, Gideon yearns for a fresh start, forcing  Lonnie on an arduous journey away from her home in Rocky Knob. 
Her distant groom can't seem to surrender his rage at the injustice of the forced matrimony or give Lonnie any claim in his life.  What will it take for Gideon to give up his past, embrace Lonnie's God, and discover a hope that can heal their two fractured hearts?
Gideon only ever cared about himself. Now that Lonnie is his wife, will he ever be worthy of her heart?
My take:~
Debut author Joanne Bischof takes on some heavy subject matter in her Appalachian novel, Be Still My Soul, the first in her Cadence of Grace series. An unwanted marriage forced upon Lonnie and Gideon has expected consequences – bitterness, anger, disappointment and shattered hopes. Joanne lets these feelings run their course and doesn't shy away from the negative and harmful responses that play out, initially by Gideon who becomes destructive and dangerous, and later as Lonnie's shattered heart results in angry rejection.  Uniquely, Joanne takes a big risk, especially with readers who seek out a charming if not perfect hero, penning a man whose physical appeal is marred by a selfish and bitter heart, resulting in a character I didn't care for through much of the book. Joanne's authenticity in the creation of Gideon is to be applauded and his journey, in particular, makes for an intriguing and refreshing read. Minor characters play important roles, adding conflict and restoring hope, while the Appalachian mountains and community come alive. While I wished for more interaction between Gideon and Lonnie to share in their changing feelings toward each other, just as my thoughts towards Gideon altered, Be Still My Soul is a pleasing beginning to Joanne's writing career and I look forward to more stories from this promising writer.
With thanks to Waterbrook Multnomah for my review copy
Relz Reviewz Extras
Visit Joanne's website and blog
Buy Be Still My Soul from Amazon or Koorong