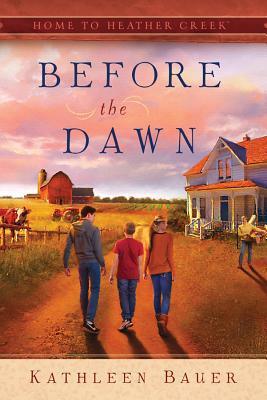 Publisher's Synopsis:
Charlotte and Bob Stevenson's world is turned upside down by the death of their daughter, Denise. Denise ran away from home as a teenager, and Charlotte has never forgiven herself. Now, Denise's three children are coming to live on Heather Creek Farm. Sam is sixteen and itching for independence; fourteen-year-old Emily is discovering boys and ten-year-old Christopher needs approval.
While Charlotte helps the grandchildren she barely knows adjust to their new life, she also wrestles with her own grief. But small joys remind her that God gives grace freely, even in trying times. When Emily discovers her mother's horse in the midst of a difficult birth, the whole family comes together to save the animal that Denise loved. The miracle of new life, along with God's healing touch, reminds all of them that it's always darkest just before the dawn.
What I thought:
Before the Dawn is a poignant tale of tragedy and loss and the importance family.  This is the first book in a substantial series written by various authors under the pen name Kathleen Bauer.  Already the stage has been set for readers to expect quality writing through which to share the journey upon which Charlotte, Bob and their grandchildren are embarking.
I can't imagine a circumstance more tragic than the death of a mother who leaves behind three children.  Yet this is how this story begins, with Charlotte's daughter Denise having passed away unexpectedly.  As if this were not enough to deal with, Denise's three children travel with their rarely-seen grandmother from the city life of San Diego to a farm in small-town Nebraska.  I could relate to Charlotte's struggle to balance her own grief, the children's needs and feelings and how to juggle family routines and discipline amongst it all.  Carolyne Aarsen, writing as Kathleen Bauer, sensitively weaves the emotion of each character through this story with authenticity. There were many teary moments throughout this book as I empathised with Charlotte's challenges and felt the children's pain and confusion.
There are many lessons to be learned from this book.  Firstly, family never goes far, even when we try to distance ourselves.  And secondly, faithful friends brace and bolster our weary faith and emotions when enduring life's storms.  I am certain the 'Home to Heather Creek' series will become a firm, enduring favourite.  I look forward to the next installment of this story, with Sweet September.
Harvest at Heather Creek Farm is an exciting time; the earth bursts with life, providing sustenance for the coming winter.  However, the Slater children don't seem to be getting into the spirit:  Emily is struggling with farm life, Christopher spends most of his time alone, and Sam is failing school.  Charlotte is determined not to make the same mistakes that she did with her own kids, but how can she get her grandchildren back on track?
Then the vegetable garden by the house is uprooted one night.  Who could have done such a thing?  Charlotte is determined to uncover the truth, and as they all pull together to find answers, they learn more about one another and the love that binds them.  As this cobbled-together family adjusts to their new life, they find hope for their future in the lessons of their past.
What I thought:
Under the pen name 'Kathleen Bauer', Trisha Goyer expertly continues the 'Home to Heather Creek' series in the second instalment,Sweet September.  This book further develops the characters introduced in Before the Dawn and takes the reader a little further into the story of three children who travel across the country to live with their grandparents after their mother's death.
I began this book with, I confess, more than a little apprehension.  I've never read a series penned by a team of authors and was concerned about continuity of character and plot.  Trisha Goyer very capably put those fears to rest within the first few pages.  Although at first Charlotte felt, to me, a little more 'bubbly' and Bob felt a little less austere I soon realised I was overthinking the characters and looking for cracks that weren't there.  Goyer's continuation of these characters was quite seamless and their interactions were true to the introduction begun in Before the Dawn.  My concerns were completely unfounded!
Sweet September is a moving tale of three children who are struggling to adjust to their new family life.  Equally challenged are their grandparents, who endeavour to make adjustments of their own as well as manage the delicacies of raising three children, two of whom are teenaged.  Again I appreciated the way Charlotte's friends gather close just when she needs wisdom and advice.  I also began to develop a deeper understanding and appreciation of Bob and the issues he contends with within the story.  I particularly enjoyed the way the history of previous generations was able to feed into the way the children begin to develop their identity in their new home and the way they deal with the mystery of the vegetable garden thief.
Throughout this story the issues surrounding change are addressed in a number of ways.  Whilst change can be initiated out of trial and tragedy, not all change is devastating.  This story was a reminder, for me, that it is folly to resist change that results in positive improvement and progress.  Hanging on to the way things have always been is not always helpful or productive.  The challenge is to faithfully follow a new direction when God directs us down an unexpected road.
I look forward to following this story to see where these delightful characters end up together.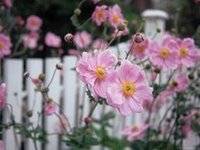 Guest reviewer: My friend Tracy from Beyond My Picket Fence
With thanks to Litfuse for Tracy's review copies
Relz Reviewz Extras
Visit Carolyn Aarsen's website
Visit Tricia Goyer's website
Buy Before the Dawn from Amazon or Koorong
Buy Sweet September from Amazon or Koorong