My first preview post of the new year and I'm thrilled to introduce you to books by a long time favourite author and a 2013 new discovery!
I first fell in love with Tamara's books when I read Stealing Adda, a fabulous contemporary romance that I continue to re-read. C.E. Laureano hooked me from the first chapter in her debut contemporary romance novel as Carla Laureano, Five Days in Skye. Both of these talented authors made my Top 10 list of 2013 and I won't be at all suprised if they make my 2014 list with these upcoming releases!
HE WAS THE VILEST OF MEN
Lizanne Balmaine has spent years honing her skills at arms, determined she will never again be at the mercy of any man. When she comes face to face with the one who stole her future, she seizes the opportunity to exact revenge. Soon he is her prisoner, at her mercy. But something is different about him, something that makes her question her purpose. Is it possible a man can be so changed? More, can she right the wrong that could lay ruin to her family?
SHE WAS A QUESTION NEVER BEFORE ASKED OF HIM
Ranulf Wardieu does not seek a bride, nor a settling of scores when his mission for the king places him in the path of a beguiling, raven-haired maiden. But fascination turns to fury when she imprisons him. Accused of wrongdoing, the nature of which she refuses to reveal, he discovers the lady is as skilled at wielding a sword as she is at verbal sparring. When he bests her at her game and his jailer becomes his captive, he is determined to learn what wrong he has done her. However, as they engage in a battle of wits and wills and he glimpses her woman's heart, he discovers Lizanne is a question never before asked of him—one his own jaded heart refuses to answer.
Releasing later this month
Oath of the Brotherhood by C. E. Laureano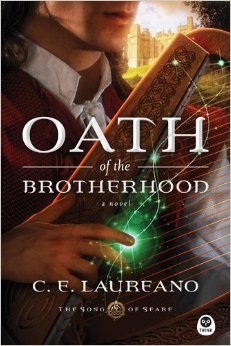 In a kingdom where the Old Ways hold fast and a man's worth lies entirely in his skill with the sword, Conor Mac Nir is a scholar, a musician, and a follower of the forbidden Balian faith: problematic for any man, but disastrous for the son of the king.
When Conor is sent as a hostage to a neighboring kingdom, he never expects to fall in love with the rival king's sister, Aine. Nor does he suspect his gift with the harp (and Aine's ability to heal) touches on the realm of magic. Then his clan begins a campaign to eliminate all Balians from the isle of Seare, putting his newfound home in peril and entangling him in a plot for control of the island that has been unfolding since long before his birth.
Only by committing himself to an ancient warrior brotherhood can Conor discover the part he's meant to play in Seare's future. But is he willing to sacrifice everything—even the woman he loves—to follow the path his God has laid before him?
May, 2014