This Christmas Eve I'm chatting with debut author Bell Renshaw about her romantic novella, her love of Melissa Tagg's novels, and how she came to name her hero, Hoyt! Be sure to check out Bell and add her delightful Christmas novella to your collection. It's the perfect Christmas read.
The Writer
Why do you tell stories?
Because I believe that there is something magical about reading and escaping into another world and I fancy myself a bit of a magician.;-) If I can share what I "see" in my mind through a story and others can enjoy it, then I'd call that a job well done.
Your favourite place to read
Anywhere with a cosy blanket and a cup of coffee or tea. During this season, I prefer it to be near a Christmas tree with the lights on.
Best meal of the day
Dinner – because it's usually spent with family.
Most beloved childhood book
The Christy Miller Series by Robin Jones Gunn. I loved all of those books (and still do).
If your life was a TV show, what would it be?
This is a tough question. I think if I got to choose what I'd like it to be…then I'd say something like a Hallmark show. Perhaps something like Signed, Sealed, and Delivered!
Whose music inspires you?
I absolutely love instrumental music. During the Christmas season I listen to anything/everything Christmas instrumental while I write, especially Jim Brickman.
What ice-cream flavour would you be?
Espresso Chip
The most recent novel you read
I read Melissa Tagg's novella One Enchanted Noel and absolutely loved it!
What's your current book recommendation?
A bit repetitive, but I just loved all of Melissa Tagg's novellas and her collection, Enchanted, is the perfect Christmas read!
Name a book character you can't forget
I can never seem to get Hadassah from A Voice in the Wind by Francine Rivers out of my head. Not only was that series incredibly powerful, her testimony (even as a fictional character) has influenced my own faith.
Dream travel destination
I'd love to spend a month in a cottage somewhere in England writing.
The Book
Reba Farwell is finally getting a chance to live out her dreams. Sent to Winter, Montana to direct filming for a crucial, on-location shoot, she knows the next two weeks will make or break her career. And she could definitely use a break. As if that isn't enough, she's got a secret that none of her crew knows. All she's asking for is two weeks of small town, Christmas beauty and a little bit of on-camera sizzle.

Five years ago, Hoyt Bradley's heart and future shattered in one fell swoop that landed him back in Winter. Thankfully, making lemonade—or his father's famous lemon meringue pie— out of lemons is what he does best. Running Bentley's Diner has filled the gaps left in the wake of his heartbreak, even if it hasn't healed him completely. Not wanting to relive memories of his rocky start in the film industry, Hoyt does his best to steer clear of the dreaded film crew, but Winter has a way of bringing people together.

After one fateful delivery and a score of icy bad luck, Reba finds herself in a bind and at the mercy of what Winter can offer. Will she pull the film together in time to salvage her name as a director? Or will the sparks flying off-camera create more of a distraction than she knows how to handle? 

Come visit Winter, Montana in this Christmas Novella where the Christmas lights are always on and the snow falls most frequently when loved ones share a kiss. 
What was the working title?
One Christmas in Winter
Describe your book in 5 adjectives
Christmas-y (can that be an adjective?), humours, sweet, light, happy
Which character did you enjoy writing most?
I loved crafting Reba and Hoyt (my main characters) but Reba's best friend and assistant, Mariah, was a lot of fun. She is spunky and says what's on her mind. I think, as someone who doesn't always do that, I was able to live vicariously through her.
Which character gave you the most grief?
Ironically, Hoyt's brother Beau (the main character of book 2) that was hardest to pin down. Beau is a tricky fellow and it's taken a bit of digging to get to know him and to understand that he's a good guy, just very complex.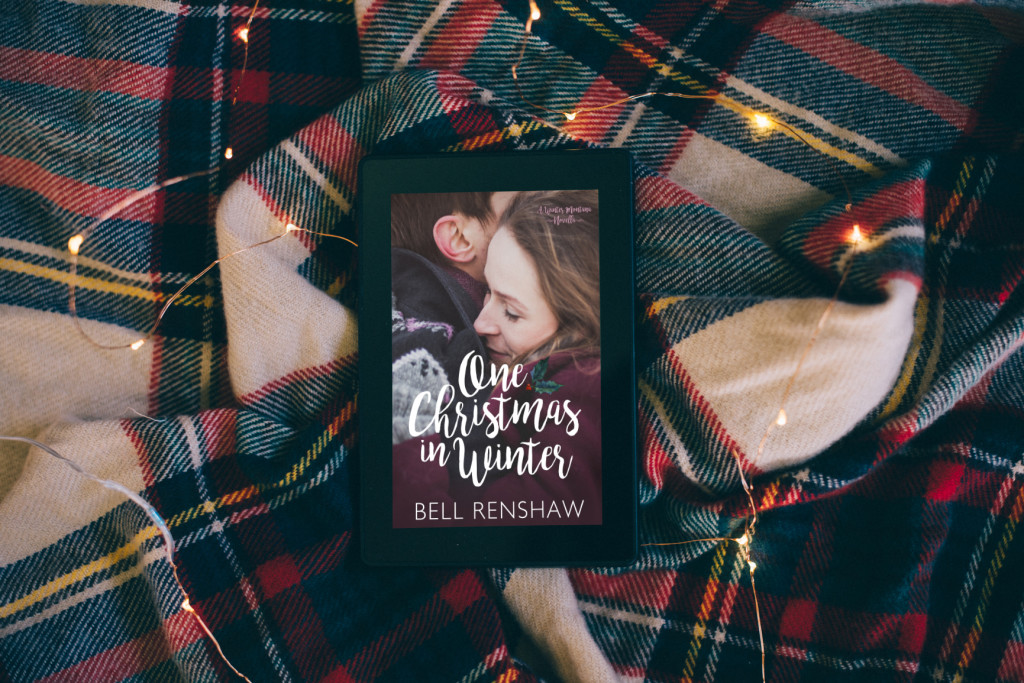 What emotions do you think your story will generate in readers?
Excitement for sweet romance and the Christmas season! Also, I hope my readers experience the type of warm, fuzzy feeling you get in a small town at Christmas time where snow falls gently and everyone knows your name and stops to wish you Merry Christmas.
What emotions did you experience while writing this story?
I'm a huge fan of Hallmark movies (my family and I watch them all the time during this season) and as I wrote this novella I felt a little like I was living in a Hallmark movie through Reba and Hoyt. In general, I write because I'm excited about the story, so I think most of the time I was grinning like a fool as I wrote.
How do you choose your characters names?
I have always loved the name Reba for some reason and just knew I wanted to use it for a main character "someday". As for Hoyt, my father actually suggested it and I loved it! In general though, if I don't have a name idea there is one friend I always go to. She is like a 'name factory' and will always give me several amazing options and I just need to pick (which is sometimes nearly impossible).
Thanks Bell!
Annabell "Bell" Renshaw has always loved books and the power of a good story. She turned those passions toward writing at an early age, finding solace and adventure in made-up worlds when her mother would read to her as a kid. She's grown up now, but still finds herself lost in those worlds. She believes in the power of a happy ending and the fact that–no matter what–love will always find a home.
Connect with her on her website: www.bellrenshaw.jimdo.com
Relz Reviewz Extras
Visit Bell's website
Buy One Christmas in Winter