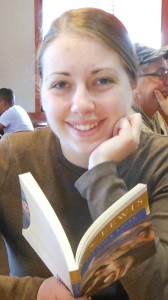 In honour of BBAW 2012, celebrating the wonderful folk who love books and blog about them, I'm thrilled to introduce you to a favourite blogger of mine and gorgeous girl, Amber Stokes. Amber's blog, Seasons of Humility, is a wonderful place to learn about some great books as Amber shares her love of stories of faith.
Enjoy getting to know Amber!
~~~~~~~~
Rel: When did your love of story begin?
Amber: Probably long before I can actually remember! My mom read to me all the time when I was a little girl, and we still occasionally quote a Mickey Mouse book we loved when I was younger.
Apparently I enjoyed story time so much that I gave my family a "false alarm" as to my reading ability when I was about 4 years old – I had heard one book read to me so many times that I had memorized the whole thing!
Did you have a favourite book/series you adored as a teenager and that is/are still on your shelf?
I'm going to go back a little further in time to elementary school, if that's OK! For almost all of my elementary-school years, I was rather obsessed with this one book series called "Disney Girls" by Gabrielle Charbonnet. I loved those stories about a group of girls in elementary school who each had a certain Disney princess they felt most like. The books dealt with all the angst of young girlhood (from school troubles to friendship and family issues), while still being just plain fun. I mean, one of the books is about the group of them getting to go to Walt Disney World together… A girly-girl's dream come true! The series isn't on my shelf in my room, but they're on another shelf in our basement – so I still have them!
Please share a little about yourself
I'm a recent college graduate (Corban University, May 2012) with a Bachelor's degree in English, and I'm still trying to find my place in the world, so to speak.
I love words – both writing and reading them – and I know God has a plan and a purpose for the passions He has given me, in order to glorify Him and bless others.
I also love quoting movies, checking the mail, cross-stitching, singing and dancing (not on any sort of professional level…), and making fun memories with family and dear friends.
When did you start your blog and why?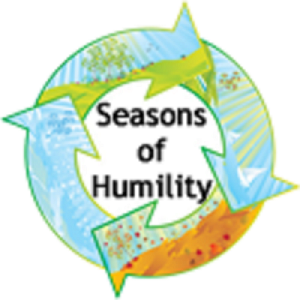 My second semester of college, my bowling professor (yes, I took "bowling" as one of my P.E. classes) and I were talking about writing, and he asked me if I had a blog, since I was so interested in being a writer. At that point I was a blog-reader, but not a blog-writer. But my professor planted an idea in my mind that took root, and with some help from Renee (from "Black 'n Gold Girl's Bookspot"), I took the first step on a journey that's been time-consuming, crazy, and absolutely wonderful.
(You can find my very first blog post here: http://seasonsofhumility.blogspot.com/2010/03/first-day.html)
What was the first book you reviewed on your blog?
That would be Love Finds You in Sisters, Oregon by Melody Carlson.
What is your reviewing philosophy?
When I first started reviewing, the experience was quite new and exciting for me. (Getting free books just for sharing my honest opinion? Brilliant!) I didn't really start out with a stated philosophy or much self-control.
Now that I've been reviewing for a while? Well, I still don't have much self-control. (I tend to request tons of books – it's still exciting!) As for my philosophy, I've tried my best to be honest in my reviews, as that is what I agree to when I accept review copies. Sometimes I tend to point out more of the positives than the negatives, and sometimes it's the other way around. But I like to think that generally I employ the "compliment sandwich," a technique one of my high-school English teachers taught me. You start off stating what you like about someone's work, then offer critiques, and finish it off with more encouraging words. It is my hope that through such a style my reviews can be helpful to both the author and the reader.
(I also have a different rating system for the reviews I post on my blog. Instead of stars, I use seasons – I'm kind of big on themes! http://seasonsofhumility.blogspot.com/p/my-rating-system.html)
How has your blog evolved from when you first began until now?
My blog has gone through seasons, just as I have. When I first began blogging, I had so many different ideas and seemingly endless energy. I came up with tons of themed-week ideas and tried my best to attract readers through giveaways and creativity. Eventually, with school and life in general vying for my attention, I settled into a slower routine, while still going all-out for a few special events. Different features have come and gone on my blog, but the book reviews and certain events (like "Camp Humility," the "End of Summer Bash," and the "Love Finds You" blog party) have remained. And it is my hope that the overall themes of humility and living for God have continually been a part of it all in the eyes of my readers. I know the comments from my blogging friends and the process of putting together posts have helped me to grow and be encouraged in my faith.
What have you gained from being part of the book blogging community?
I've gained so much more than I could have ever dreamed! I've gained amazing friends – ones who pray for me, encourage me, read what I've written, laugh with me, and cry with me. I've gained invaluable writing experience – from writing short stories and poems (and receiving feedback on them) to writing devotional posts and critiques/reviews of books. I've gained lessons in spreading the word about events and books. I've gained new reading horizons. And I've gained insight – a chance to explore my faith and my life experiences through the written word. So blogging has been a pretty worthwhile endeavour for me, I'd say!
Do you have a favourite genre to read?
I love Historical Romance – although I've also been enjoying some great Young Adult reads lately! But Historical Romance has been my favorite for quite a while, and it has also been my favorite genre in which to write.
Please share 3 authors whose books are must reads for you
MaryLu Tyndall, Laura Frantz, Karen Witemeyer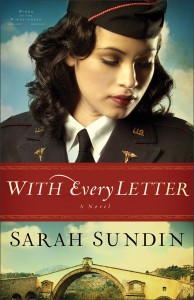 Can you name a female character you really connected to?
Mellie Blake (from With Every Letter by Sarah Sundin – just released this month!). Even though her background is quite different from mine, I could relate to some of her difficulties with social situations, as well as her relative ease in sharing about herself in writing rather than by speaking.
A male character you'd like to meet?!
Just one? *wink* Well, there's just something about Robert Cranwell (from Chateau of Echoes by Siri Mitchell) that really stood out to me. He seems like such a great guy!
Rel: Chateau of Echoes was the first book I reviewed on my blog – LOL!
Is there a book you read over and over again?
To be honest, with all the new books I get all the time for reviewing and such, I don't really take the time to re-read a lot. I can say that one book I read last month, Entwined by Heather Dixon (a clean, albeit rather dark, YA read), is one I think I'd love to re-read sometime! And one devotional book I've read and been blessed by multiple times is Safe in the Shepherd's Arms by Max Lucado.
You are also a writer ~ what are you working on now?
I'm currently working on the sequel to my first manuscript. Both fit into that Historical Romance genre I love.
This sequel is tentatively titled "Bleeding Heart," and it's set in the American West in the late 19th century:
A soiled dove looking for a fresh start, a rancher recently spurned in love, and a kind miner with a sad tale of his own – what happens when these three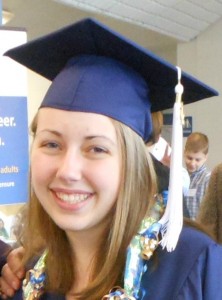 bleeding hearts come together on a journey that tests their loyalties and their definitions of love?
I'm about a third of the way through the story (according to my hopeful word-count predictions… I'm more short-winded than other Historical Fiction writers, I'm afraid!). I hope someday, if it's God's will, I'll be able to share their story with you!
Rel: I'm looking forward to reviewing it one day, Amber
What are 2 things about you people may be surprised to learn
Well, if you've read the "About Me" section on my blog, this won't come as a surprise… But most people are surprised to learn that I have a black belt in Jujitsu. I guess my personality and size don't really shout "black belt," and getting to that point was certainly one of the most challenging tasks I've faced in my life so far!
My other "claim to fame" is that I detest the thought of eating mashed potatoes. I haven't tried them in years, and I don't plan to anytime soon. It's just a combination of bad memories, the icky texture (in my opinion), and stubbornness.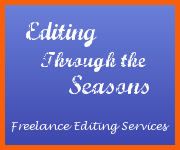 You have a new venture to assist writers ~ care to share?
Why, yes, I would love to share! I recently launched my new freelance editing business, "Editing Through the Seasons." (http://editingthroughtheseasons.com/) It is my hope to use my degree, my book-reviewing experience, and my love of fiction to assist authors in whatever "seasons" their stories are. From offering general comments on the direction of an unfinished manuscript to proofreading an almost-ready-to-be-published book, I'm eager and able to walk alongside the writer and offer encouragement, along with professional "trimming" and "pruning."
Thank you so much for the opportunity to be featured on your beautiful site, Rel!
Rel: It's a pleasure to have you here, Amber, and to share your love of books
Connect with Amber