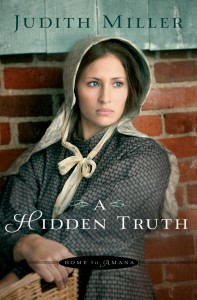 Meet Karlina and Dovie 
in Judith Miller's
A Hidden Truth
Bethany House
The Story
When Karlina Richter finds out that a new shepherd will be sent to East Amana, she fears she'll no longer be able to help her father with the sheep. She'll be relegated back to kitchen work, a job she dislikes. Her fears increase when Anton Becker arrives and shows little interest in the flock–or in divulging why he's been sent to East. Dare she trust Anton to help her father, or is he keeping secrets that will impact them all?
After learning that her father will be transferred from Cincinnati to a job in Texas, Dovie Cates decides she wants to visit the Amana Colonies, where her mother spent her formative years. She writes to relatives still living in the Colonies and is invited to spend some time there. Soon after her arrival, Dovie meets Berndt, the handsome young man who delivers bread to the kitchen house each day. But when Dovie begins to ask questions about her mother's past, no one seems willing to tell her anything, so Dovie decides to take matters into her own hands. Will her decision spell disaster for her future with Berndt?
Introducing Karlina & Dovie
Brief physical description 
There are two POV characters, Karlina Richter and Dovie Cates. I write each of them in first person so I'll answer for each of them.
These are the pictures I used for facial features while writing the book. As you can see, they aren't the 'movie star' types we create in our minds when we're reading a book, but I enjoy using old photos whenever possible. (These are photos from a very old family album.)
Strengths and weaknesses
Karlina loves the outdoors and animals. She's an obedient Amana young woman but unlike her peers, she prefers working with sheep rather than working with the other women in the kitchen houses or gardens. She is kind and caring—a very nurturing personality, but fearful of breaking rules, even to help others.
Dovie has a curious nature and because she grew up outside of the Amana Colonies, she sometimes has difficulty keeping the rules. She's interested in solving the secrets from her past and sometimes doesn't think of the damage she may do to others while trying to quench her curiosity.
Quirk (if any)
Karlina's love of sheep is consider a quirk by many in her village.
Your inspiration for the characters
I wanted two different personalities that would provide readers with an opportunity to see growth and change. Dovie, the young woman who comes from Cincinnati to Amana, is seeking answers about her mother's past life in Amana. My own father died when I was an infant and my mother didn't tell me much about him. I grew up without knowledge of who he was as a man, and I've remained curious. I didn't ask those questions before my own mother died, and wish I had. That void in my life caused me to create a character who'd had a similar experience and is determined to gain answers to questions about her mother.
This story is set in East Amana where the land is craggy and unsuitable for raising crops. In East, they raised sheep instead of crops. I thought it would be fun to have a young woman, Karlina, who was more interested in animals than housework. I was drawn to the idea of having a setting with sheep and a character who worked with them because there are many strong metaphors in the Bible about sheep and God's people.
Background to the story
This is a story of two young women who come from different worlds. One from city life in Cincinnati, Ohio and the other from  communal, country life in Iowa. In the course of the story, each woman is seeking to discover the truth about an event in their individual lives. Both of them jump to incorrect conclusions that could jeopardize relationships and their futures. Dovie develops misconceptions about her mother's past life in the Amana Colonies and Karlina believes the young man who has come from High Amana is keeping secrets about his past.
I wanted this story to reveal that in our lives we frequently jump to conclusions and make hasty decisions before we know the entire truth. Those hasty judgments can create havoc in our lives as well as the lives of those we love.
Relz Reviewz Extras
Review of Somewhere to Belong
Visit Judith's website and blog
Buy Judith's books from Amazon or Koorong