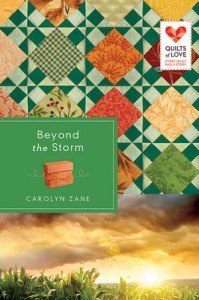 Meet a hair stylist and a construction worker
in Carolyn Zane's
Beyond the Storm
Abingdon Press
The Story
After a tornado rips through her town, store owner Abigail comes across a piece of fabric from a wedding dress among the devastation. Abigail is moved to start collecting other swatches of fabric she finds – her neighbor's kitchen curtains, a man's necktie, a dog's bed – which she stashes in shopping bags. As she pursues her seemingly absurd quest, horrible realities spark the question, "What kind of a God would allow such tragedy?"
As she struggles to reconcile her right to happiness amidst the destruction, Abigail begins piecing together a patchwork quilt from the salvaged fabric in hopes it will bring some peace. But a new relationship with Justin, a contractor, may require too much of her fragile heart. Will her pain and questions of faith give way to the courage to love?
Introducing Abigail & Justin
Brief physical description
Abigail was easy, as I based her on my niece, Charlyn, who was in Beauty College at the time and struggling with a lot of the same issues that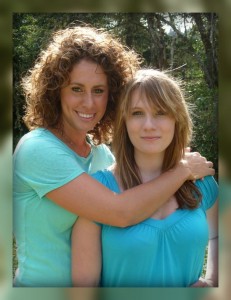 Abigail did in the book. They are both beautiful young women with full heads of naturally blond, very curly hair, which is their crowning glory. Here's a photo of Charlyn with my daughter. They are both tall and slim and look great in cowboy boots and jeans. Both love to line-dance. Abigail's name was hugely important to me, as it had to be regal (Abigail) and fun (Abby) and had to signify her journey. "Ab" comes from Latin and is used as a prefix particularly in French and English Latin derivations. It means from, away from or off. And, "gail" sounded like gale, as in storm gale. Hence?  Her name signifies the book's title:  Beyond the Storm.
Justin had to be a builder, but even more importantly, a rebuilder. Not just of the town, but of his relationship with Jesus, after the storm. Because he was in construction, he had to have strength, so the picture in my mind's eye as I wrote him was the actor who played Luke Danes, on the Gilmore girls, Scott Gordon Patterson. Handsome, baseball cap, not always clean shaven, and plaid flannel shirts, jeans and work boots. I chose Justin's name, as he arrived just-in-time to protect Abigail. Corny, huh?
Resembles…
I pictured Taylor Swift with her big, spiral curls, and, of course, Luke from Star's Hallow, huddling together in a sushi filled walk-in refrigerator. Nothing says romance like raw fish.
Strengths and weaknesses
Abigail was (as many of us do, when we are young) struggling with the pull of the world. Because she came from a broken home, she yearned for family and a man who could love her, but didn't believe that Jesus was on duty in her life and had already chosen her perfect mate. So, she was busily taking matters into her own hands when the storm hit.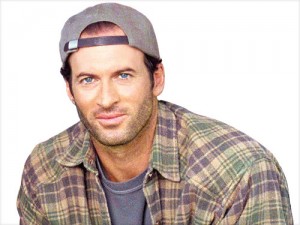 Justin was a family man to the core, there in Rawston to take care of his aging grandparents, but new in town and lonely. When he met Abigail, he was attracted to her spirit, but wasn't willing to begin a relationship based on her criteria. To him, a cord of three strands was the only way, and until she discovered that, he feared there was no future with her. But he liked her. A lot.
Quirk (if any)
I love to assign quirks. More to my secondary characters because I feel it helps the reader remember who's who in the scheme of things. I gave Isuzu—Abigail's best friend—a tag line: I got wings! The character, Zuzu, in It's a Wonderful Life, said that, and I needed Isuzu to say it right after the storm blew the building where she was hiding to smithereens. I hoped it would say "Life IS wonderful", and the tornado nearly had her taking flight, but that she was safe and it was okay to laugh with relief.
Your inspiration for the story/character
The riveting stories that came out of the horrific spate of tornadoes in Joplin, KS and Tuscaloosa, AL in 2011. I am not from tornado alley, and didn't know a soul from there, but the news stories had me in tears. I couldn't shake the images, and knew there had to be a story there. When I was approached to write for Quilts of Love, the idea of taking the scraps of life and turning them into a quilt seems to symbolize rebirth. So often, we humans get caught up in the minutia of life. The latest fad, Friday's party, building a business, decorating our home, winning an award…and we fail to look up. To consider what the Lord might have planned for our lives, if we'd bother to ask. Abigail is pursuing life's trivia one normal spring day when the sky opens up and wipes everything she held dear off the face of the map. Now what? That is the story.
Relz Reviewz Extras
Visit Carolyn's website and blog
Visit the Quilts of Love website
Buy Beyond the Storm from Amazon or Koorong