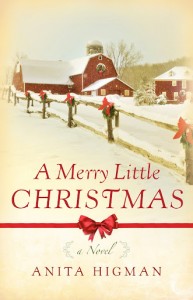 Meet farm girl Franny Martin in
Anita Higman's
A Merry Little Christmas
Summerside Press
The Story
Franny Martin is an Oklahoma farm girl who's preparing to spend the holidays alone…again. Then Charlie Landau shows up one day, all wealth and polish, and offers to buy Franny's farm. Franny has no money to speak of, but she is clever and spirited, and she's more than happy to sell the farm and move to the city.
As Sinatra croons from the radio and Christmas descends upon her charming farm, Franny teaches Charlie the curious and sometimes comical ways of country life. In the process, they unearth some discoveries of the heart—that sometimes love comes when you're least ready for it. Will the holidays bring their most impossible dreams within reach?
Introducing Franny
Brief physical description
The heroine, Franny Martin, has soft gray eyes and brown hair, which is cut in a cute short hairstyle, similar to Audrey Hepburn's hair in the movie, Roman Holiday. Franny dresses in simple clothes, but she always looks striking, even in overalls.
Resembles…
If A Merry Little Christmas became a movie, Franny could be played by the talented Gennifer Goodwin
Strengths and weaknesses
Franny is full of love and laughter and courage, but she can also be impulsive, which gets her into trouble.
Quirk (if any)
Because of her parents' tragic death in a cellar during an Oklahoma thunderstorm, Franny has a phobia surrounding storms and cellars.
Your inspiration for the character
Some of Franny's hopes and fears as well as her sense of justice came from my own experiences growing up on a farm in Western Oklahoma in the 1960s.
Background to the story
Set on an Oklahoma farm in the 1960s, A Merry Little Christmas is about a young farmer named Franny Martin—a woman who isn't afraid to dream big and fall hard, to stand up against the likes of Jim Crow and find a rare friend along the way. This holiday story is filled with so much hope and music and romance, that it will make your heart merry.
Relz Reviewz Extras
Visit Anita's website
Buy the book at Amazon or Koorong