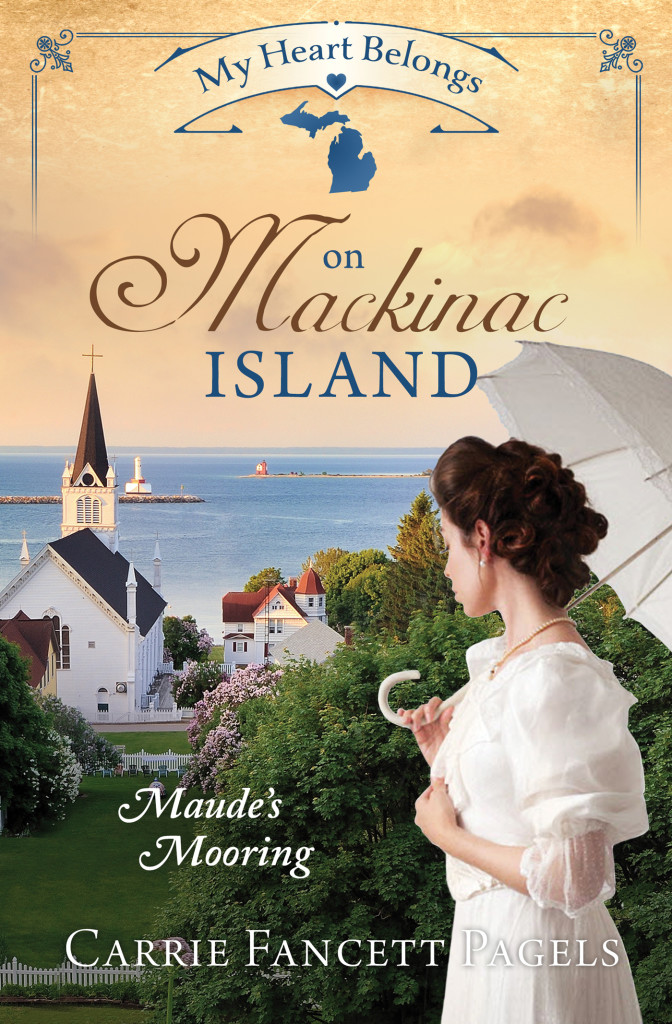 Meet a maid and a journalist in
Carrie Fancett Pagels
historical romance
My Heart Belongs on Mackinac Island: Maude's Mooring
Barbour
*****
The Story

Journey now to Mackinac Island where…
A Tangled Gilded Age Love Story Unfolds.

Although the Winds of Mackinac Inn has been in her mother's family for generations, Maude Welling's father refuses to let her run it without the guidance of a husband. So she seeks to prove her worth and independence by working incognito as a maid at the Grand Hotel.

Undercover journalist Ben Steffans, posing as a wealthy industrialist, pursues a story about impoverished men chasing heiresses at the famed hotel.  While undercover, he becomes attracted to an intriguing maid. By an act of heroism Ben endears himself to the closed-mouthed islanders—including Maude—and he digs deep for his story.

But when scandal threatens, will the growing love between Maude and Ben be scuttled when truths are revealed?
Introducing Maude & Ben
Brief physical description
Maude -Thick, long wavy bronze-colored hair (which she wishes was darker!), above average height, beautiful in a soft way and is average build.
Ben – tall, broad shouldered and muscular, clean-shaven, and thick wavy chestnut hair.
Resembles…
Jessica Alba and former pro-football player Benjamin Utecht (I'm not a football watcher but I saw him on the cover of Neurology Today and realized there was someone who looked almost exactly like I pictured Ben!
Here's a link to my Pinterest board for MHBoMI.
Strengths and weaknesses
Maude – A mind for mathematics and music and loves helping people. Hard-headed and can be like a bulldog when her heart is set on something and can be heedless of others' concerns.
Ben – he is a musical virtuoso, but because of his past circumstances he wouldn't allow himself to consider a musical career. He loves the truth. He's been working too hard to please his editor and get ahead as a journalist.
Quirk
Maude – She gets a kick out of tormenting some of the cocky male seasonal workers and she has quite a bit of kid still left in her and some sass.
Ben – He despises travel by water because of losing his sister on the family's transatlantic crossing.
Your inspiration for the character
Maude had to get some "therapy" to become a more normalized version of how I originally had her! She's kind of a composite of many of the lovely "Yooper" women I grew up with. A Yooper is someone from the Upper Peninsula of Michigan. I have to say, I agree with this suggestion now, especially since I started watching the latest version of Anne of Green Gables, which they added too many layers of mental health issues for this beloved character.
Background to the story
I had worked on Mackinac Island and I have a friend whose family is from the island. That story itself was kind of a Prince and the Pauper theme.  Also, one of the main characters was inspired by a real-life woman whom I'd read about who'd been the wealthiest woman in America but lived in poverty. I wondered – what would make her be like that? And I wanted to give her a happier ending than in real life!
Thanks Carrie!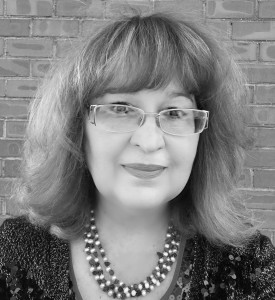 ECPA-bestselling author Carrie Fancett Pagels, Ph.D., is the award-winning author of a dozen Christian historical romances. Twenty-five years as a psychologist didn't "cure" her overactive imagination! A self-professed "history geek," she resides with her family in the Historic Triangle of Virginia but grew up as a "Yooper." Carrie loves to read, bake, bead, and travel – but not all at the same time! You can connect with her at www.CarrieFancettPagels.com.
Relz Reviewz Extras
Visit Carrie's website
Visit Carrie's blogs: Overcoming With God and Colonial Quills
Connect with Carrie: Facebook Author Page Facebook Personal Page Twitter Pinterest Goodreads
Buy at Amazon: My Hearts Belongs on Mackinac Island: Maude's Mooring or Koorong