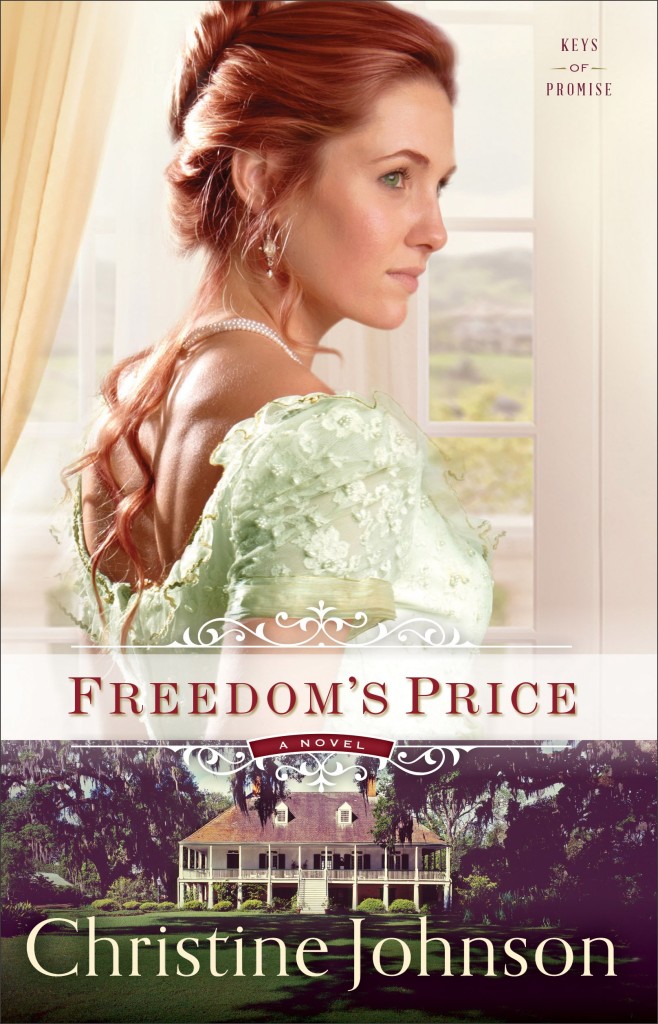 Meet an immigrant and a ship wrecker in
Christine Johnson's
historical romance
Freedom's Price
Revell
*****
The Story

When Englishwoman Catherine Haynes loses both her parents and her home in 1856, she decides to cross the Atlantic to find her American mother's family in Louisiana. She enlists the help of Tom Worthington, a dashing Key West man who makes his living salvaging wrecked ships, but whose real goal in life is to bring to justice the man who stole his father's ship and caused his untimely death.

When Catherine finally arrives at her family's plantation, she finds it in disarray and her family absent landowners. Torn between returning to Key West with Tom or beginning the hard work of restoring the plantation, Catherine soon finds herself snared in a plot to steal her inheritance. When an incredible secret comes to light, both she and Tom will face a choice. Can they relinquish the dreams that have been holding them captive in order to step forward in faith–even if it costs them everything?
Introducing Catherine & Tom
Brief physical description
Catherine Haynes' auburn red hair couples with her green eyes and fair skin to reflect the Irish heritage on her father's side of the family. From her mother she inherited a sense of adventure and the determination to stand up for what's right.
Tom Worthington's height and dark brown hair accent his rakish good looks. When captaining a ship, he dresses like a gentleman in order to garner respect in an industry much-maligned by ship masters and ship owners.
Resembles… 
See the images saved to my Pinterest board
Strengths and weaknesses
Catherine's quick wit and courage get her out of more than a few hard spots. She is also willing to think beyond convention, which raises a lot of eyebrows. Once she makes a decision, she will see it through to the end. Though this is usually an admirable quality, it can make her inflexible when flexibility is needed.
Tom is loyal to those he cares about and he can be overly protective. When hurt or betrayed, he holds a grudge. He is on a ten-year quest to avenge his father's financial ruin and death—with the blade, if necessary.

Quirk (if any)
These aren't so much quirks as key aspects of the characters…
Tom tends to rush into things with his mind made up. That makes him a bit fidgety when forced to wait or suffer through social occasions.
In 1856, Catherine's knowledge of and willingness to dive into financial records both helps her and gets her in trouble with men who prefer she knew nothing about the subject.

Your inspiration for the character
The kernel of an idea for Catherine was sparked by a real-life story of Key West. In 1846, teen-aged Elisabetha Merklin set off alone from Germany aboard a ship bound for Tampa, Florida, where she would join her uncle. She carried her passport in a tube that she wore around her neck because she couldn't speak English. Her ship wrecked on the reef off the Florida Keys, and she fell in love with and later married the wrecker who rescued her. That story got my mind working. What circumstances would force such a drastic decision? I made Catherine an Englishwoman and then had to devise a reason for her to cross the Atlantic without family. The rest of the story? Well, you'll have to read Freedom's Price to see how closely it follows Elisabetha's real-life tale.
Tom appeared in the first book in this series, Love's Rescue, and I knew at once that he would demand his own book. He was carrying around a big chip on his shoulder in that book and was too ready to leap into action with a blade. The hero of that book, Rourke O'Malley, had rescued Tom from a duel and was trying to set him on the straight and narrow. I had to know Tom's story. What a story it turned out to be!
Christine Johnson is the author of several books for Steeple Hill and Love Inspired and has been twice named a finalist for Romance Writers of America's Golden Heart® award. When not writing, she loves to hike and explore God's majestic creation. These days, she and her husband, a Great Lakes ship pilot, split their time between northern Michigan and the Florida Keys.
Relz Reviewz Extras
All Things Johnson @ Relz Reviewz
Visit Christine's website
Buy at Amazon: Freedom's Price or Koorong