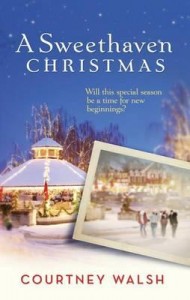 Lila is reunited with her friends for a small-town Christmas in 
Courtney Walsh's
A Sweethaven Christmas
Guideposts
The Story
It's holiday time in Sweethaven, but things don't go quite as planned for these scrapbookers. Lila is thrown for a loop when a woman claiming to be her sister arrives in town. As she begins digging into the woman's claims, Lila uncovers things about her family she may never be able to accept or forgive.
After the girls find an old scrapbook on Adele's bookshelf, she is reminded of her first love, a Sweethaven boy whose heart she broke so many years ago. With help from modern technology, Adele arranges a reunion with this man. And when Campbell sees Luke with a ring, she isn't sure whether to be happy or terrified. Are wedding bells in her future? For Jane and Meghan, Sweethaven is filled with the promise of something new — as well as good friends, a new scrapbook, and a little holiday magic!
Introducing Lila!
Brief physical description
The main character in "A Sweethaven Christmas" is Lila Adler Olsen. She is a former beauty queen, now in her early 40's with shoulder length blonde hair and a slender frame.
Resembles…
I always thought it would be easy to "cast" my characters, but it turns out, it's not. At all! LOL I think once you get someone in your head, it's difficult to find them in real life…but I think someone like Naomi Watts might resemble her…beautiful and elegant.
Strengths and weaknesses
Lila cares too much what other people think, so she spends a lot of time living for them. At the same time, her biggest weakness is that she starts out rather self absorbed. This story is a chance for her to really grow and discover the person she was meant to become. As far as her strengths, I think while she is flawed, that Lila has great determination and the capacity for forgiveness, even though she may not realize it right away.
Quirk (if any)
I wouldn't say she has a "quirk" necessarily, but she definitely has a knack for being a little blunt. Lila says what she thinks, whether she should or not. It gets her into trouble sometimes.
Your inspiration for the character
She kind of popped in my head one day as I was thinking about the people who may own cottages in Sweethaven. I wanted her to be a contrast to the others, and I loved the idea of having one girl who was a little spoiled but who has a good heart (underneath the makeup and tiaras.) I think a great way to add dimension to a story is to create a varied group of characters, so I purposely wanted Lila different…and maybe a bit challenging. She ended up being both.
Background to the story
The idea for Sweethaven came when we were staying in the cottage of some friends up on Lake Michigan. They told me in their community, the cottages were passed down through the generations and some of the families had been coming since the early 1900's. I thought that was fascinating, so I started to dream up what kind of people would spend their summers in a place like that, and before I knew it, I'd created a group of women I now feel are my friends. The story starts when the daughter of one of these women finds an old scrapbook full of secrets and memories of Sweethaven summers…it's that scrapbook that brings them all back together again.
Relz Reviewz Extras