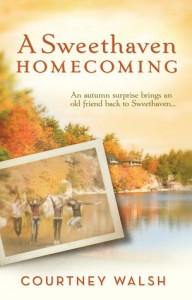 A country music star, an ex-husband and the Sweethaven women feature in Courtney Walsh's
A Sweethaven Homecoming
Guideposts
The Story
The Sweethaven Circle is back—and so is the friend they thought they'd never see again!
Country music star Meghan Rhodes has moved on with her life, leaving Sweethaven and its painful memories in the past. But when she is confronted on national television with her ex-husband's plan to file for sole custody of their twins, Meghan takes the first flight home, back to the charming lakeside town full of regrets and relationships that need mending.
As Meghan searches for forgiveness—as well as the ability to forgive—she is overcome with the need to make things right with her children, her ex-husband, her mother, and even the friends she'd convinced herself she no longer needed. But is she too late?
The Sweethaven Circle is together again as Meghan works with Campbell, Jane, Lila, and Adele begin a new scrapbook for memories yet to be made. Picking up where A Sweethaven Summer left off, A Sweethaven Homecoming explores the strong bonds of friendship, the power of forgiveness, and the importance of unconditional love.
Introducing Meghan Rhodes
Brief physical description
Meghan Rhodes is in her early 40's with long red hair and a singing voice like a country Pat Benetar.
Actor/famous person
Sheryl Crow if she had a reddish tint to her hair.
Strengths and weaknesses
She's strong and independent, but those are both strengths and weaknesses. It's hard for Meghan to admit she needs anyone else because she's used to making her own way. She also lives in a world of past regrets which makes it impossible for her to forgive herself.
Quirk (if any)
Her favorite treat is a root beer float. Yum!
Your inspiration for the character
This character, more than any of the others in the series, sort of showed up in my head. While her mom, Adele, was inspired by Paula Deen, Meghan was the kind of character that just sort of came to life for me. She's the least like me of any of the characters…which may be why I think she's my favorite.
Background to the story
I first got the idea for the Sweethaven series thanks to some friends who allowed us to stay in their cottage in a little community on Lake Michigan. The whole concept of passing cottages down through the generations really appealed to me, and it was there I got the idea to tie it all together with a scrapbook. That scrapbook leads the women back together and reminds them of the importance of friendship and forgiveness.
Relz Reviewz Extras