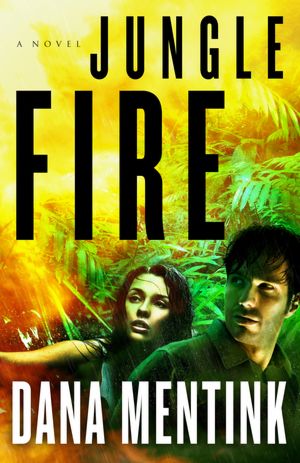 Meet a dog handler and a missionary in
Dana Mentink's
romantic suspense
Jungle Fire
River North
The Story
The deadliest animal in the jungle is the two legged kind.
Nina Truman is a missionary nurse, serving in a tiny Guatemalan town not far from the Mexican border.  It's a fulfilling life, tending to the village poor, a way to serve in the country from which she was adopted. The day she leaves on furlough, is the day her life falls apart. Her bus is ambushed and she must flee from forces who inexplicably wish her dead. Trapped between a ruthless drug lord and his assassins, a corrupt police chief, and colleagues with ulterior motives, her friends may prove just as deadly as her enemies as she uncovers a plot tangled deep in the roots of her own past.
Nina's only hope of survival lies in the hands of Shaw Wilder, a man who despises missionaries and the God they serve.  His skill is in handling a landmine detection dog, not helping a woman he blames for the death of his sister. When the lethal drug kingpin El Escorpion seeks to capture Nina, and the local police are no help, Shaw has to choose: flee into the Guatemalan jungle with a naive woman who has vowed never to take a life or follow his own spiritual demons and walk away. His choice may leave them both imprisoned in a jungle from which neither will escape.
Enjoy meeting Shaw & Nina
Shaw Wilder
Brief physical description
Shaw William Wilder is a thirty something expatriate living in Guatemala's Petén forest.  He's a big guy, over six feet, tanned and crew cut, with his dog Axel always at his side. He's usually sporting a chin full of stubble and he hasn't worn a tie for a decade.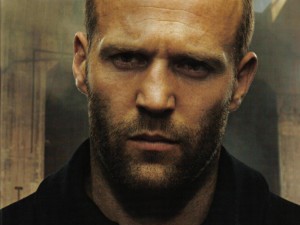 Resembles…
Shaw is a Jason Statham type, strong and unapproachable in the beginning of the story.
Strengths and weaknesses
Shaw's got plenty of physical strength, fearlessness, wilderness skills and a deep devotion to his dog. He's also nursing a profound anger at the people whom he believes caused his sister's death and God for taking away both his mother and sister.
Quirk (if any)
For a tough guy, Shaw has a sentimental streak. He treasures his mother's old recipes and his sister's tattered Bible, though he refuses to read it. He'd never admit it, but he used to sing in a barbershop quartet in his younger days.
Your inspiration for the character
I read a news article years ago about a woman who was badly hurt on a mission trip. I wondered how her family back home coped with the tragedy and I imagined a young boy might be confused about why his mother had been taken from him after following a call to serve. Shaw was born out of that long ago story.
Nina Truman
Brief physical description
Nina Truman is a twenty-eight year old missionary nurse, serving with her father at a medical clinic in the Petén Jungle. Looking at the slim, dark haired girl, people tend to underestimate her spiritual strength and tenacity.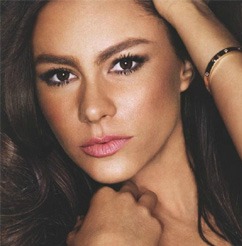 Resembles…
She might be compared to a young Sophia Vergara.
Strengths and weaknesses
Nina's faith gives her the courage and the calling, but it is attached too much to the faithof her father, Doctor Truman. In the course of the novel, she will have to establish her own relationship with God, separate from that of her family. A sense of humor gets Nina through the darkest moments of her life and an unshakable belief in the goodness of people, which can be both a strength and weakness when you're running for your life in the jungle!
Your inspiration for the character
​Nina is modeled after many people I have encountered who serve faithfully in some of the most inhospitable situations in theworld. Their unshakable faith, their willingness to sacrifice personal safety and comforts to follow God's calling in their lives is inspiring.  I hope Nina reflects some of those amazing qualities.
Background to the story
When I was a grade-schooler, my mother suggested I write a report on Guatemala for a class project because she'd lived there briefly. Off to the library I went and soon I was knee deep in facts about theincredible flora and fauna of Guatemala. Volcanoes, quetzal birds, the rugged mountain country and dense jungle terrain seemed too fantastic to be believed. Imagine my surprise some decades later when my agent approached me about writing a proposal with an international setting about a missionary nurse, running for her life. The perfect setting? Guatemala, of course!
Thanks Dana!
Relz Reviewz Extras
Visit Dana's website and blog
Buy Jungle Fire at Amazon or Koorong