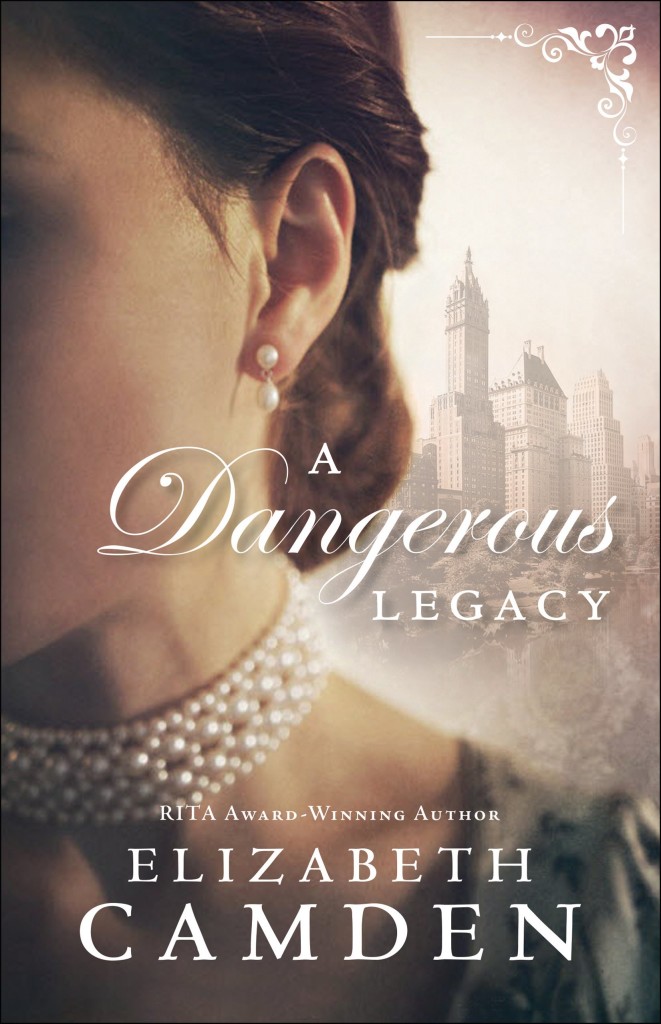 Meet a telegrapher & a Brit in 
Elizabeth Camden's 
historical romance
A Dangerous Legacy
Bethany House
*****
The Story

Lucy Drake's mastery of Morse code has made her a valuable asset to the American news agencies as a telegrapher. But the sudden arrival of Sir Colin Beckwith at rival British news agency Reuters puts her hard-earned livelihood at risk. Newly arrived from London, Colin is talented, handsome, and insufferably charming. 

Despite their rivalry, Lucy realizes Colin's connections could be just what her family needs to turn the tide of their long legal battle over the fortune they were swindled out of forty years ago. When she negotiates an unlikely alliance with him, neither of them realizes how far the web of treachery they're wading into will take them.
Introducing Lucy & Colin
Brief physical description.  
Lucy Drake is pretty, smart, and determined.
Sir Colin Beckwith is talented, handsome, and insufferably charming. He is also hiding a shocking secret that has the potential to destroy his reputation.
Resembles… 
This image of Tom Hiddleston is how I imagined Colin when I wrote the book.
Here are a bunch of pix of Rachel McAdams from Sherlock Holmes…..Lucy looks like her both in physical appearance, but also the way she projects smart, inquisitive determination.
Strengths and weaknesses.
Lucy is a telegrapher whose mastery of Morse code has made her a valuable asset to the American newspaper agencies. She also uses that skill to secretly eavesdrop on the telegraphic communications of the villains who swindled her family out of a fortune. Lucy is smart and shrewd, but her single-minded determination to win the lawsuit means her life has an anemic quality, lacking the warmth and fun a normal woman her age should be able to enjoy.
Sir Colin Beckwith is newly arrived in America.   To outsiders, he appears to be at the pinnacle of success, but he secretly battles a crippling weakness from his service in the Boer War. Colin and Lucy quickly spot one another's vulnerabilities. They have each other over a barrel, and must choses to either work together, or each hang separately.
Your inspiration for these characters
I was inspired to write this novel after reading a terrific book called The Victorian Internet: The Remarkable Story of the Telegraph and the Nineteenth Century's Online Pioneers, by Tom Standage. The book describes how telegraph operators who worked for newspaper agencies worked 24-hours a day, and often began chatting with one another during slow times. What a great way for characters to meet!
My hero, Sir Colin Beckwith, grew up on an isolated estate in the countryside, and as a boy he learned Morse code simply to hear cricket scores. As he awaited the cricket scores he became entranced by the tragedies, triumphs, and revolutions happening all across the globe. The telegraph machine became his lifeline to the wider world, and sparked his desire to work for Reuters.
Quirk (if any)
Lucy and Colin are both news junkies, although they didn't use that term in the early 20th century. They both chose to work for news agencies due to their insatiable curiosity about what is happening in the world. The first thing they both do each morning is click into the news wires to see what's happened overnight. This common bond is what sparked the initial attraction between them, and their ability to communicate in Morse code also plays a huge role in the unfolding plot.
Background to the story 
Lucy Drake's family was swindled out of a forty-million dollar inheritance, but she has one final chance to win the lawsuit and deliver justice for the people of New York City. I love a good Charles Dickens story, and that was the vibe I aimed for in A Dangerous Legacy, complete with fascinating villains, heroes battling overwhelming odds, and a heroine desperate to put a generations-long vendetta to rest.
Thank you, Elizabeth. Love that you have Colin loving cricket! Just like any Englishman worth his salt
Relz Reviewz Extras
All Things Camden @ Relz Reviewz
Visit Elizabeth's website and blog
Buy at Amazon: A Dangerous Legacy or Koorong