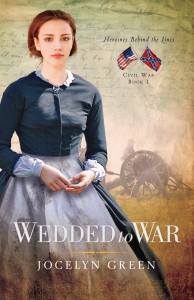 Jocelyn Green's debut novel is inspired by one woman's real life story
Wedded to War
River North
The Story
Tending to the army's sick and wounded meant leading a life her mother does not understand and giving up a handsome and approved suitor. Yet Charlotte chooses a life of service over privilege, just as her childhood friend had done when he became a military doctor. She soon discovers that she's combatting more than just the rebellion by becoming a nurse.
Will the two men who love her simply stand by and watch as she fights her own battles? Or will their desire for her wage war on her desire to serve God?
Enjoy meeting Charlotte!
Brief physical description
Charlotte is a 28-year-old woman of average height and fashionably small waist with chestnut hair and caramel-colored eyes. At the beginning of the novel, her skin is porcelain white-the mark of a true lady in her time (1861), but as she becomes a nurse, she abandons her parasols and hats and her skin becomes darker. Her posture is always erect and her movements graceful, even when she's dressing wounds–the product of years in a Philadelphia polishing school for young women.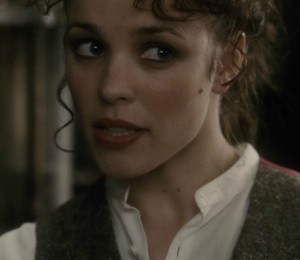 Actor/famous person
A brunette Rachel McAdams with hair pinned up resembles Charlotte. Her eye color isn't the same as Charlotte's, but her luminous fair skin and energetic vibe are a good match.
Strengths and weaknesses
Charlotte is not only well-educated, but she knows how to think critically and problem-solve. She's creative, inventive, compassionate and fully devoted to what she believes in (nursing, for example), even if that requires great personal sacrifice.
Her weakness is a tendency to be impatient with others who aren't as competent as she is. Her perfectionism is useful for the benefit of her patients, but it can also be a point of pride. And we all know what that precedes!
Quirk (if any)
Other women in her social circle think it's a very odd thing that Charlotte is willing to leave her steel hoops in New York and go be a nurse for the Union army, when nursing has thus far been solely a man's occupation. Some would even say it's scandalous.
Your inspiration for the character
Charlotte Waverly is inspired by one American Civil War nurse named Georgeanna Woolsey. Georgeanna and her sister Eliza nursed troops in Washington City (Washington D.C.) and on the Virginia Peninsula through the U.S. Sanitary Commission, which was the forerunner of the American Red Cross. Charlotte's story largely follows Georgeanna's background and journey from New York City to Virginia. The book My Heart Towards Home is a collection of letters and journal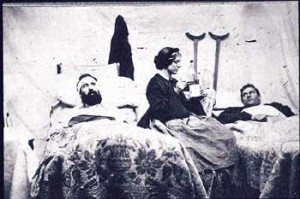 entries written by Georgeanna and her sister to their mother and other siblings, and provided a wealth of information and inspiration for Charlotte's character.
Background to the story
Charlotte was born into a life of privilege and lived a charmed life with her parents and younger sister Alice in their New York City brownstone until the cholera epidemic raged throughout the city when Charlotte was 16 years old. When Charlotte's mother and sister fled to the safety of a relative's house, Charlotte stayed behind and nursed her father, under the doctor's instructions, in a desperate attempt to save his life. All attempts failed. The only one who could comfort her was their family friend Caleb Lansing, but he soon left to attend Yale for medical training. Charlotte went through all the studies a wealthy upper-class young woman should have, with one goal in her mother's mind: to make her more marriageable and secure a suitable husband. When we meet Charlotte in Wedded to War, ten seasons of courting have still failed to produce a match, and Charlotte, now considered a spinster at the age of 28, wonders if she can have any value other than as a wife and mother. A newspaper advertisement calling for female nursing candidates to serve the Union Army is the answer she's been looking for.
Relz Reviewz Extras
Visit Jocelyn's website and her FaithDeployed blog
Buy Wedded to War at Amazon or Koorong