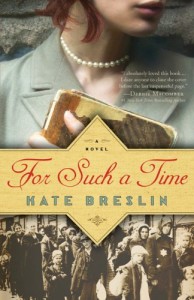 Meet an SS Kommandant & a secret Jewess in
Kate Breslin's
Historical romance
For Such a Time
Bethany House
The Story
In 1944, blond and blue-eyed Jewess Hadassah Benjamin feels abandoned by God when she is saved from a firing squad only to be handed over to a new enemy. Pressed into service by SS-Kommandant Colonel Aric von Schmidt at the transit camp of Theresienstadt in Czechoslovakia, she is able to hide behind the false identity of Stella Muller. However, in order to survive and maintain her cover as Aric's secretary, she is forced to stand by as her own people are sent to Auschwitz.
Suspecting her employer is a man of hidden depths and sympathies, Stella cautiously appeals to him on behalf of those in the camp. Aric's compassion gives her hope, and she finds herself battling a growing attraction for this man she knows she should despise as an enemy.
Stella pours herself into her efforts to keep even some of the camp's prisoners safe, but she risks the revelation of her true identity with every attempt. When her bravery brings her to the point of the ultimate sacrifice, she has only her faith to lean upon. Perhaps God has placed her there for such a time as this, but how can she save her people when she is unable to save herself?
Introducing Aric & Stella
Brief physical description
Aric resembles actor Jason Isaacs, except Aric has russet hair and green eyes. Jason has the rugged good looks I imagined for my hero, and he plays the part of a bad boy very well!
Stella/Hadassah resembles actress Michelle Pfeiffer. I envisioned her from the movie, Ladyhawke, with cropped blonde hair, wide blue eyes, and those perfect features.
Discover more images from For Such a Time on my Pinterest Board.
Strengths and weaknesses 
Aric: His strengths lie in his courage and leadership as a soldier—he's quite the decorated war hero when Hadassah first meets him. And he's still honourable beneath that misguided Nazi exterior. His weakness is in owning up to his compassion and humanity.
Stella/Hadassah: She has survived a concentration camp when the story opens. Her strengths include determination, courage, compassion, and survival. She dares to take a chance. Her weakness lies in her feelings for Aric, and her anger at God.
Quirk (if any) 
Aric is stickler for detail.
Your inspiration for the character
Aric: King Xerxes from the Biblical story of Esther.
Stella/Hadassah: Queen Esther from the Biblical story of Esther.
Background to the story
The idea actually came to me as I was reading Queen Esther's story. I knew the Jewish people had suffered at the hands of one society or another throughout history, and as I observed similarities between the wicked Haman's plot to destroy the Jews and Hitler's Holocaust of WWII, I wondered if I could overlay this biblical work onto that more modern setting.
Thanks Kate ~ I'm delighted to feature the characters for one my favourite books of the year!
Relz Reviewz Extras
Visit Kate's website and blog
Buy For Such a Time at Amazon or Koorong