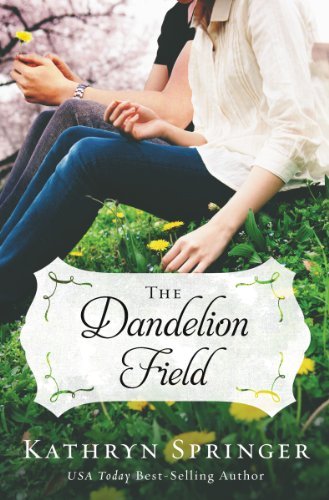 Meet a waitress and a firefighter in
Kathryn Springer's
contemporary romance
The Dandelion Field
Zondervan
********
The story
This handsome firefighter makes a living coming to the rescue, but Gin doesn't need a man to fight her battles.
After Raine's dad walked out, Ginevieve Lightly  never lived in one place too long, a rambling lifestyle that defined her daughter's youth. When their car dies in Banister Falls, Wisconsin, Gin promises Raine they can stay until she finishes her senior year of high school. Gin will do anything to make sure her daughter has a bright future . . . a future that's compromised when Raine reveals she's pregnant.  
Dan Moretti has only ever called Banister Falls home. After losing his best friend in a tragic accident, Dan devoted himself to responding to fires, rescuing the helpless, and guiding Cody Bennett, his best friend's son, through life. With Cody being the epitome of the good kid, it was an easy job. Until he says four little words: "The baby is mine."
Knowing gossip of Raine's pregnancy will erupt sooner or later in the small town, Gin's reflex is to grab the suitcase and escape to a new city, a new life. But with each passing day, Gin's feet stay rooted in Banister Falls, and she falls a little more for this local firefighter who shows her not all men abandon women at the first sign of smoke. 
As Gin and Dan do the best they can to guide the two teenagers through their early entry into adulthood, they discover together that romance can bloom in the rockiest of situations. And God can turn the pieces of a broken past into a beautiful new beginning.
Introducing Gin & Dan
Ginevieve "Gin" Lightly
Gin has light green eyes and dark auburn hair. Dan Moretti describes it as, "the same color and sheen of his grandmother's mahogany table".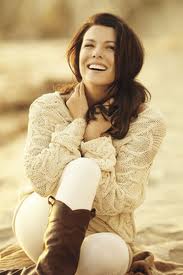 Resembles. . .
I don't usually base my characters on real people! The only person I can think of that Gin might resemble is Lauren Graham in her Gilmore Girl days. The coloring isn't quite the same, but I see them as having the same facial structure and body type.
Strengths
Gin's greatest strength is the love she has for her daughter, Raine. She's overcome a lot of obstacles and made incredible sacrifices over the years to make sure that Raine has a bright future.
Weaknesses
Gin doesn't trust easily. When she meets Dan Moretti, Gin assumes he's just like all the other men she deals with at the diner where she works as a waitress. She knows how to handle them—it's Dan she doesn't know what to do with!
Quirk
I wouldn't say that Gin is a quirky person.
My inspiration for Ginevieve
Women who have had difficult things happen in their lives but they move forward instead of making excuses.
Dan Moretti
Dan is 6'2" with an athletic build (firefighter!) He has dark brown hair and hazel eyes. He was born and raised in Banister Falls and comes from a close-knit family that still gets together after church for Sunday dinner.
Resembles. .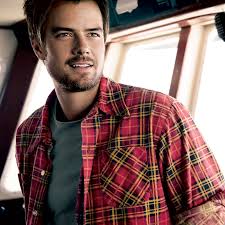 .
Once again, Dan simply looks like. . .Dan. Josh Duhamel (Safe Haven) would be pretty close, though!
Strengths
Dan, a Captain at the fire department, has a strong faith. He's a leader in the church and highly respected in the community. He's easygoing and has a sense of humor but also protective of the people he cares about. This, of course, presents a problem when he meets Gin. Dan makes his living coming to the rescue but Gin is used to fighting her own battles!
Weaknesses
Dan can be hard on himself. Growing up in his best friend Max's shadow, he doesn't always see himself the way others see him.
My inspiration for Dan
I love quiet heroes! Men who aren't celebrities by the world's standards, but they have integrity and a strong sense of honor. They don't make a lot of money but they make a difference in people's lives.
Background to the story
What inspired The Dandelion Field? I wish I could pinpoint one thing! The idea began to take shape about six years ago, when a scene popped into my head (ask other writers—this isn't as strange as it sounds!)I saw a redheaded woman and her teenage daughter sitting on the hood of a broken down car. Who were they? Where were they going? And the bigger question. . .what (or who) would persuade Gin—a woman who's never put down roots anywhere—to stay?
As the story began to take shape, I fell in love with the characters and I hope you do, too!
You can find me at www.kathrynspringer.com or on Facebook at kathrynspringerauthor.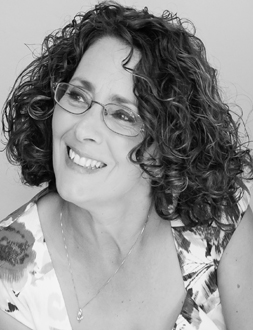 BIO
Kathryn Springer is a USA Today bestselling author. She grew up in northern Wisconsin, where her parents published a weekly newspaper. As a child she spent many hours sitting at her mother's typewriter, plunking out stories, and credits her parents for instilling in her a love of books – which eventually turned into a desire to tell stories of her own. Kathryn has written nineteen books with close to two million copies sold. She lives with her husband and three children in Marinette, Wisconsin.
Relz Reviewz Extras
Visit Kathryn's website
Buy at Amazon: The Dandelion Field or Koorong