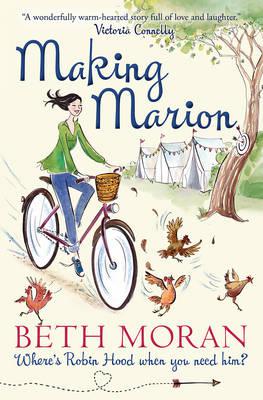 Synopsis:~
She had been looking for somewhere to stay, but instead Marion Miller finds herself on the wrong side of the reception desk at the Peace and Pigs campground and, despite her horrible shyness, promptly lands herself a job.
Marion came to Nottinghamshire–home of Sherwood Forest–to discover her father's mysterious past, but all she has to go on is a picture of her father dressed up, it would seem, as Robin Hood.
Life on a busy campground challenges Marion's formerly controlled life–the pigs roam free, the resident chickens seem determined to thwart her, and an unfortunate incident with a runaway bike throws her into the arms of the beautiful, but deeply unimpressed, Reuben.
Yet, Marion's would-be boyfriend Jake, and Reuben's stunning fiancee Erica, conspire to leave little room for Marion to daydream about the twinkling eyes of her rescuer . . . Will Marion ever find peace, and perhaps even love, among the pigs?
Includes a large cast of memorable, colorful characters, Making Marion is an outstanding debut romantic comedy that touches on issues of identity and family with a natural ease.
My take:~
This quirky little story is a fun take on a woman with significant issues who attempts to make a new life for herself in Sherwood Forest – the home of the legend of Robin Hood. An eclectic mix of characters provide plenty of humour and surprises as Marion begins to blossom as she discovers living in true community can help heal longstanding wounds. Some American sensibilities may not manage some of the British wit and storylines well and there are a couple of lulls throughout, but Making Marion is quite a refreshing change by way of location, characters, and style of prose and plot twists. The romance is sweet and develops beautifully as Marion begins to understand her value as a woman and a friend. If you are looking for a read this side of left field, Making Marion might be the one for you!
With thanks to the publisher for my review copy
Relz Reviewz Extras
Visit Beth's website
Buy at Amazon: Making Marion: Where's Robin Hood When You Need Him? or Koorong