Lisa T. Bergren has just released Glamorous Illusions, the first in her historical Grand Tour series from David C Cook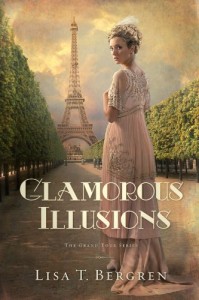 The Story
It's the summer of 1913 and Cora Kensington's life on the family farm has taken a dark turn. Not only are the crops failing, but someone dear to Cora is failing as well. One fateful afternoon, a stranger comes to call, and Cora discovers a terrible secret about her past…a secret that will radically change her future.
As she travels from England to France, Cora faces the hardships as well as the privileges of assuming the family name. And though now she knows more of her true identity, she soon discovers the journey is only beginning.
Now enjoy meeting Cora Diehl Kensington!
Brief physical description
Honey-blond hair, light blue eyes, startlingly beautiful. But still girl-next-door. She doesn't think of herself as beautiful.
Actor/famous person
Elisha Cuthbert from certain angles…like this:
Strengths and weaknesses
She thought she knew who she was, once. And she's beginning to understand that some things don't change within, even when everything around you changes.
But given the shock she's just endured, it's left her a little lost, up front. Scrambling to figure out who she is and where she belongs.
Quirk (if any)
She's never worn anything fancy in her life, until she's claimed as a Kensington—and then has to change 2-3 times a day.
Your inspiration for the character
I wanted a strong girl (I have a hard time writing wimpy heroines), but I also wanted her to truly be broken by several events, so she faces a time of "rebuilding," and is courageous enough to go through that process. Cora is moral and honest and thrown into a world full of less scrupulous morals and deceit. To me, she's a moral compass, even as she struggles to figure things out herself.
Background to the story
I'm investing in a ministry called 3DM, which really makes you think about who you are, as a disciple of Christ, what your core identity is—regardless of what it appears—and what spiritual promises that identity holds.
So my main character, Cora, discovers her father is someone different than the one she's known her entire life, and therefore has to "rediscover identity." Since I wanted a rags-to-riches story, as well as a tale that allowed for significant internal and external exploration, going from a struggling Montana farm to the Grand Tour of Europe was a nice vehicle for what I'm exploring and discovering myself.
Thanks Lisa!
Relz Reviewz Extras
Interview with Lisa
Character interviews with Luca,  Lia, Gabi and Marcello
Reviews of Waterfall, Cascade, Torrent and Bourne
Character spotlight on Gabi, Marcello, Luca & Lia
Character spotlight on Lord Greco
Visit Lisa's author website and her travel website
Buy Lisa's books at Amazon or Koorong