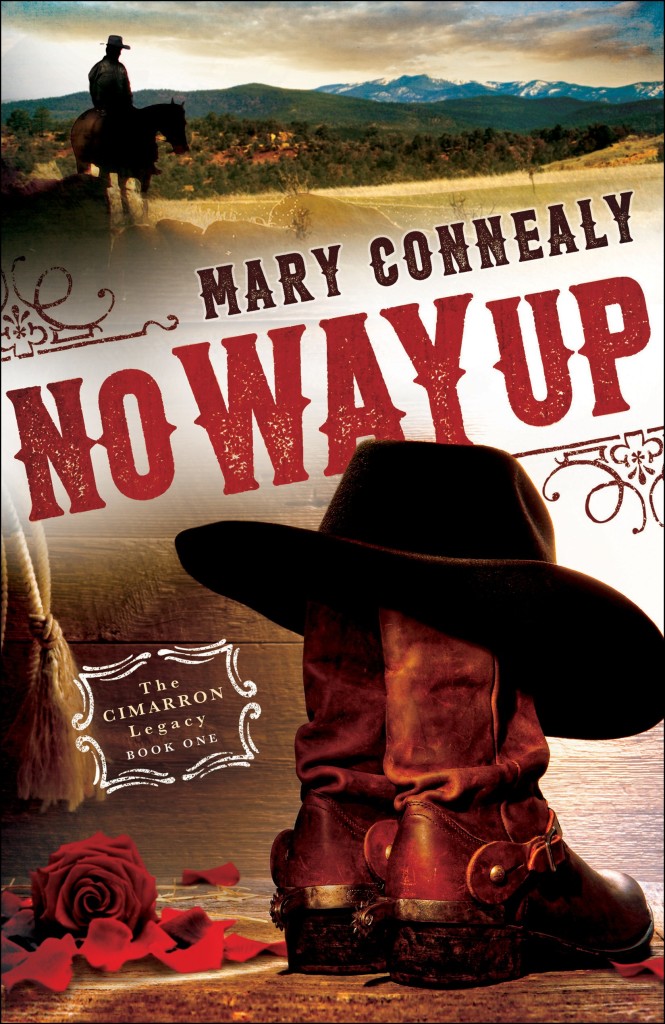 Meet a talented cowhand in
Mary Connealy's
historical romance
No Way Up
Bethany House
*****
The Story

When Cimarron ranch patriarch Chance Boden is caught in an avalanche, the quick actions of hired hand Heath Kincaid save him. Badly injured, Chance demands that his will be read and its conditions be enforced immediately.

Without anyone else to serve as a witness, Heath is pressed into reading the will. If Justin, Sadie, and Cole Boden don't live and work at home for the entire year, the ranch will go to their low-down cousin Mike.

Then Heath discovers the avalanche was a murder attempt, and more danger might follow. Deeply involved with the family, Heath's desire to protect Sadie goes far beyond friendship. The danger keeps them close together, and their feelings grow until being apart is the last thing on their minds.
Introducing Heath Kincaid
Brief physical description
Tall, dark and handsome. Flashing blue eyes. Confident of his ranching skills, not so confident about falling in love with the daughter/sister of his bosses. Especially when her big brothers keep firing him when they see she's interested in their cowhand.
Resembles…
Strengths and weaknesses
Strengths: A top cowhand, he's worked at nearly every job in the west and can turn his hand to anything, including excellent medical training which is badly needed.
Weakness: He wants to go home. He's wandered a while and now he wants his home…and he wants Sadie Boden. But she's got to stay at her father's ranch or lose it for herself and her brothers. As long as he stays on the Cimarron Ranch he's a lowly cowhand with little to offer the daughter of the wealthy owner.
Quirk (if any)
He's got three really bossy big brothers and as he gets to know Sadie's two big brothers he falls into the habit of defying them for pure entertainment, as it reminds him of home. Cole and Justin Boden keep firing him but every time they do, Sadie invites Heath to come and stay at the ranch as her guest. Then Cole and Justin decide if he's staying anyway, he might as well be working.
Your inspiration for the character
Heath takes after his crazy brother Seth Kincaid, the hero of Over the Edge, book #3 of the Kincaid Brides Series. Except Heath had to be really sensible, really young, he just never found the time to be crazy like Seth is. But he's got that wild streak in him and he's finding out he kind of enjoying letting it loose now and then.
Background to the story 
The basic story to me was Jacob and Esau…what if? (don't all stories start with 'what if'? What if Jacob and Esau, natural rivals, had parents that tried to keep them together instead of driving them apart? Cole the educated, smooth business man, Justin the tough rancher. And little sister Sadie who wants to be independent but it takes all her strength to stand against her parents and brothers…and she loves them so she has trouble being too unruly.
So Jacob and Esau meet The Big Valley with New Mexico's mesas and tension between the ranchers, the Mexicans who've lived for generations on land that suddenly doesn't belong to Mexico, and pure greed that crosses all boundaries.
Thanks Mary!
Relz Reviewz Extras
All Things Connealy @ Relz Reviewz
Visit Mary's website, Seekerville, and Petticoats & Pistols
Buy from Amazon: No Way Up or Koorong