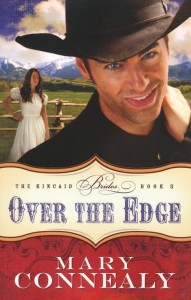 Seth is crazy and Callie is mad!
Meet them here and in Mary Connealy's 
Over the Edge
Bethany House
The Story
Seth Kincaid survived a fire in a cave, but he's never been the same. He was always a reckless youth, but now he's gone over the edge. He ran off to the Civil War and came back crazier than ever. After the war, nearly dead from his injuries, it appears Seth got married. Oh, he's got a lot of excuses, but his wife isn't happy to find out Seth doesn't remember her.
Callie has searched, prayed, and worried. Now she's come to the Kincaid family's ranch in Colorado to find her lost husband. Callie isn't a long-suffering woman. Once she knows her husband is alive, she wants to kill him. She's not even close to forgiving him for abandoning her. Then more trouble shows up in the form of a secret Seth's pa kept for years. The Kincaid brothers might lose their ranch if they can't sort things out. It's enough to drive a man insane–but somehow it's all making Seth see things more clearly. And now that he knows what he wants, no one better stand in his way.
Introducing Seth & Callie!
Brief physical description
Seth Kincaid is tall, dark and crazy. Callie is dark, with black eyes, Italian heritage.
Actor/famous person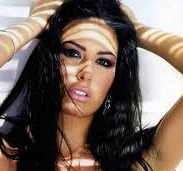 I've attached a picture of the cover for Seth and a picture of Elizabetta Gregoraci for Callie
Strengths and weaknesses
Well, Seth's main quirk is that he's a lunatic. A tough cowboy and good rancher, but on occasion, he goes off following the voices in his head sometimes. It's a trial to his wife.
Callie is a no-nonsense lady rancher, quick with a gun, not one to back up for anyone. Marrying Seth is about the dumbest thing she's ever done and blast it, she's probably do it again!
Quirk (if any)
Seth can't remember getting married, yet another trial for her wife. But he can see clear as day why he did it. Every time he touches her hair, which isn't that often because she's not real happy with him, it's familiar and it lures him to remember a bit more. Especially the part that ended up with Callie having a baby that looks just like him. He's really like to remember that part.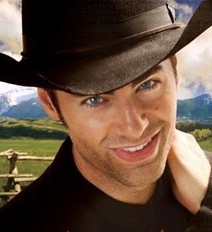 Your inspiration for the character
Kevin Costner, the whacky, gunslinging, hyperactive, sweet, slightly crazy kid brother in Silverado
Background to the story
I was inspired to write this book by a visit to Carlsbad Cavern. That place is so beautiful but so dangerous. Of course it's not dangerous now. Everything is all well-lit and there are fences keeping you back from the ledges, but I was just transported when I was there. Can you imagine being the first person in there? I felt the lure of the staggering beauty and the true terror of the dangers of that place. What if……..don't authors always ask 'what if'? What if three little boys had discovered a cave on their father's ranch. What if they ran wild in there, lured on and on by the glistening stalactites, what if something terrible happened and one of them almost died.
These three boys are changed by that awful accident that happened to Seth. Their personalities not changed so much as twisted. In Out of Control, bossy Rafe becomes a tyrant. In Too Deep, charming, easy-going Ethan becomes shallow and quits caring about anything. Spoiled, reckless little brother Seth, who is terribly scarred by that day, becomes a wild man, maybe even crazy.
They each blame themselves for destroying their family. Their father ran away, their mother took to her rocking chair and seemed to cry herself to death. Now they each have to face that awful day and come to terms with an accident and in the process find love.
Thanks Mary!
Relz Reviewz Extras
Get to know Mary Connealy
Reviews of Doctor in Petticoats and Out of Control
Visit Mary's website and blog
Buy Over the Edge at Amazon or Koorong
Seekerville
Petticoats & Pistols
Facebook: https://www.facebook.com/maryconnealy
Twitter: http://twitter.com/maryconnealy