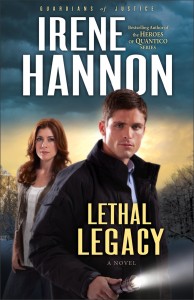 Synopsis:~
The police say her father's death was suicide. But Kelly Warren says it was murder–and she has new evidence that she believes proves it.
Detective Cole Taylor doesn't put much credence in her claim, and nothing in his case review suggests foul play. But when Kelly ends up in the emergency room with a suspicious life-threatening medical condition, the incident strikes him as more than just coincidence. Digging deeper, he discovers she's linked to a long-ago crime. Is history repeating itself? And who wants Kelly silenced?
My take:~
Irene Hannon completes her Guardians of Justice series with Cole Taylor's story, brother to Jake and Alison who featured in Fatal Judgment and Deadly Pursuit, respectively. With a solid blend of suspense, mystery and romance, Irene provides readers with another satisfying story that engages and entertains.  Cole and Kelly are sound characters who are easy to connect with and while their attraction and burgeoning romance is a fait accompli their relationship journey was fun to read. The banter between Cole and soon to be brother in law, Mitch, added some lighthearted moments to the story. Those who have read Irene's previous novels in the series with tread recognisable territory with this couple thus appealing to the many readers who find comfort in the familiar.  Lethal Legacy will well please Irene's many fans and instill an anticipation for her new Private Justice series commencing with Vanished, releasing this January.
Available August 2012 at your favorite bookseller from Revell, a division of Baker Publishing Group
With thanks to Revell for my review copy
Relz Reviewz Extras
Reviews of Deadly Pursuit, Fatal Judgement,  Against All Odds , An Eye for An Eye and In Harm's Way
Character spotlights on Jake & Liz, Coop & Monica, Mark & Emily and Nick & Rachel
Interview with Irene Visit Irene's website
Buy Lethal Legacy at Amazon or Koorong