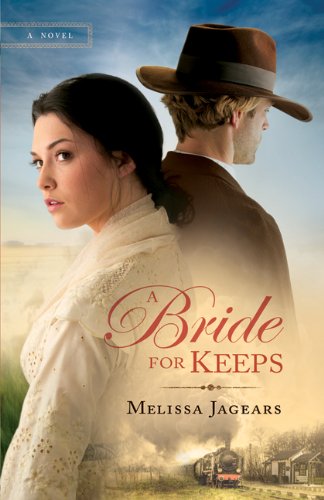 Meet a farmer and mail order bride in
Melissa Jagears'
Historical romance
A Bride for Keeps
Bethany House
The Story
Everett Cline will never humiliate himself by seeking a mail-order bride. Not again. He's already been jilted by three mail-order brides and figures a wife just isn't in his future. However, a well-meaning neighbor hasn't given up on seeing him settled, so she goes behind his back to bring yet another woman to town for him.
Julia Lockwood has never been anything more than a pretty pawn for her father or a business acquisition for her former fiance. A mail-order marriage in faraway Kansas is a last resort, but she'll do anything to leave her life in Massachusetts and the heartbreak she's experienced there.
Although Everett doesn't see how a beautiful, cultured woman like Julia could be happy sharing his simple life, he could really use a helpmate on his homestead. Determined to prove she's more than just a pretty face, Julia agrees to a marriage in name only. Faced with the harsh realities of life on the prairie and hesitant to explore the tentative feelings growing between them, can Everett and Julia ever let each other in long enough to fall in love?
Enjoy meeting Everett & Julia
Brief physical description
Julia: Early 20s, she's very petite with a tiny waist and nice curves, dark brown hair, dark brown eyes with a fair complexion and delicate nose. She's a beauty.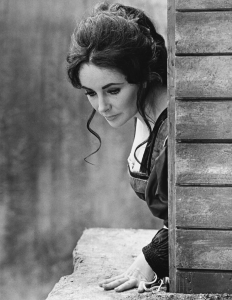 She wears fashionable clothing since she never needed plain work clothes in Massachusetts.
Everett: Mid Thirties, tall, dirty blond hair that's a bit out of control, dark blue/steel gray eyes, and a square jaw. He's roughened by weather, work-worn, and muscular. He wears simple work clothes and suspenders. Dress clothes make him uncomfortable.
Resembles…
Julia: Elizabeth Taylor
Everett: Robert Redford
Strengths and weaknesses
Julia's strengths: She's willing to try things she's never done. She's a survivor and a hard worker.
Julia's weakenesses: Doesn't easily trust.
Everett's strengths: Hardworker, cares about others, dependable, and honourable.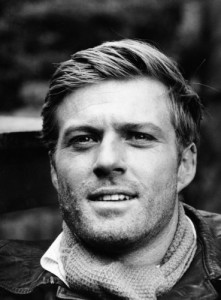 Everett's weaknesses: Doesn't easily trust!
Quirk (if any)
Julia: Plays with the brooch at her throat, and if it's not there, her collar.
Everett: Mangles his hat
Your inspiration for the character 
Julia: A woman who is beautiful, yet desperate enough to throw herself into a marriage of convenience.
Everett: A true mail-order bride story of a man jilted twice and still tries for a third bride. What kind of man would do that?
Background to the story
I read a compilation of true mail-order bride stories and found it so interesting how many of them failed and failed BIG! In romances, of course the mail-order bride story has to work out for the happily ever after, but I wanted to do a series that highlighted all the crazy ways mail-order bride arrangements failed…yet still give the hero and heroine a happily ever after.
Thanks Melissa!
Relz Reviewz Extras
Review of A Bride to Keep
Melissa's Author Alert
Visit Melissa's website
Download Melissa's free novella, Love by the Letter, from Amazon
Buy A Bride for Keeps at Amazon or Koorong