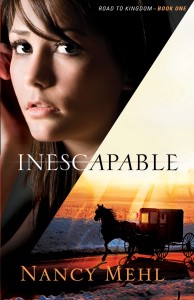 Nancy Mehl's new Kingdom series combines mystery, suspense and romance
Inescapable
Bethany House
The Story
Lizzie Engel is used to running away. At eighteen, she left her Mennonite hometown, her family, and her faith with plans never to return. Five years later, Lizzie finds she'll have to run again. False accusations at her job, a stalker, and a string of anonymous threatening letters have left her with no other options. This time, however, her escape is back to Kingdom, her hometown.
As Lizzie becomes reacquainted with Kingdom, she realizes she may not have left her Mennonite roots and her faith as firmly in the past as she thought. She draws on the support of Noah Housler, an old friend, as she hides out and attempts to plan her next steps. When it becomes painfully clear that the danger has followed Lizzie to Kingdom, suspicions and tensions run high, and she no longer knows who to trust. With her life and the lives of those she loves at risk, Lizzie will have to run one last time–to a Father whose love is inescapable.
Enjoy meeting Lizzie & Noah!
Lizzie Engel
Lizzie has coal black hair, slightly curly, that hangs a little past her shoulders. Dark eyes. Medium build. Actually, the model on the cover of the book nails it! The only other picture I could find that is close to Lizzie is Selena Gomez. I'm attaching it, but she's a little younger than what I had in mind.
Lizzie is a determined young woman who was strong enough to leave her Mennonite hometown when she felt her daughter, Charity, might experience rejection because she was born out of wedlock. Yet Lizzie has the ability to jump to conclusions and not think things through as clearly as she should. She loves God, but because of her strict, judgmental father, she has a hard time believing God really loves her. Once she decides that blaming her father for her bad attitudes isn't acceptable, she reaches out to God once again.
My inspiration for Lizzie came from the knowledge that so many of God's people don't realize He has a plan for them. Even if we miss the mark, God can get us back to where He wants us if we'll just let Him!
Noah Housler
Noah is a young Mennonite man with brown, longish hair and emerald green eyes. Lizzie can't seem to get his eyes out of her mind. I'm attaching a picture of Jesse Spencer that looks the way I pictured Noah. (In my mind anyway!) Not sure if this young man's eyes are as green as Noah's, but if they are, he would be perfect!
Noah is a strong man who makes his own decisions. Even though he is an elder in the Kingdom's Mennonite Church, he still follows his own convictions. His weakness is his fear of telling Lizzie how he really feels about her.
Background
Lizzie Engel grew up in the small town of Kingdom, Kansas under the influence of her judgmental father and passive mother. When she became pregnant by a boy she met at school in another town, she hoped he would marry her. Instead, he and his family moved away – after his parents offered to pay for an abortion. Her close friend, Noah Housler, had left town for college and there was no one around she felt she could go to for support. So, with the help of a local woman, she fled Kingdom and took her daughter, Charity, to Kansas City. She found a job and was able to create a much different life than the one she left behind. But a chain of events leave her no choice, and she has to head back to the one place she never wanted to see again – Kingdom.
Relz Reviewz Extras
Review of Simple Secrets
Visit Nancy's website and blog
Buy Nancy's books at Amazon or Koorong