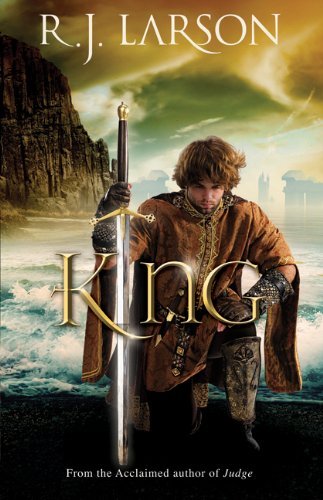 Meet a reluctant king in
R. J. Larson's
Biblically themed fantasy
King
Bethany House
The Story
Against his wishes and desires, Akabe of Siphra has been chosen by his people to be King. But what does a warrior know of ruling during peacetime? Guided by the Infinite, Akabe seeks to rebuild the Temple in the city of Munra to give the sacred books of Parne a home. But dangerous factions are forming in the background. To gain the land he needs, Akabe must forsake the yearnings of his heart and instead align himself through marriage to the Thaenfall family.
Meanwhile, Kien Lantec and Ela Roeh are drawn still closer together…while becoming pawns in a quest to gain power over the region. As questions of love and faith become tangled with lies and murderous plots, each must seek the Infinite to guide them through an ever more tangled web of intrigue and danger.
Enjoy meeting Akabe
Brief physical description
Akabe (Rhymes with Gabe) King of Siphra is tall, with a warrior-hunter's physique, strong features complimented by dimples, brown hair, and, sometimes, a beard.
Resembles…
Ioan Gruffud, particularly in this cloak and the arm guards.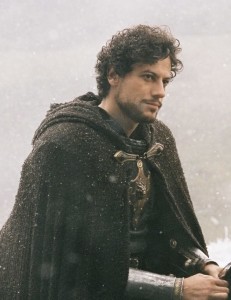 Strengths and weaknesses
Akabe is fiercely loyal to his friends and his faith. He is an unwilling king, but determined to serve his country to the best of his ability. However, his loyalties and his determination to fulfil his obligations as king of Siphra reveal dangerous blind spots in his character—weaknesses in matters of the heart and his own nature.
Quirk (if any)
Akabe is probably the only Siphran king ever to cheerfully and properly cook his own meals over a campfire.
Your inspiration for the character
Several kings from the scriptures. Who are they? Sorry, that might offer spoilers for the plotline!
Background to the story
While I was writing Prophet, Akabe stepped into the story as a minor heroic character with a grand future. Through Akabe, I found the chance to explore the sometimes fatal spiritual vulnerabilities faced by certain monarchs we've met in the scriptures. I wanted a king who had to deal with the consequences of wielding the daunting burdens of unexpected power, wealth, public adulation—and enmity.
Thanks R. J.
Relz Reviewz Extras
Reviews of Judge and King
Visit R.J.'s website and blog
Buy King at Amazon or Koorong